Vegetable Soup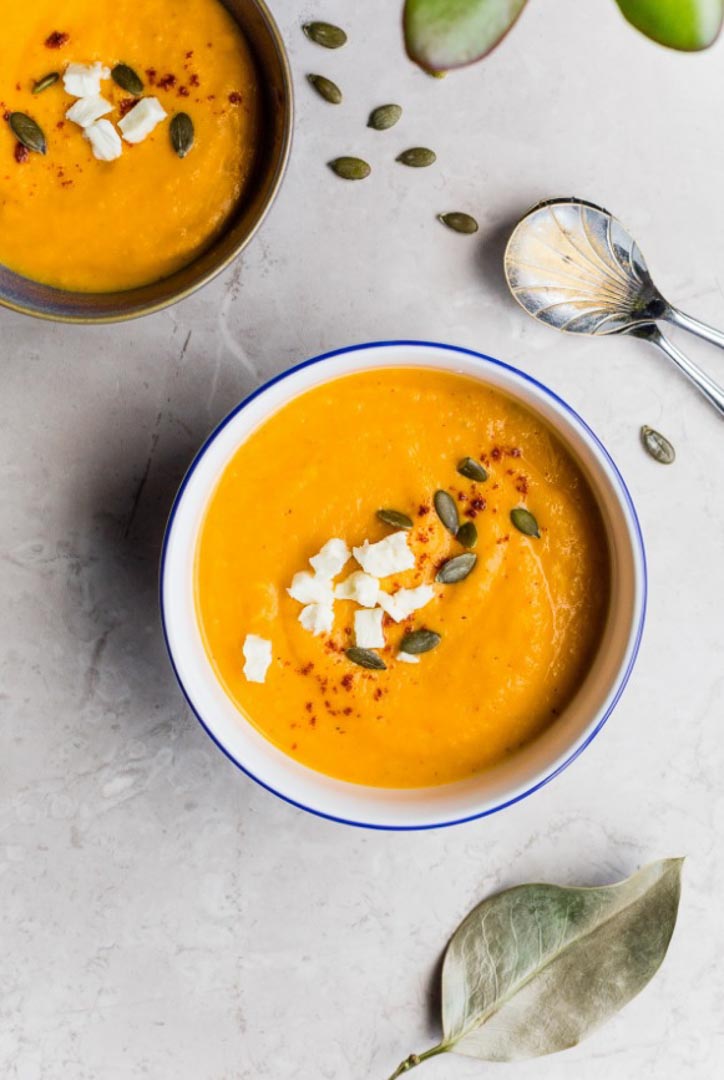 A Healthy Winter Must-Have on Cold Days
Winter is at our doorstep! The seasonal enjoyment of spices and vegetables processed into a hearty soup is the best way to celebrate the upcoming season. What can be more convenient and warming than a bowl of soup that will treat your gut and heart on a cold winter day? Since it gets really cold in winter in Turkey as well, Turkish people always welcome a delicious bowl of soup on their warm dinner tables and the health benefits are just the cherry on top! Nowadays, we often tend to grab a sandwich or a plate of pasta to fill our empty stomachs in the easiest way. If we are looking for a 'hearty' alternative, canned foods can save a lot of time and modern preservation practices keep many vitamins and minerals intact in them as well. However,they are never delicious and nutritious as freshly prepared foods.
Health Benefits of Soups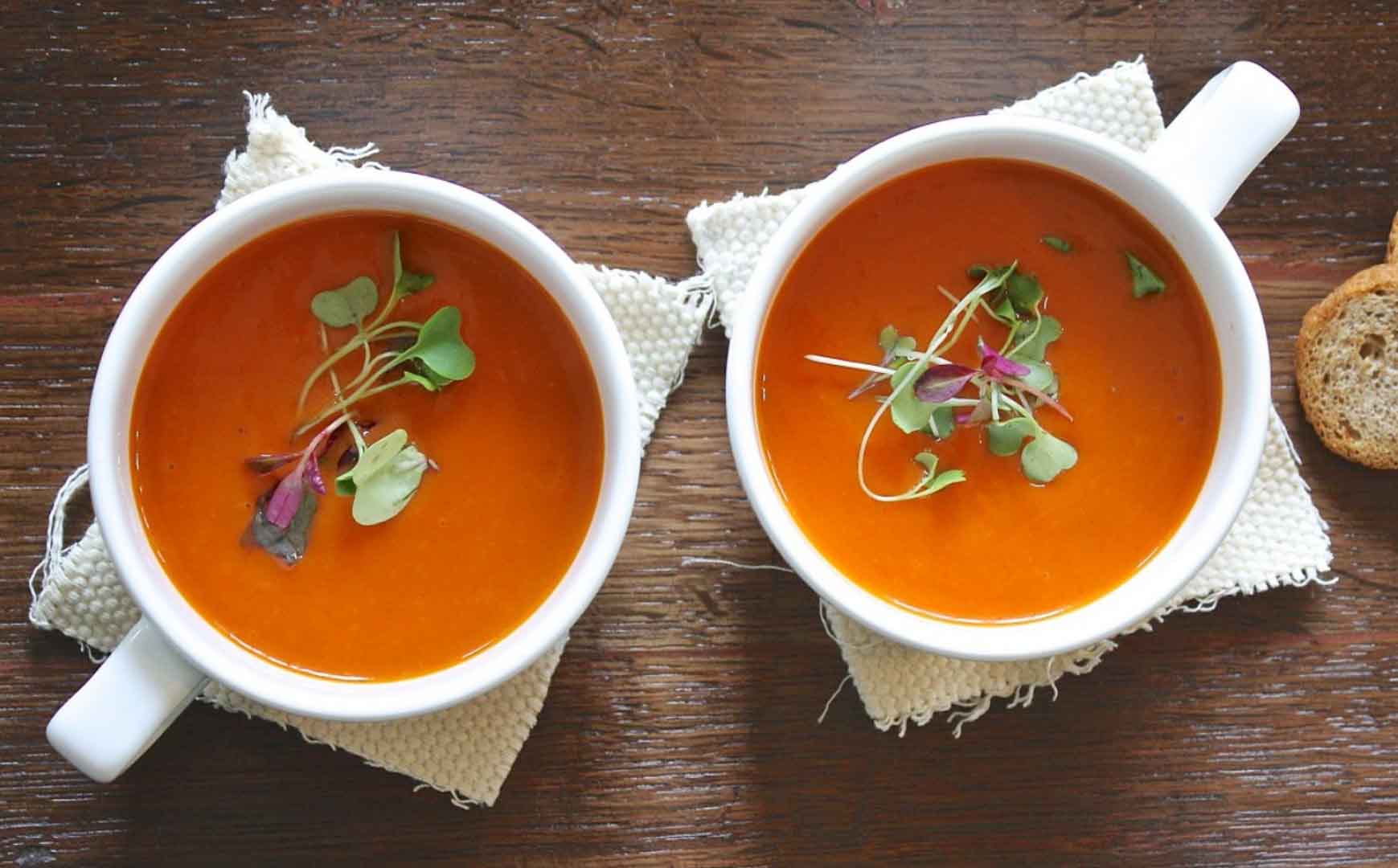 Healthy Tomato Soup
Now that the freezing winter days are approaching, warm soups and stews will work wonders. For a delicious soup you do not have to go further- especially in the colder months outdoor markets and supermarkets have numerous fresh vegetables which can be processed perfectly to the soup. And you can put almost every kind of vegetable, legume or meat and turn it into a wondrous bowl of soup. You can get all the nutrients of chicken meat and bones from a chicken soup. A creamy tomato soup also has health benefits. Tomatoes, in addition to vitamins, trace elements, also contain phytochemicals and dyes such as Lycopene, which can protect you against cancer.
Soups and stews with legumes provide high-quality vegetable protein, lots of fiber and minerals (especially magnesium, potassium, and iron). The daily recommended value for fiber is 25 grams per day on a 2,000-calorie diet for adults. A fiber-rich diet will boost digestion and prevent gastrointestinal disease. Also, soup deposits such as rice, pasta or potatoes provide carbohydrates and fiber.
The health benefits of soup are not only limited to its ingredients. Studies by American researchers have shown people who spoon a soup as an appetizer, eats less overall. The soup fills the stomach with fluid and causes a faster feeling of satiety so that during the main meal fewer calories are consumed.
An aromatic soup not only satisfies hunger but can also help you lose weight. (Not every one of them, though; cream soups and filling deposits such as fat sausages, dumplings, etc. may not be suitable for losing weight, be careful!) Many people try to lose weight with the help of soups in their diets. Basically, vegetable soups are generally recommended because they contain very few calories. Especially a well-known one for this is the cabbage soup diet. In the short term, the soup diets can also help you lose weight; however, this is not because of the soup itself, but because in the context of this diet, fewer calories are absorbed than usual and thus reducing the weight. The health benefits of soups are countless; they also make it easier to reach the recommended amount of fluid of at least two liters per day. After exercise, for example, soups are very good in addition to sports drinks to quickly compensate for fluid losses.
A Turkish Delicacy: Ezogelin Soup
To be more specific on this, be ready to get inspired by the legendary Turkish soup below, as a beloved classic. Turkish people are also big fans of soup in every season. But especially when the weather gets cold Ezogelin soup is one of the most preferred soups to warm up the body and protect it against the common cold. This spicy soup blends the flavors of traditional ingredients. On cold days, it warms you from the inside and will appease your taste buds. Its health benefits are also too numerous to be counted: it has rice rich in starch that, combined with beans, provides energy and has iron and protein. A strong combination of ingredients that was introduced during the times of slavery and that is still a traditional food in many countries.
Print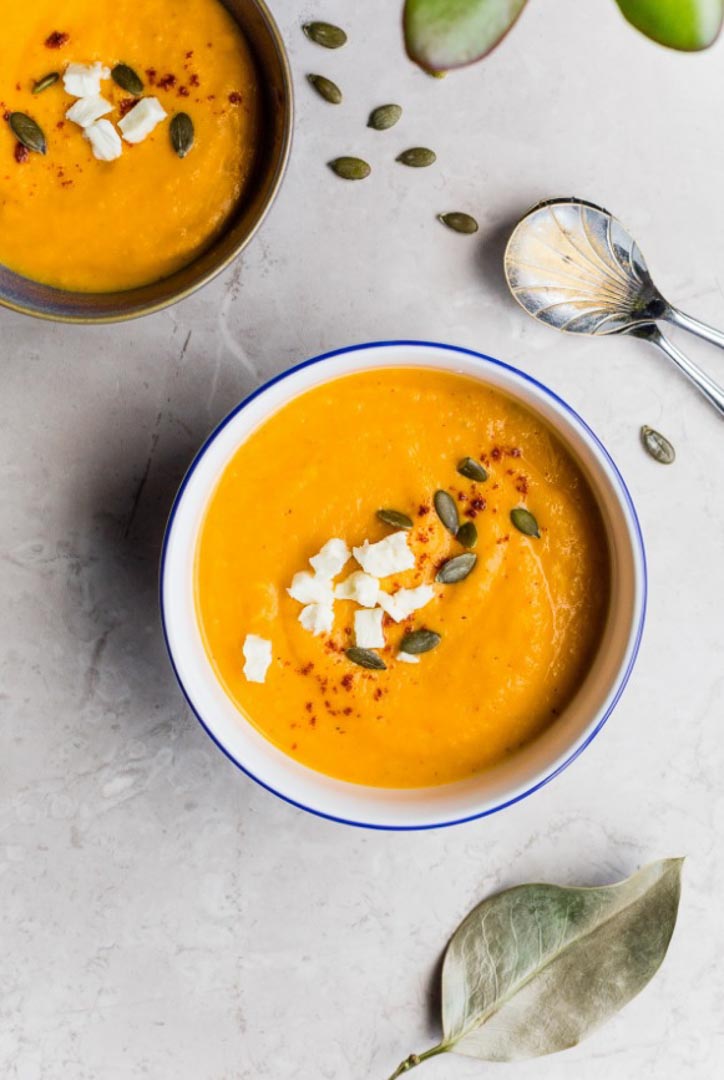 Ezogelin Soup
Get inspired by the legendary Turkish soup below, as a beloved classic.
Total Time:

55 mins

Yield:

3

1

x
1 cup

red lentils, rinsed and drained

1

medium-sized onion, diced

¼ cup

bulgur, rinsed and drained

7 1/2 cups

water

2 tablespoons

tomato paste (and optionally

1 tablespoon

hot red pepper paste)

3 tablespoons

butter or olive oil

1 tablespoon

dried mint ((unless you have fresh mint)

2 teaspoons

red pepper flakes / paprika flakes
Juice of a lemon
Salt and freshly ground black pepper to taste
Instructions
Start with putting the lentils, bulgur, chopped onions and water in a saucepan. Bring it to boil and then turn it down to a low heat, let it simmer until all the ingredients are soft (which usually takes between 30-40 minutes). Make sure to stir occasionally and check if the mixture is drying out (if so, add some extra hot water). Then, add in olive oil (or butter), dried mint, red pepper flakes, and tomato paste. Mix everything well and simmer for another 10-15 minutes. Add the lemon juice and more water if required (until it has a creamy consistency). And season with salt and pepper.
Serve hot with lemon wedges and welcome the cold season!
Author:

Prep Time:

15 mins

Cook Time:

40 mins

Category:

Soups

Cuisine:

World