Brinji is a flavorful vegetable rice made with coconut and coconut milk. Chef Ramakrishnan in his book says "The word Brinji means nothing in Tamil, always a reasonable indicator that the recipe is a borrowed one. In central Asia, especially in Iran (Persia), polished white rice is still called berenj. Persians excelled in cooking rice. It is likely that this polished white rice cooked with mild spices by Arab traders, caught the fancy of Tamil nation and came to be called Berenji or Brinji. Flavoured Rice boiled in milk is still called Sheer Berenji (Milk Rice). It is possible that flavoured rice boiled in water might have been called just Berenji. The brinji is much older than Biriyani/ Pulao/ Tahiri, which are relatively new entrants to Tamil cuisine. Being older, the brinji has internalized south Indian ingredients like coconut and pepper. I'd think the Brinji is the earliest version of Biriyani/ pulav cooked in Tamilnadu. 50 years back no one knew biriyani or pulav in Tamilnadu. All they knew was Brinji. The Tamil name for bay leaves – Brinji elai ( Brinji Leaf) come from the fact they were invariably used in a brinji! Down south, in places like Madurai, the heart of Tamil culture, Brinji is still more famous than the Biriyani/ Pulao."
This is an OPOS – One Pot One Shot recipe.
We are not going to saute or fry anything in this recipe. We will layer the ingredients in a cooker and cook. Do not scale the recipe up or down. Use exact measurements and equipment. If using induction stove (recommended), cook the brinji at 800W for 15 minutes or 2 whistles whichever is earlier. If using gas stove, cook on medium heat for 2 whistles.
Many people ask me if things will be raw after cooked as we are not sauteing anything. My answer is no. It will be perfectly cooked. Just try it once. I am sure you will like it.
Here is how to do brinji.
Mix all the ingredients listed under marination in a big bowl and set it aside to marinate for one hour at room temperature. During the same time, soak basmati rice in water and let it soak for one hour too! After one hour, the veggie mixture will be slightly liquidy. You are on the right track. Drain the soaked rice and set aside.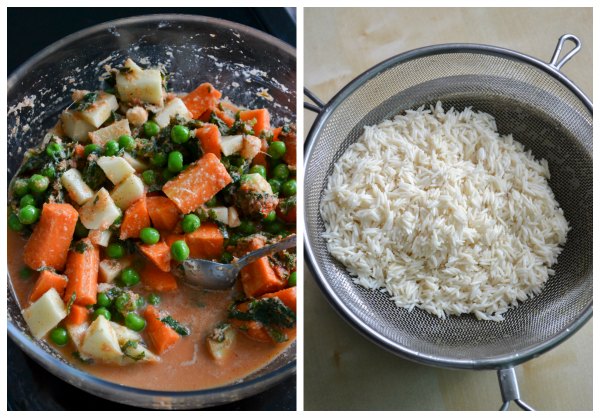 The layering process and cooking has been described in the video. Hope you enjoy.
Print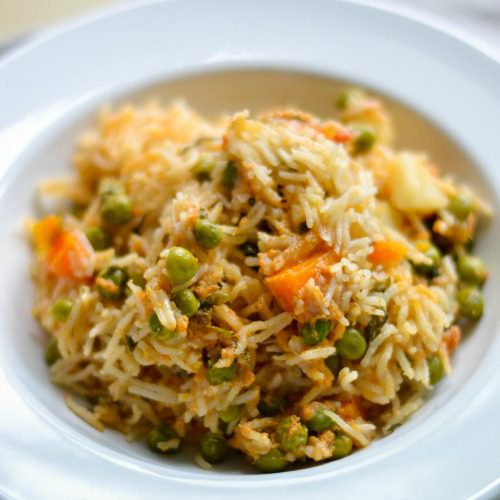 Tamilnadu Brinji Recipe – Vegetable brinji saadam with coconut milk
Recipe for Tamilnadu style brinji rice made with vegetables and coconut. This veg brinji is very flavorful tamil style recipe. Measurements used 1Cup approx 250 ml
Total Time:

1 hour 15 mins

Yield:

3

servings

1

x
Ingredients for marination
1/2 cup

peas, chopped

1/2 cup

carrots, chopped

1/2 cup

potatoes, chopped

1/2 cup

mint leaves, chopped

1 teaspoon

red chilli powder

1/2 teaspoon

black pepper powder

1/2 cup

coconut paste (

1/4 cup

coconut ground with

1/4 cup

water to a fine paste)

2 tablespoon

ginger garlic paste (

6

cloves garlic and

1

inch piece ginger ground with little water)

1 teaspoon

salt
Rice
1 Cup

(

250

ml) basmati rice
For final layering
2 teaspoon

ghee

3

bay leaves, crushed

2

medium sized onion, chopped

1

tomato chopped

1/3 cup

light coconut milk

2/3 cup

water
Instructions
Place all the ingredients listed under marination in a wide bowl. Mix well to combine. Marinate for one hour.
Wash and soak the basmati rice in water for one hour.
Take a 3 liter pressure cooker and add in the ghee. Top it with chopped onions and tomato.
Add in half the quantity of marinated veggies along with its juices.
Drain the basmati rice and add it on top of the veggies to form an even layer.
Add in the remaining veggies.
If using induction stove (recommended), cook the brinji at 800W for 15 minutes or 2 whistles whichever is earlier.
If using gas stove, cook on medium heat for 2 whistles.
Switch of the flame and remove from heat.
Let the pressure release naturally. Wait for 20 minutes.
Open the pan and fluff up the rice. Enjoy!
Notes
If using ready made ginger garlic paste, use just 2 teaspoon as its concentrated.
When layering, make sure the veggies totally cover the rice layer.
The term OPOS and One Pot One Shot are registered trademarks owned by Mr.Ramakrishnan. The recipes have been adapted using his OPOS principle. They are used in Kannamma Cooks with prior permission.
Author:

Prep Time:

1 hour

Cook Time:

15 mins

Category:

Main Dish

Cuisine:

Tamilnadu