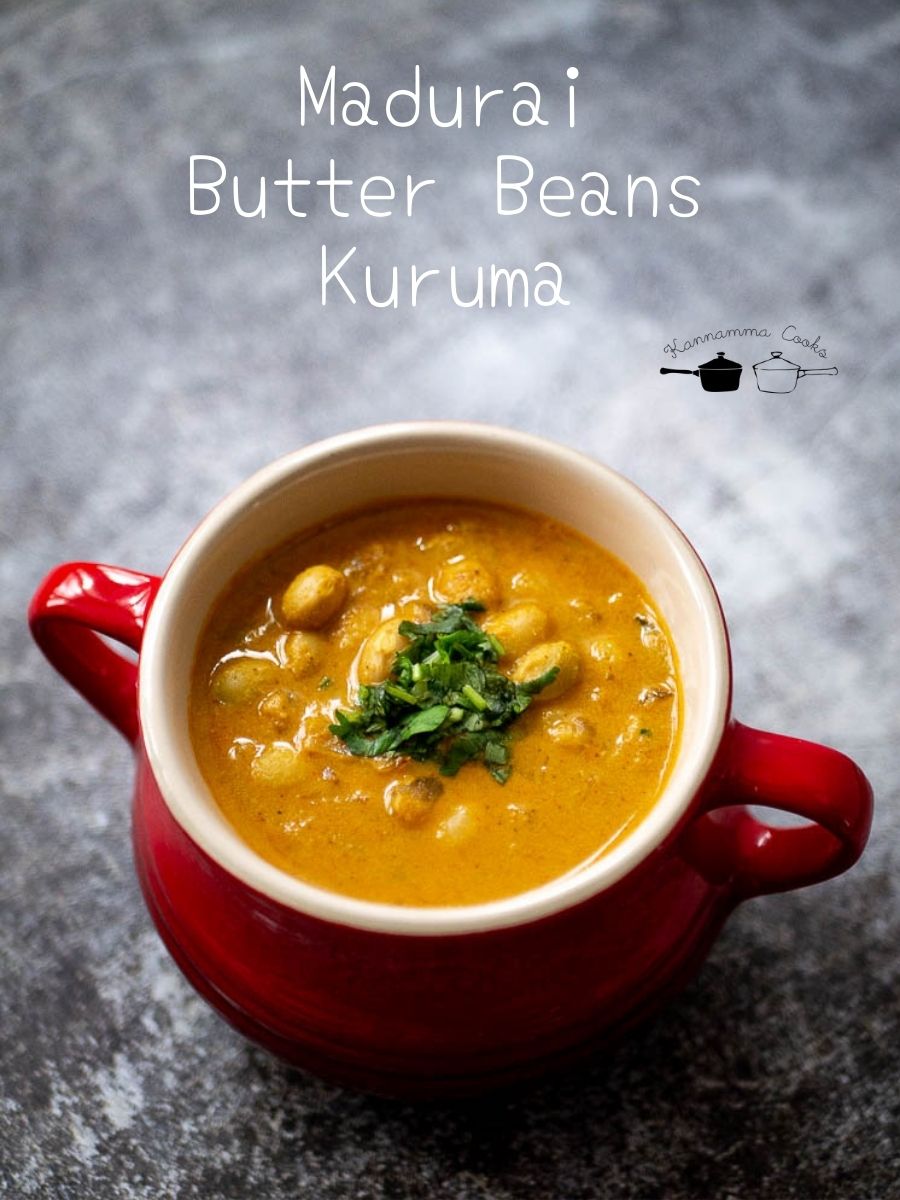 Recipe for a delicious kuruma made with butter beans and coconut masala paste. Perfect side dish for idli, dosai and chapati. Recipe with video.
A very popular variety of lima bean that's prized in Madurai and Southern Tamilnadu. It is cultivated in Kodaikanal and Palani hills. The butter bean is held on par with meat as an ingredient in the kitchens of Madurai, Virudhunagar and interior southern parts of Tamilnadu. It's also expensive. A kilogram of unpeeled butter bean can go upwards of Rs.200.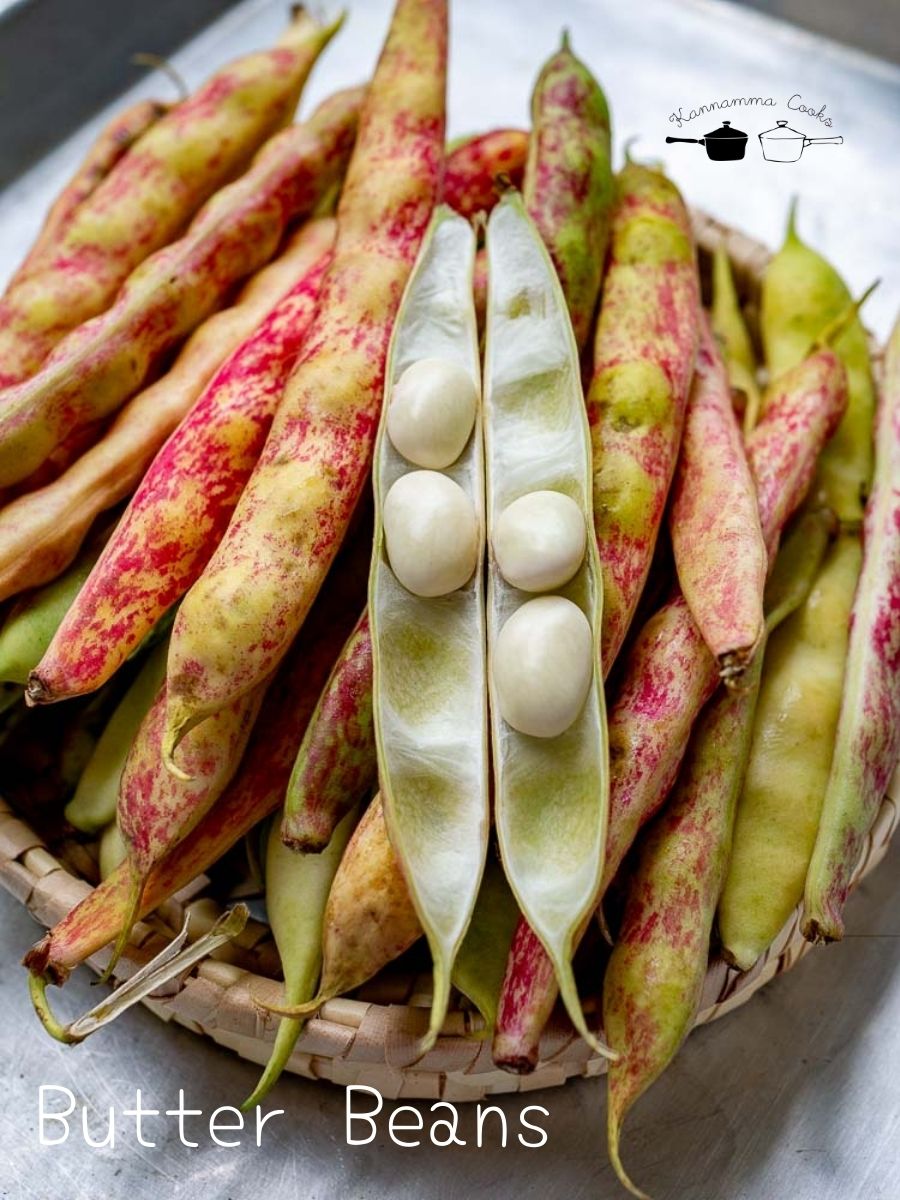 If you go to a Madurai household for lunch as a guest and you are a vegetarian, this along with / or fresh red soya beans would be served for lunch. It would be in the form of a poriyal / stir-fry or a semi gravy called butter beans masala. We all know Madurai for its varied offerings of South Indian breakfast, parottas, mutton galore and offal. But Madurai home kitchens take pride in their butter beans and are a mainstay. Butter beans are added while making pulao and also to their mutton kuzhambu.
Many times, people kind of misunderstand butter beans for double beans. They are both different. It's very rare to get butter beans in the north of Tamilnadu. These days, you do get it once in a while in super markets. I have never seen this while growing up in Coimbatore.


They taste fantastic in a kurma and the beans are so creamy and tastes very rich. So next time on your trip to meet Meenakshi, stop at the farmers market and dont forget to pick a kilogram of butter beans.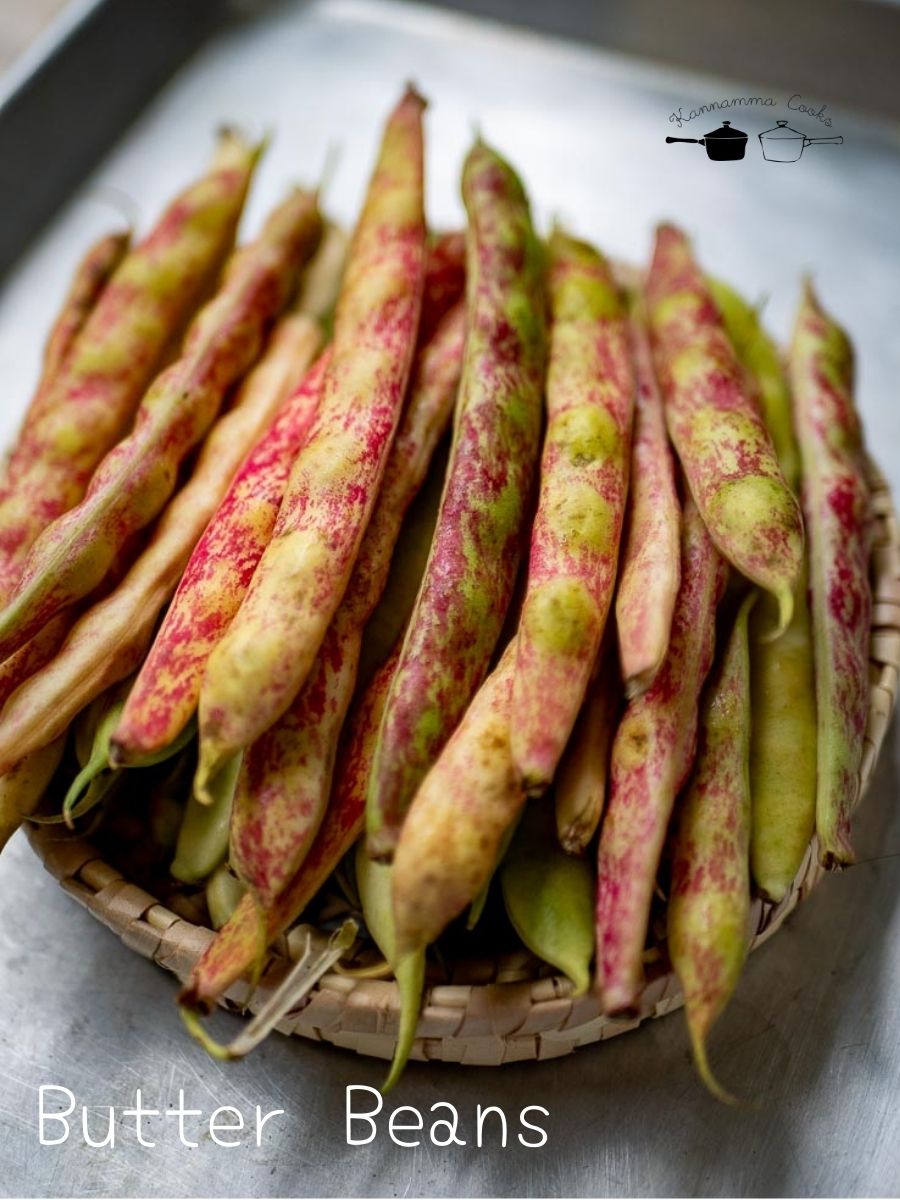 Here are the things you can buy online for making Madurai Butter Beans Kuruma
Carote Non Stick Kadai https://amzn.to/3Agdj88
Bergner Pressure Cooker https://amzn.to/3bO1BYn
High Curcumin Lakadong Turmeric Powder https://amzn.to/3a99yHh
Panasonic Mixie https://amzn.to/2YnuS2P
Curry Masala Powder https://amzn.to/3ujbhAs
Here is the video of how to make Madurai Butter Beans Kuruma

Print
Madurai Butter Beans Kuruma Recipe
Recipe for a delicious kuruma made with butter beans and coconut masala paste. Perfect side dish for idli, dosai and chapati. Recipe with video.
Total Time:

45m

Yield:

4

-

5

servings

1

x
For Cooking Butter Beans
2 cups butter beans (measured after peeling)
1/2 teaspoon salt
1.5 cups water
Other Ingredients
2 tablespoon groundnut oil
1/2 teaspoon cumin seeds
2 sprig curry leaves
1/2 cup shallots, sliced
3/4 teaspoon red chilli powder
1/2 teaspoon turmeric powder
3/4 teaspoon coriander powder
3/4 teaspoon curry masala powder
1/2 teaspoon salt
1/2 teaspoon sugar
1/2 of a lime, juiced
2 sprigs coriander leaves, chopped
For Tomato Masala Paste
2 tomatoes, roughly chopped
1 pod country garlic
1 inch piece ginger, chopped
2 green chillies, chopped
1/2 teaspoon fennel seeds
For Coconut Masala Paste
1/2 cup fresh shredded coconut
12 cashews
1.5 teaspoon white poppy seeds ( soaked in little hot water for five minutes )
2 cloves
1 small piece cinnamon (cassia)
1.5 cups water (divided)
Instructions
Butter Beans is a variety of lima beans and is usually cultivated in the hilly mountain regions. They need to be shelled. Once shelled, they can be stored in the refrigerator or frozen till later.
Add two cups of shelled butter beans to a small pressure cooker. Add in a little salt and water. Cover the pressure cooker and cook for three whistles. It should take about five to six minutes.
Wait for the pressure to settle before opening the cooker. Open the cooker after the pressure has completely subsided. The beans should be cooked to a soft texture. If pressed, they should be soft to press and become mushy. The skin will be intact even though the insides are mushy. Set aside.
Heat a couple of tablespoons of ground nut oil in a pan. Add in the cumin seeds, curry leaves and sliced shallots. Saute till the shallots are soft and slowly starting to brown. Once the shallots are lite golden in colour, add in the red chilli powder, turmeric powder, coriander powder and curry masala powder. I have used readymade curry masala powder for this recipe. Saute for a few seconds for the spice powders to get toasted in oil.
In the meantime, add a couple of roughly chopped tomatoes to a mixie. Add in a pod of country garlic. If you do not have country garlic, regular garlic will work too. add in the ginger, chopped green chillies and little fennel seeds. Grind this mixture to a smooth paste.
Add this ground paste to the pan. Saute for three to four minutes till the mixture is dry. Add in the cooked beans along with the water. Remember that we added half salt while cooking the beans and so the kuruma will be half salted now. Mix well to combine.
While the kuruma is simmering, we will make a coconut masala paste.
Take a mixie jar and add in the fresh shredded coconut. Add in the cashews. Add in the poppy seeds. Soak the poppy seeds in little hot water for five minutes so it's easy to grind. Add in a couple of cloves and a small piece of cinnamon. Add enough water and grind to a smooth paste.
It's important that the paste be ground to a smooth texture so our kuruma will be creamy. Add in the ground coconut masala paste to the pan. Wash the mixie with little water and add back to the pan. Add in a little salt. Mix well to combine. Cook on a low flame for about 10 – 12 minutes. Saute once in a while. If the kuruma feels very thick while simmering, add little hot water to adjust the consistency.
Once the kuruma has cooked well, Add in a little sugar to balance the flavours. The sugar will not sweeten the kuruma but nicely round the flavours of the dish. Add in juice of half a lime at this stage and switch off the flame. Finish with a generous sprinkling of coriander leaves. Our fantastic Madurai butter bean kuruma is ready. This can be served with Idli, Dosai or Chapati.
Author:

Prep Time:

15m

Cook Time:

30m
Keywords: Butter Beans Kuruma