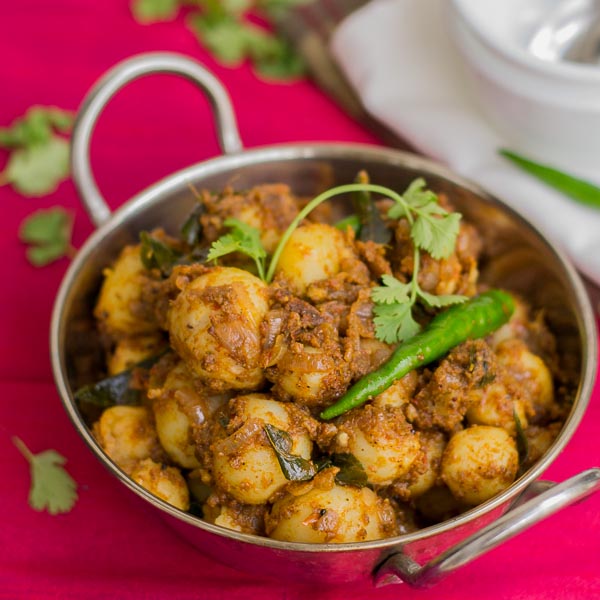 Chettinad Urlai Roast, Potato Roast, Chettinad Potato Roast.
Chettinad style urlai roast recipe is made with baby potatoes and a fragrant dry roasted fresh chettinad masala. Perfect side dish for rasam saadam / rasam rice.
This recipe came into being because of my mom. My mom has a habit. She would cut out a printed recipe or a food tip from a magazine she comes across and would save it and give it to me when I go home for vacation. She would be so happy seeing me go through them. There are these little things that takes everything. So this recipe is from one such paper given long time back to me. This is a recipe for Chettinad Urlai/Baby potato Roast. From what I have learned in these years, Chettinad recipes are mostly based on freshly ground masala powders. Getting the masala is the key to their cooking. This one ain't different. The various spices are dry roasted in a low flame (low flame is key. your patience will be rewarded) and let to cool in a pan. Once cooled they are ground to a fine powder and added to the dish later on. Lets go and roast some spices.
Here is the video of the recipe.

Trditionally, for chettinad recipes gundu chillies are used. But I have used the other variety mainly for the color.

Dry roasting brings out the essential oils in the spices which otherwise would be dormant. Dry roast all the ingredients on a very low flame except coconut. Add in the shredded coconut at last. Cool the spices and grind to a fine powder in a chutney jar of a mixie or a spice grinder.
These baby potato roast makes an awesome side dish for rasam saadam/rice.
Chettinad Urlai Roast - Baby Potato Roast
Chettinad style urlai roast recipe is made with baby potatoes and a fragrant dry roasted fresh chettinad masala. Perfect side dish for rasam saadam / rasam rice.
Author:
kannamma @kannammacooks.com
Ingredients
For the chettinad masala
4 dried red chillies
1 teaspoon coriander seeds
1 inch cinnamon stick
1 cardamom
1 cloves
1 teaspoon fennel seeds
1 teaspoon cumin seeds
1 teaspoon black pepper
3 tablespoon shredded coconut
2 sprigs curry leaves
Other Ingredients
3 tablespoon peanut oil (vegetable,canola or sunflower is fine)
½ teaspoon mustard seeds
½ teaspoon urad dal
2 sprigs curry leaves
2 onions, sliced fine
2 green chillies, cut into 2-3 pieces each
2 tablespoon ginger garlic paste
2 tomatoes, diced
½ teaspoon turmeric
1 teaspoon chilli powder
1½ teaspoon coriander powder
1½ teaspoon salt
½ kilo baby potatoes, boiled and peeled
coriander leaves for garnish
Instructions
Dry roast all the chettinad masala ingredients and grind to a fine powder.
Heat oil in a pan/kadai and when the oil is shimmering add in the mustard seeds. Then add in the urad dal and the curry leaves. Let the mustard splutter.
Add the onions and fry till golden brown.
Toss in the green chillies and the ginger garlic paste.
Add the tomatoes and stir-fry on a low heat for about 5 minutes. continue to cook until streaks of oil is released in the pan.
Add in the ground masala, turmeric, chilli powder, coriander powder and salt.
Add quarter to half a cup of water and cook in low flame until the raw smell disappears and the masala becomes thick.
Add in the potatoes and fry until almost dry.
Remove from heat and serve hot, garnished with chopped coriander leaves.
Notes
This dish can be made with regular russet potatoes too.