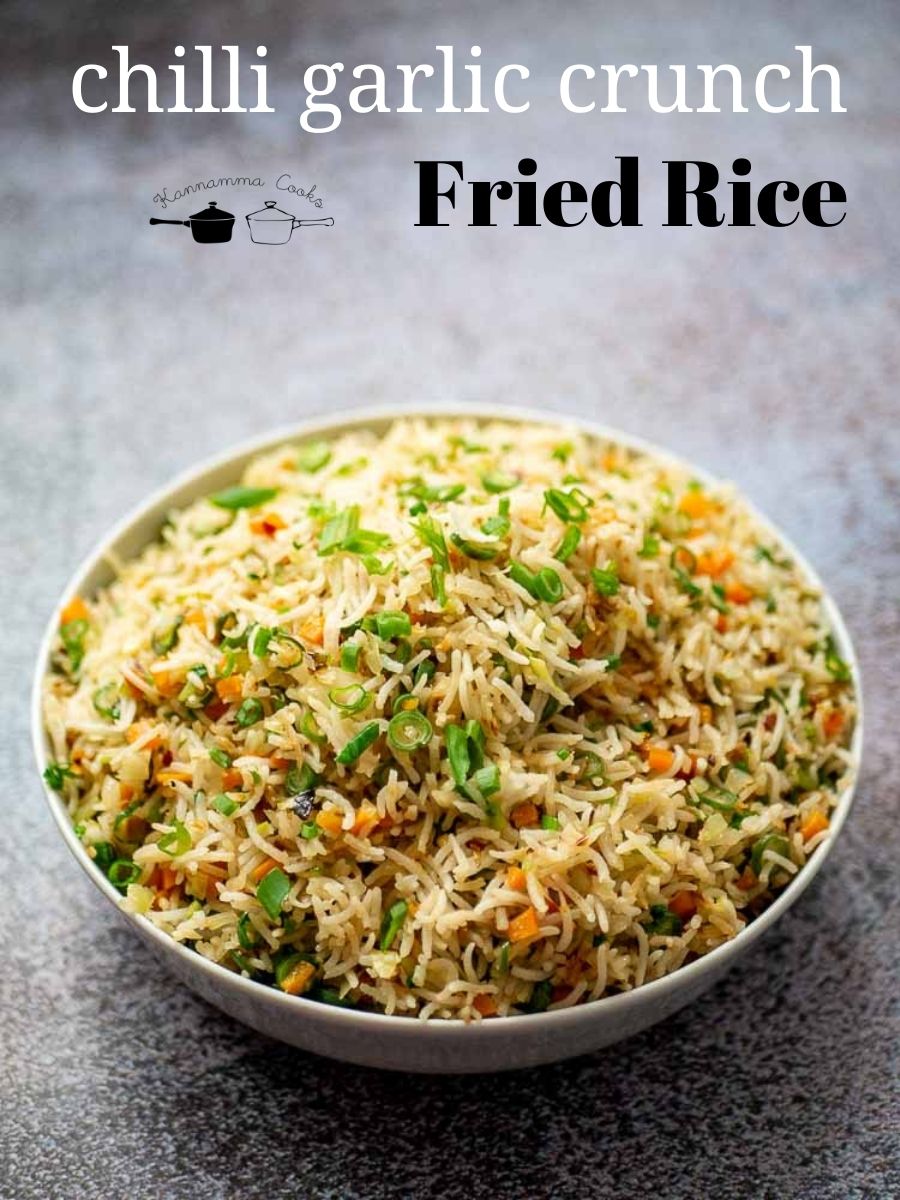 Recipe for garlic and chilli loaded fried rice made with veggies and garlic crunch. Recipe with video.
This is a garlic lover's ultimate fried rice recipe. Minced garlic and chillies are fried in oil on a low flame until crisp and finally added to rice. This fried rice is very fragrant and carries a punch.
This recipe has three steps
1. cooking the rice
2. making the Chilli Garlic Crunch
3. making the fried rice
Rice – I cook the rice in the pressure cooker. Soaking the rice before cooking is one of the essential steps that ensures that the rice does not turn mushy while cooking.
The quality of rice that one uses is very important for the final texture of the dish. I use Daawat or Lal Qila Basmati rice as I feel they cook soft yet don't get mushy.
Cooking the veggies – High heat is very important in Chinese cooking. Chinese restaurants use heavy burners that can cook and slightly char the veggies and meat in seconds. Even though we cannot replicate that at home, keep the flame of the gas stove to the maximum it will go. Cooking the veggies on high heat will give it a slight char and flavor that's desirable.
Chilli garlic crunch – The chilli garlic crunch can be made ahead, bottled and stored in the refrigerator. It stays good for weeks. You can also use this while making stir-fry, as a condiment to serve with momos, steamed veggies etc..
Here are some of the products you can buy online to make this recipe
Kikkoman Soy Sauce https://amzn.to/32vCkhp
Carbon Steel Wok https://amzn.to/3fT0Yvl
Basmati Rice https://amzn.to/3AwYtrW
Red Chilli Flakes https://amzn.to/3KFLxos
Here is the video of how to make Chilli Garlic Crunch Fried Rice

Print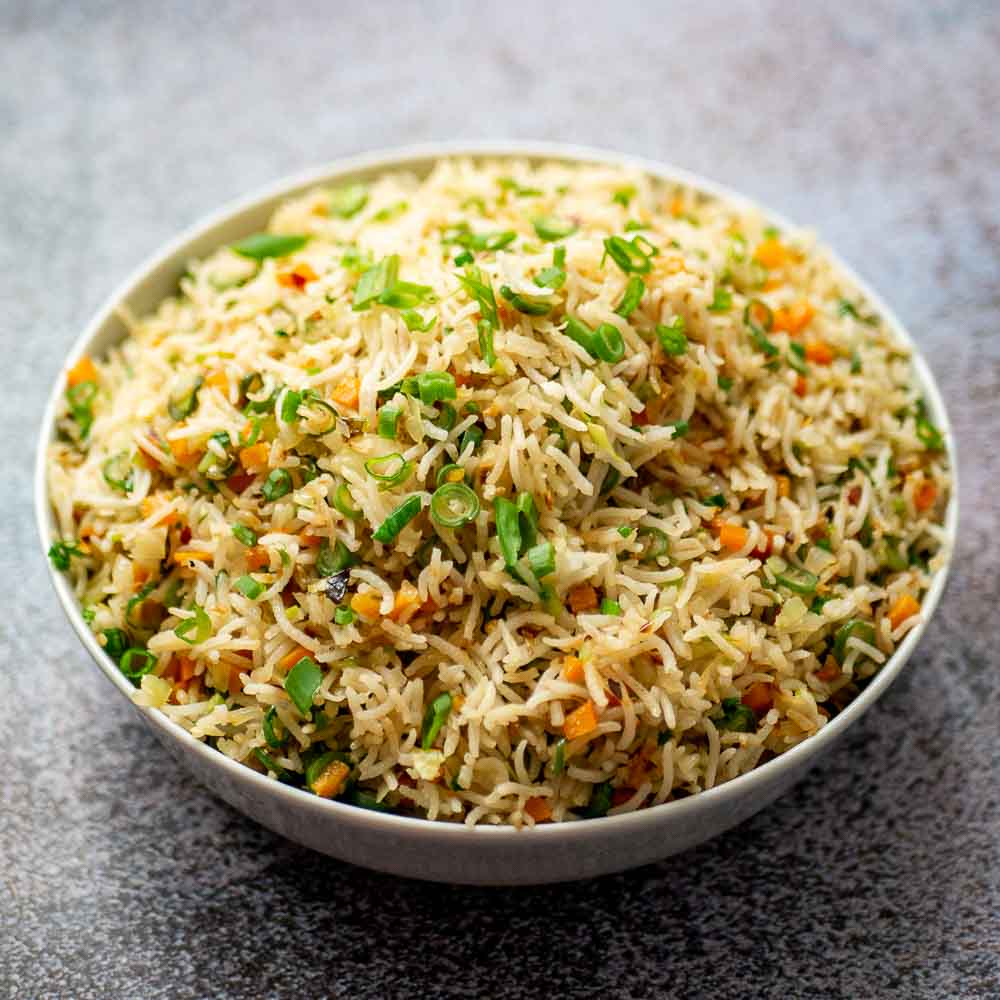 Chilli Garlic Crunch Fried Rice
Recipe for garlic and chilli loaded fried rice made with veggies and garlic crunch. Recipe with video.
Total Time:

45m

Yield:

4

servings

1

x
To cook rice
1.5 cups basmati rice
2.25 cups water
1/2 teaspoon salt
For making chilli garlic crunch
3 tablespoon peanut oil
1 bay leaf
1 piece cinnamon
5 cloves
2 star anise
1/3 cup garlic
2 teaspoon red chilli flakes
1.5 tablespoon soy sauce
1 teaspoon sugar
For making fried rice
1 teaspoon peanut oil
1/2 cup carrots, finely chopped
1/2 cup green beans, finely chopped
2 cups cabbage, finely chopped
1/2 teaspoon salt
1/4 cup green capsicum, finely chopped
1/4 cup spring onions, finely chopped
1 teaspoon unsalted butter
Instructions
Rice – Wash and soak the rice in water for about 15 minutes. Drain the rice and add it to a pressure cooker. Add in the water and the salt. I use 1 rice : 1.5 water for cooking basmati rice. Cook for about 2 whistles. After the said whistles, remove from heat and let the pressure settle on its own. Open the cooker and fluff up the rice. Transfer the rice to plates and let it cool down. Set aside.
Crunch – Heat oil on a low flame. Garlic crunch needs to be made on a low flame. Add in the spices and the minced garlic. Saute on a low flame for about 3-4 minutes till it's lite golden in colour. Add in the red chilli flakes and saute for a few seconds. Finally add in the soy sauce and the sugar. Saute for a minute more. Remove from heat and set aside to cool. Discard the big spices like bay leaf, cinnamon etc..
Making the fried rice – Heat a teaspoon of oil in a wok. Add in the finely chopped vegetables. Saute on a high flame for about 4-5 minutes. Once the veggies are half cooked, add in the salt and the casicum. We already salted the rice and the crunch has soy sauce that is salty. So go easy on the salt. We can always adjust the seasoning later if need be.
Add in the rice, garlic crunch, spring onions and the butter. Stir well. The little butter will make the rice very velvety.
Spicy chilli garlic crunch fried rice is ready.
Author:

Prep Time:

15m

Cook Time:

30m
Keywords: Chilli Garlic Crunch Fried Rice