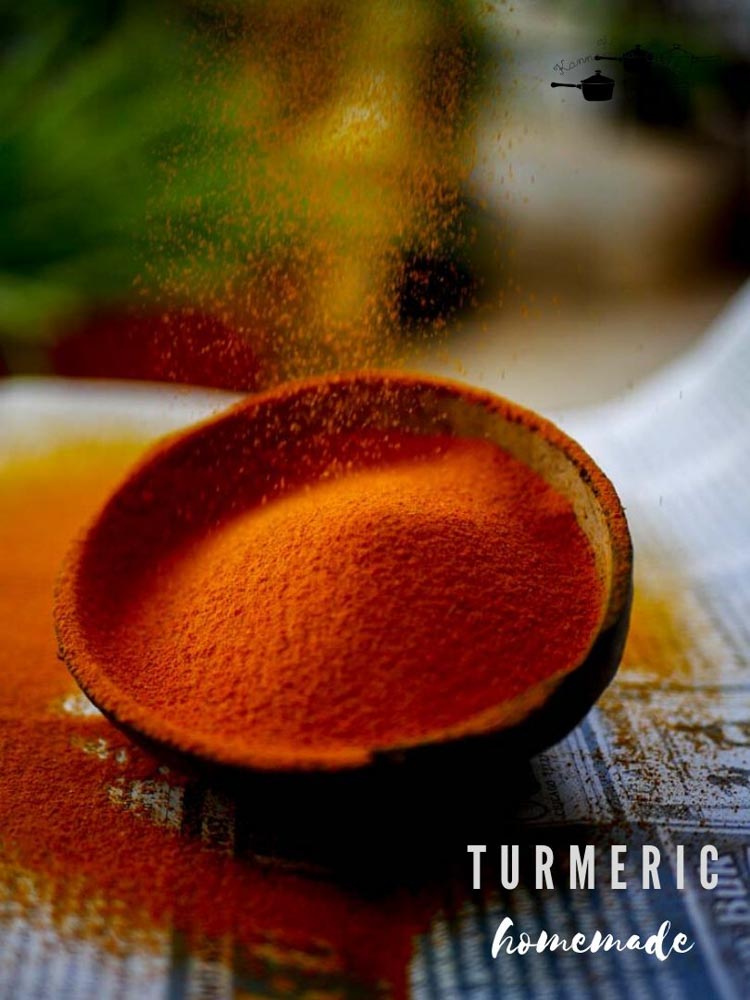 Recipe for home made turmeric powder. Can be used at home for cooking, face / face mask and other applications. Turmeric powder made from boiled and dried turmeric. Made with fresh turmeric roots.
I have always been eyeing on making my own turmeric powder and it finally happened this year. Fresh turmeric is abundantly available in January during pongal time in Tamilnadu and other southern states. Fresh turmeric needs to be cured before it can be dried and powdered. Turmeric is boiled and then dried in the sun. Boiling enables the starch in the turmeric to gelatinize and also helps in intensifying the color and in uniform distribution of color throughout the rhizome. Once completely dried, its then powdered. The process of making it at home is pretty simple. If making in bigger quantities, the dried turmeric can be sent to a flour mill to make it into a powder. Since I made a small batch, I ground the dried bits in a heavy duty Indian mixie. The aroma of homemade turmeric is so concentrated. I should also mention the colour. The orangish yellow is so vibrant and so different from store bought turmeric. I am going to take the effort to make my own turmeric from now on. Store bought turmeric is no contest in front of this one. Do try it at home to believe it. Its not difficult at all.
Turmeric மஞ்சள் is beneficial in many ways and is helpful in fighting inflammation, arthritis, weight loss, cancer, etc.. to name a few. Making turmeric powder at home is easy. Its pure and can be stored for up to 3 months without losing its aroma. If making in bulk, its better to store it in the freezer as it stays fresh for up to an year in the freezer.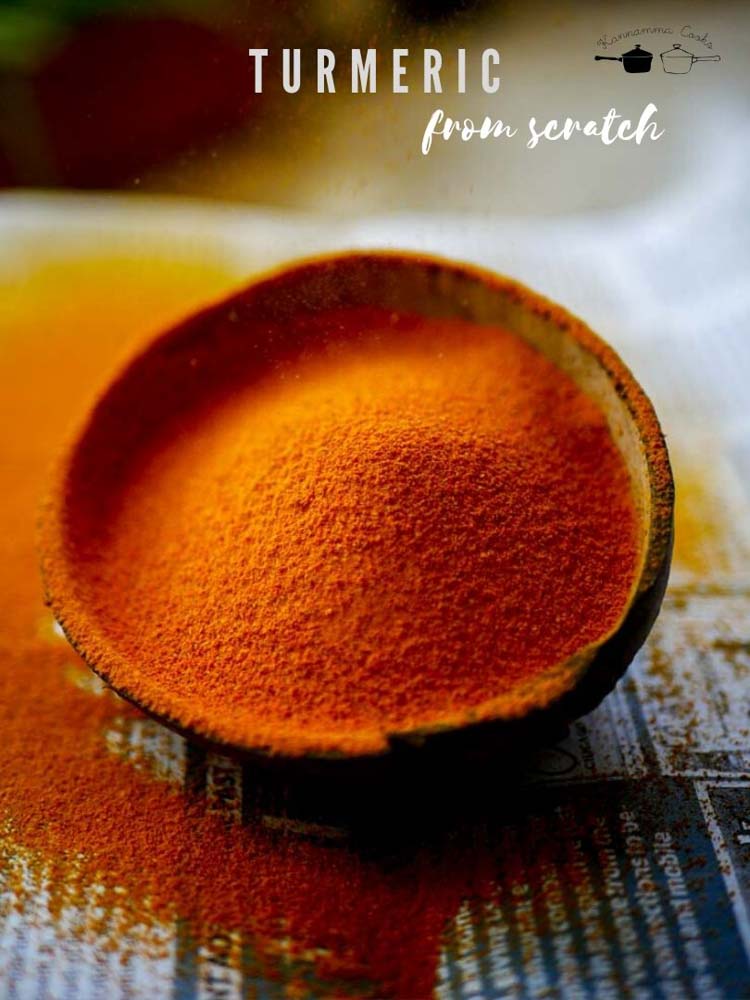 Here is how to make turmeric powder at home from fresh turmeric root.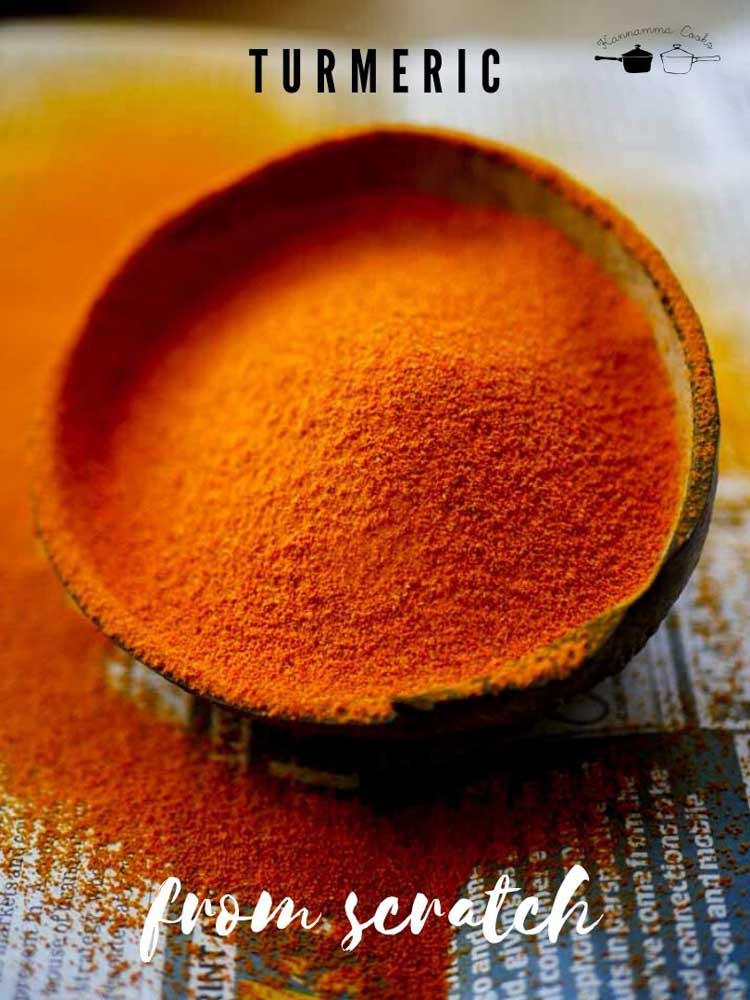 I have taken about 250 grams of raw turmeric for this recipe. Turmeric is called as Manjal மஞ்சள் in Tamil.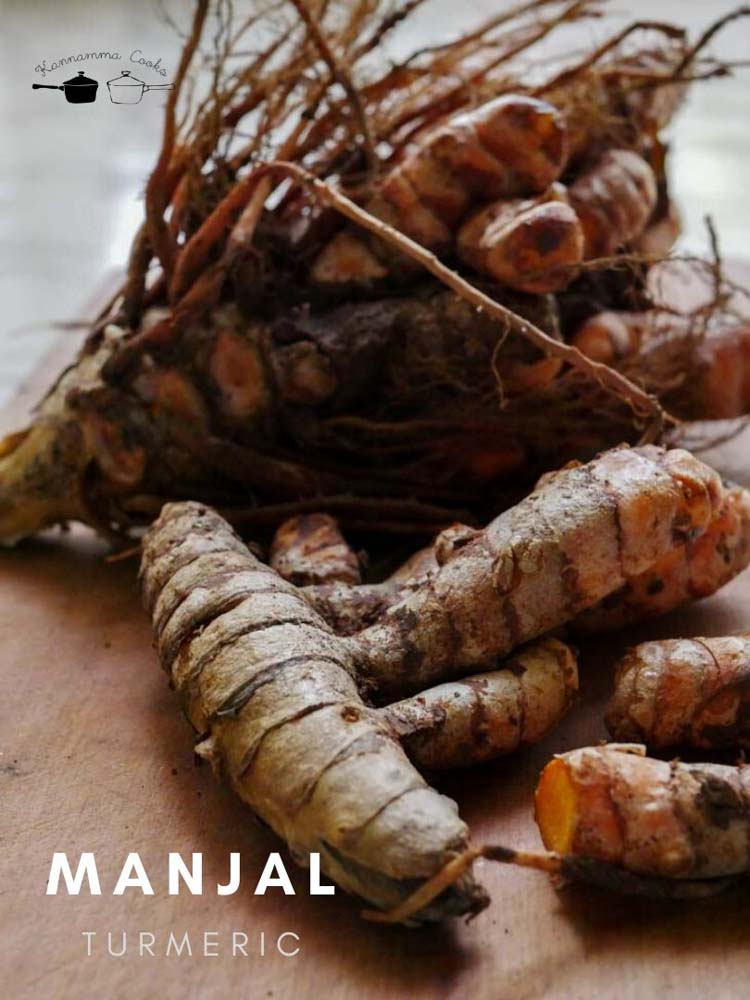 Remove the root stalks (the thick hairy attachments to the roots) and break the turmeric root bulbs into small pieces. Discard the stalks. Wash them well to get rid of sand. If the roots are muddy, soak them in water for 10 minutes and then thoroughly wash them. No need to peel the skin. The skin stays intact.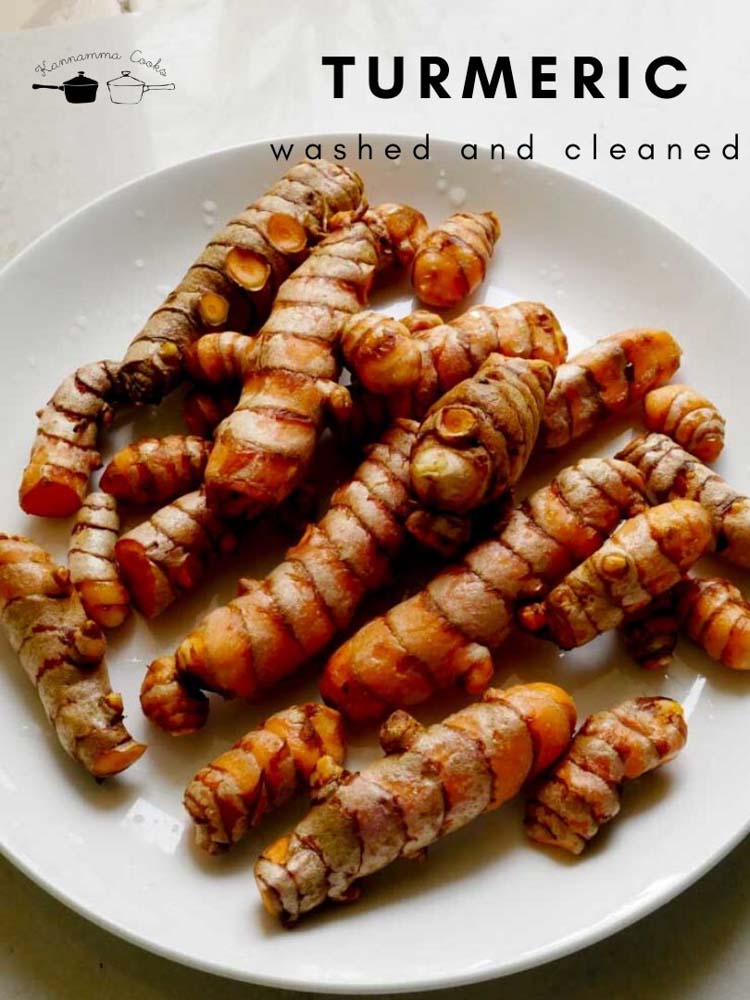 Curing Turmeric
Turmeric needs to be cured by boiling them briefly. Curing enables uniform distribution of colour and also intesifies the color and aroma. The drying is quicker too. Just take a pressure cooker and cover the turmeric with water until all the rhizomes are completely immersed in water.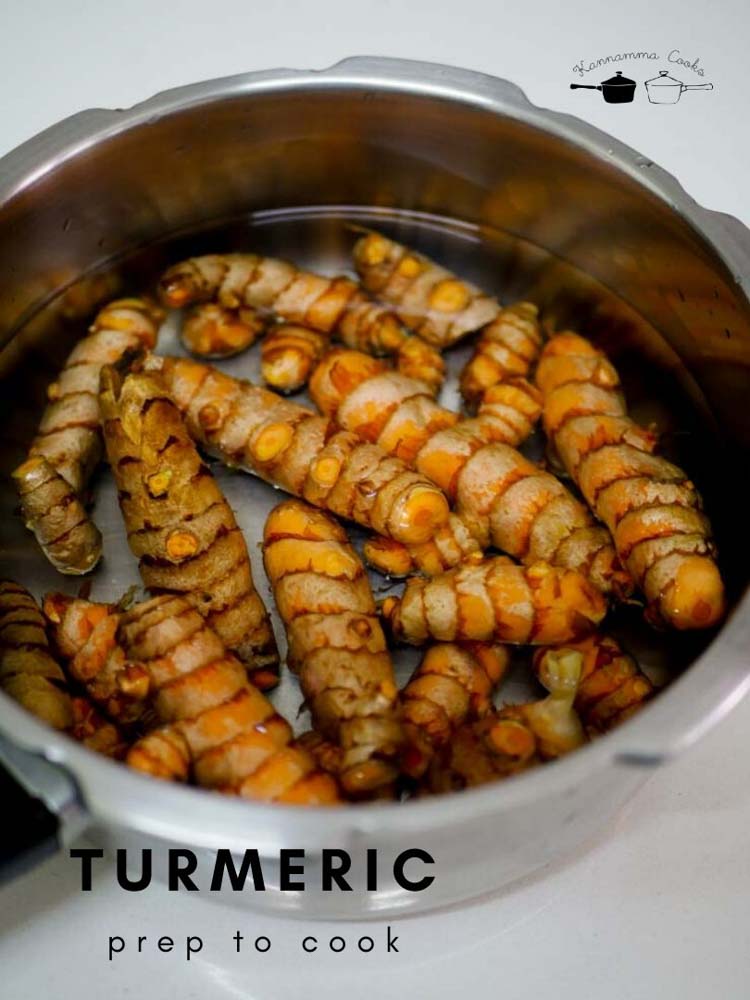 I cooked in a pressure cooker for just one whistle and allowed the pressure to settle naturally. If doing on stove top, cook the turmeric for 20 minutes and then remove from heat.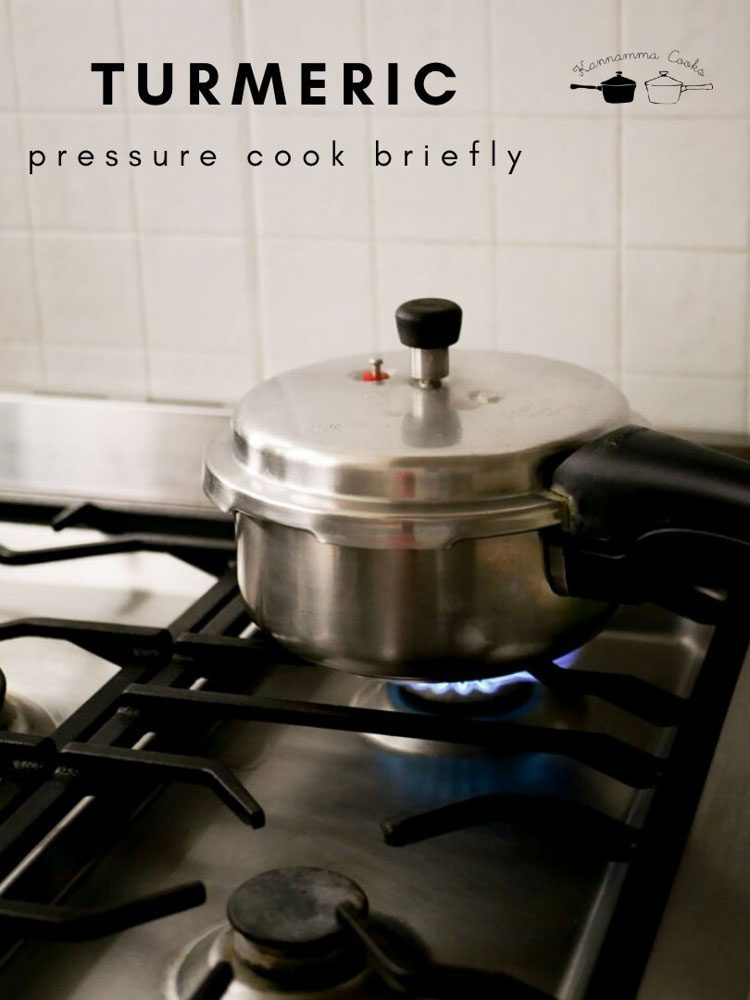 Strain the water from the cooked turmeric. At this stage your kitchen will start to smell like turmeric.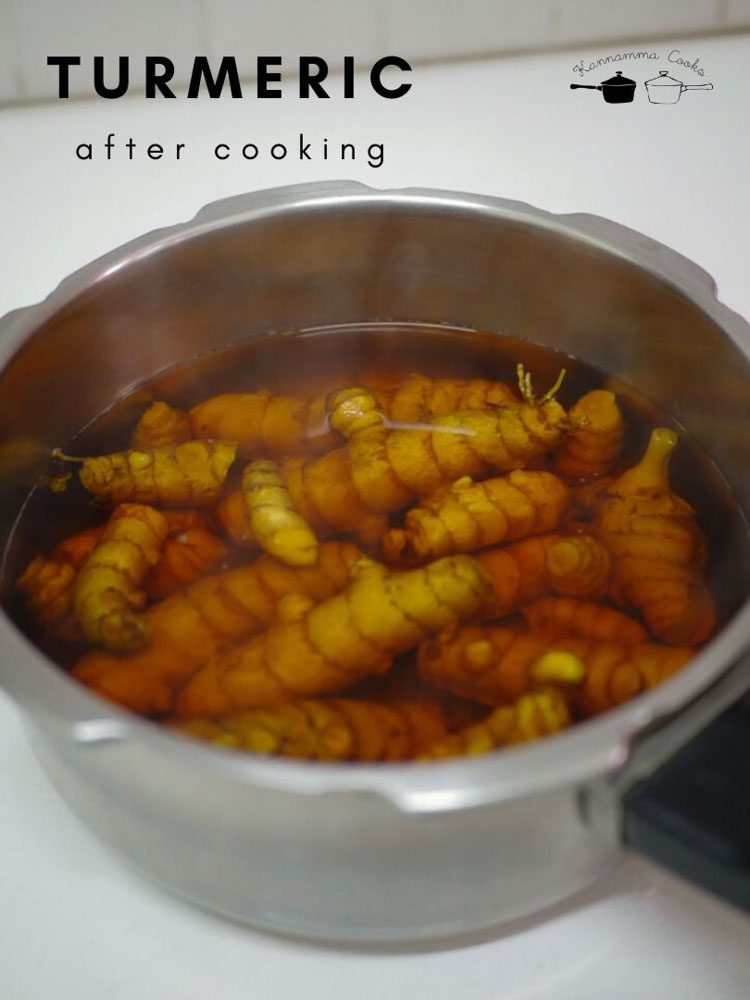 Now cut the cooked turmeric roots into quarter inch pieces.

Heads up – Your favorite knife is going to stain.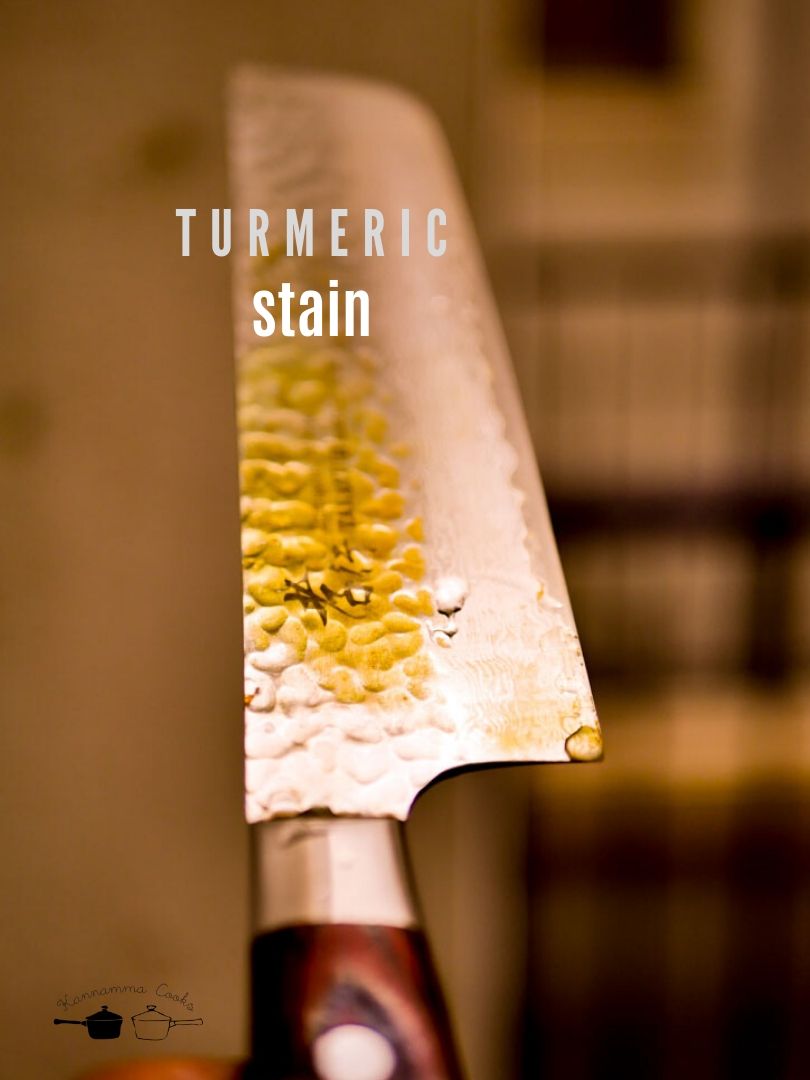 Drying
Place the cut turmeric in a plate or a sheet pan and allow it to dry in the sun.

It took two days for the turmeric to dry for me. It might take longer or shorter depending on where you live. At the end of each day, bring the turmeric inside the house. The next day, keep it in sun again. The turmeric would shrink and be bone dry.

Grinding
A note on mixie: This has to be done only in a heavy duty mixie else you might run the risk of breaking the blades. In doubt, please grind it in a neighbourhood flour mill.
Now lets grind the dried turmeric bits. You will need a heavy duty Indian style mixie or a coffee grinder to grind them into a powder. I have a panasonic mixie and I am happy with it for grinding masalas.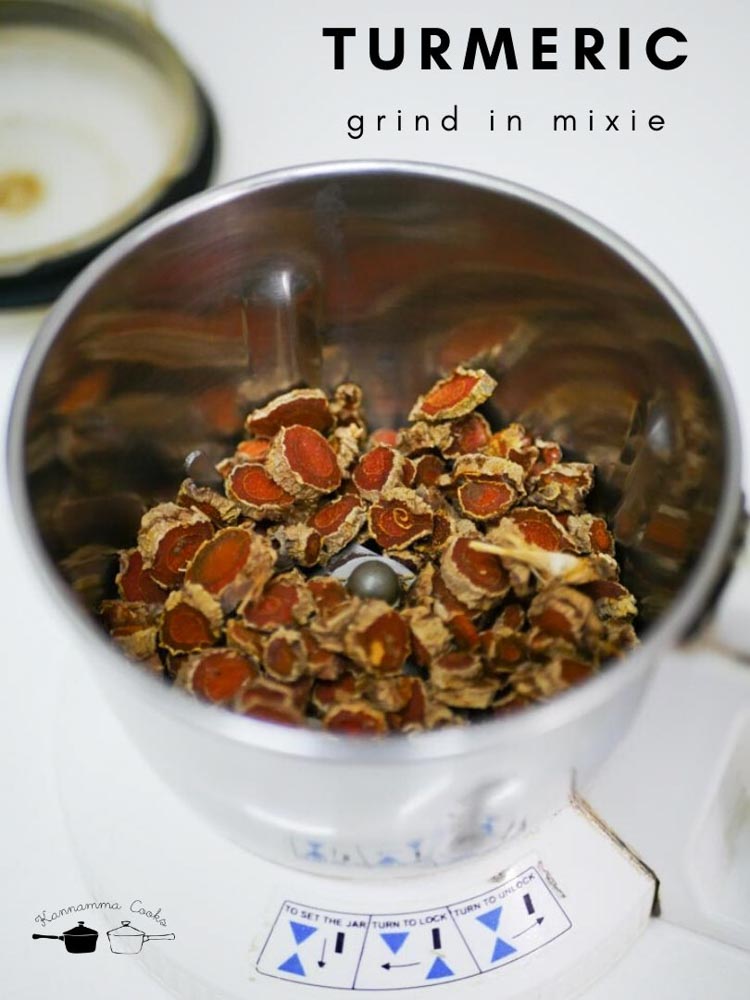 Grind for a minute. Give a break for a couple of minutes and grind again for another minute. The mixie jar might get hot if ground continously. So grind giving enough breaks.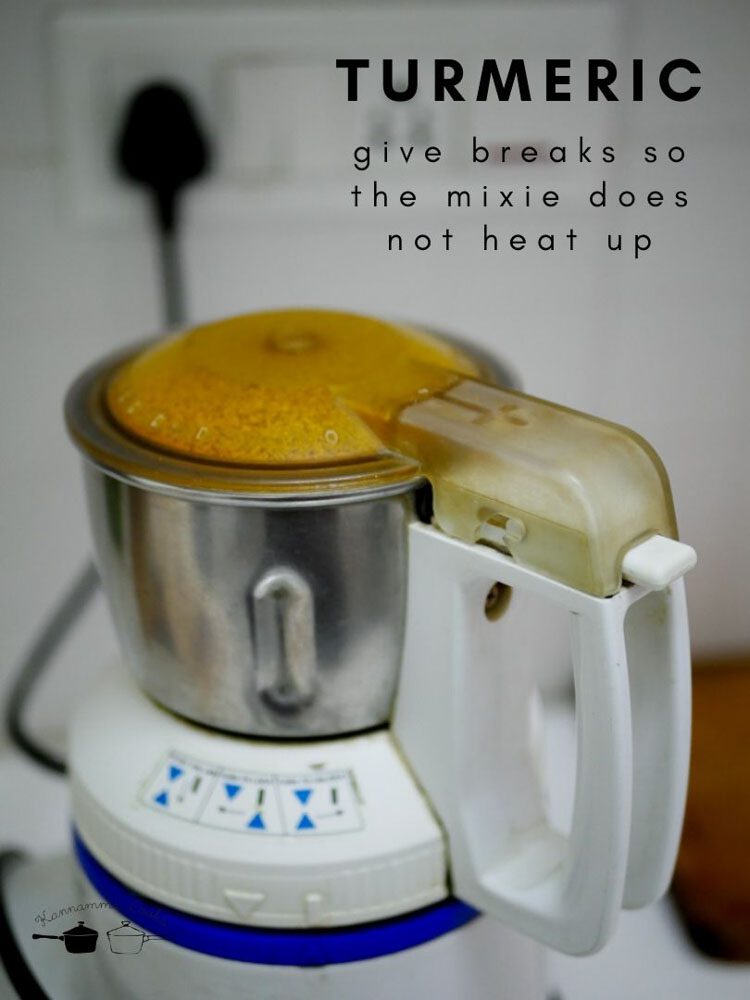 After couple of minutes the turmeric will be coarsely ground.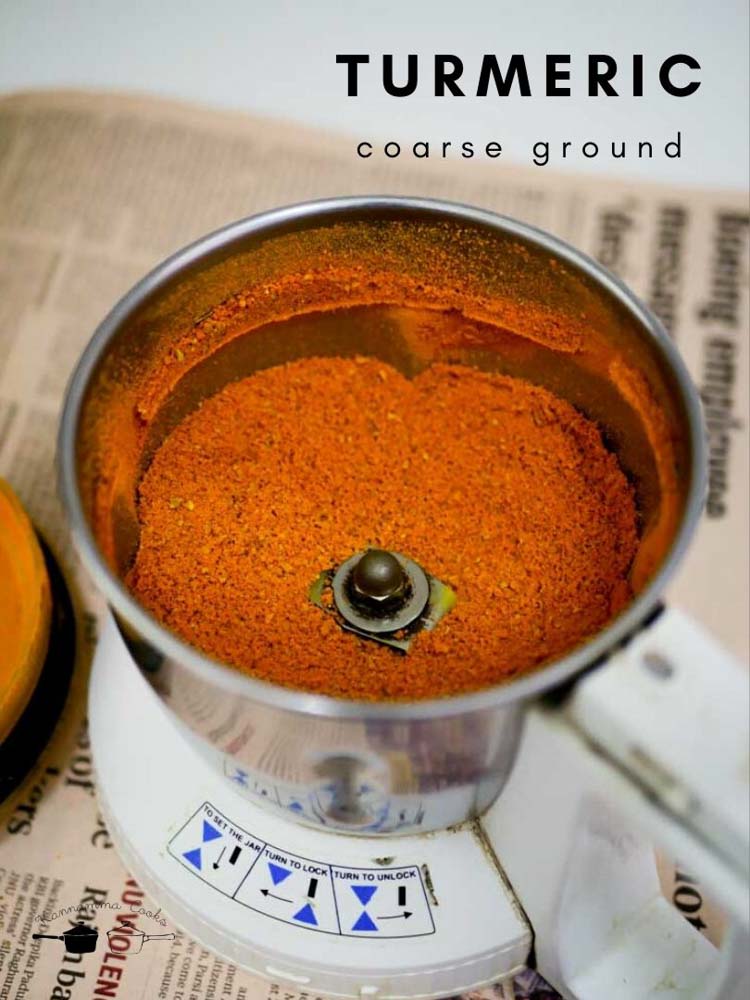 Sieve the turmeric to get only the fine dust. Whatever is leftover in the sieve, grind again.

The leftover bits are ground again. Repeat the process of sieving and grinding the bits as necessary.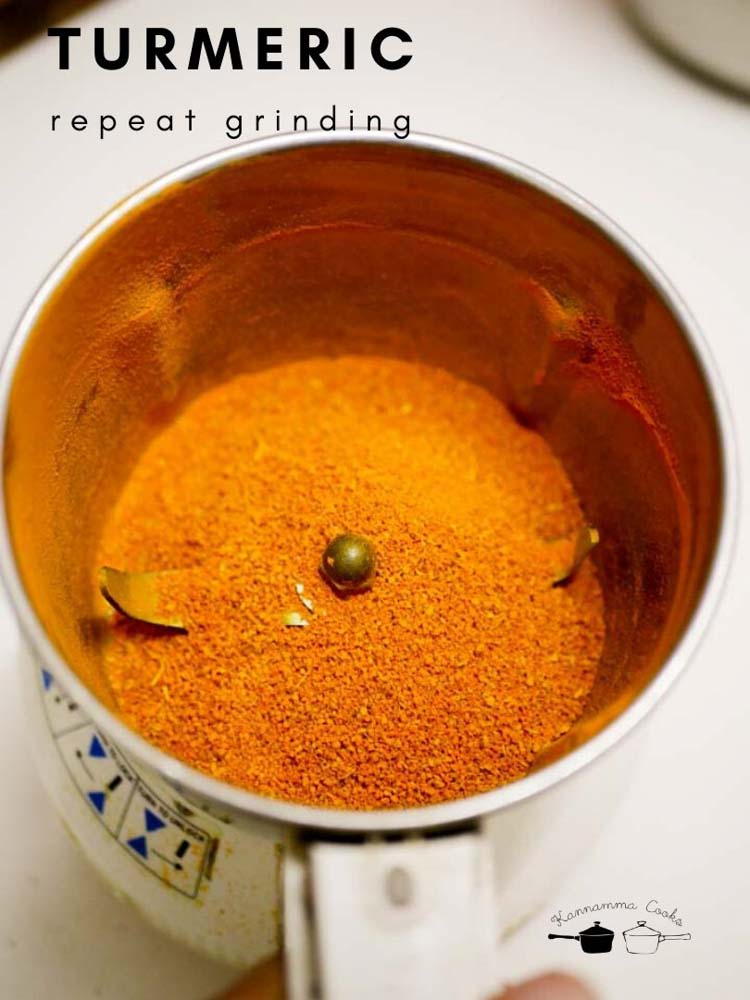 Our labour of love is ready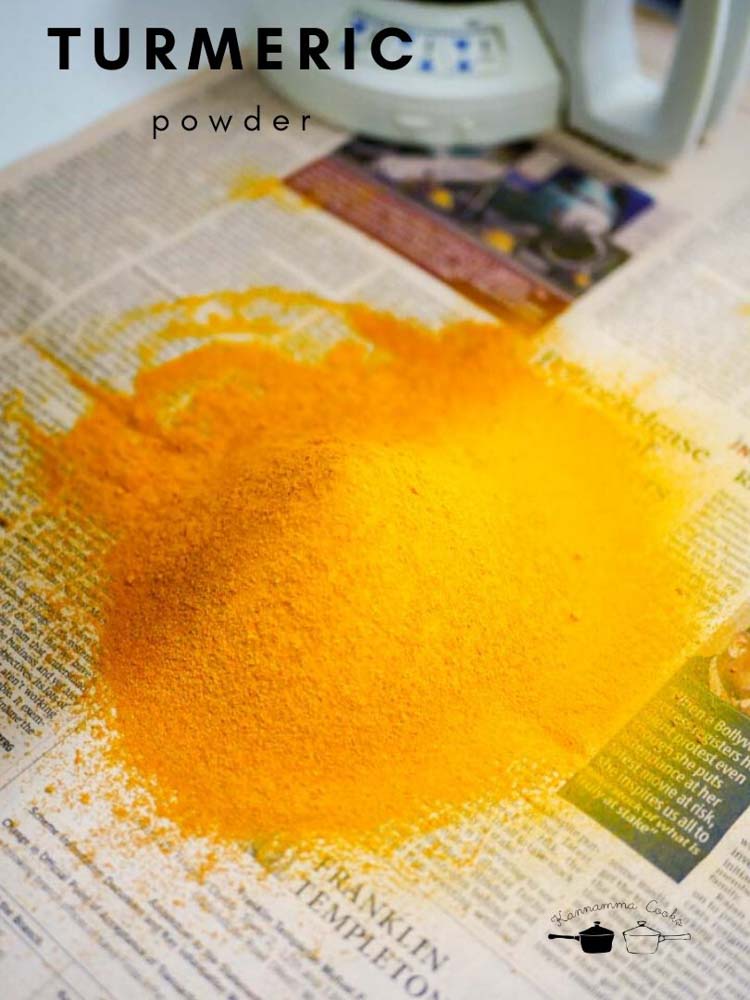 I used 250 grams of fresh turmeric and ended up with 70 grams of turmeric powder.

Freshly made turmeric powder is ready. Store in an airtight container and use it for up to 3 months. It can be stored in the freezer for up to an year.