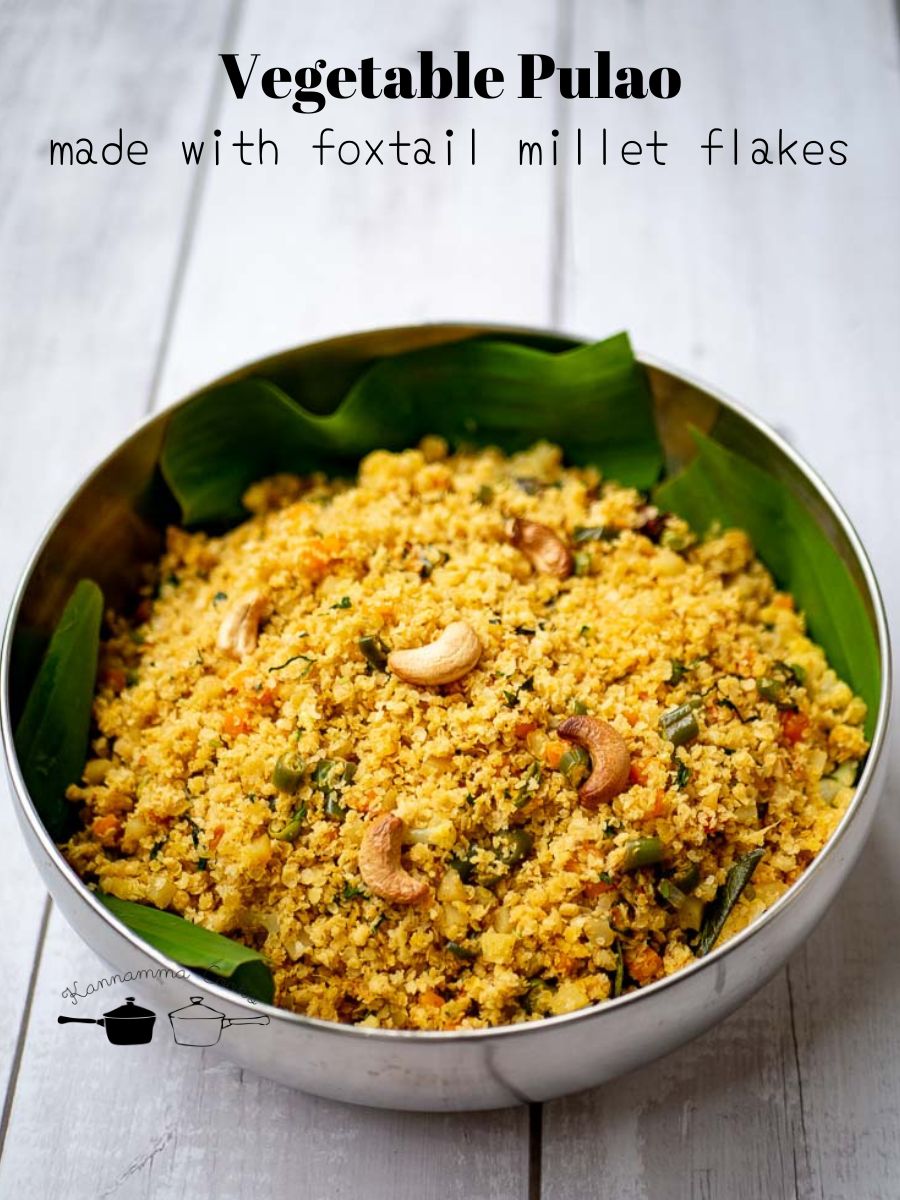 Vegetable pulao made with foxtail millet flakes and a lot of veggies is a delicious lunch box recipe that is healthy and loaded with fiber.
Here is how to make this delicious foxtail millet vegetable pulao recipe.
Millet flakes are very similar to rice aval / poha in texture. The flakes are very thin in size.

This recipe can be made with any type of millet flakes and it works really well.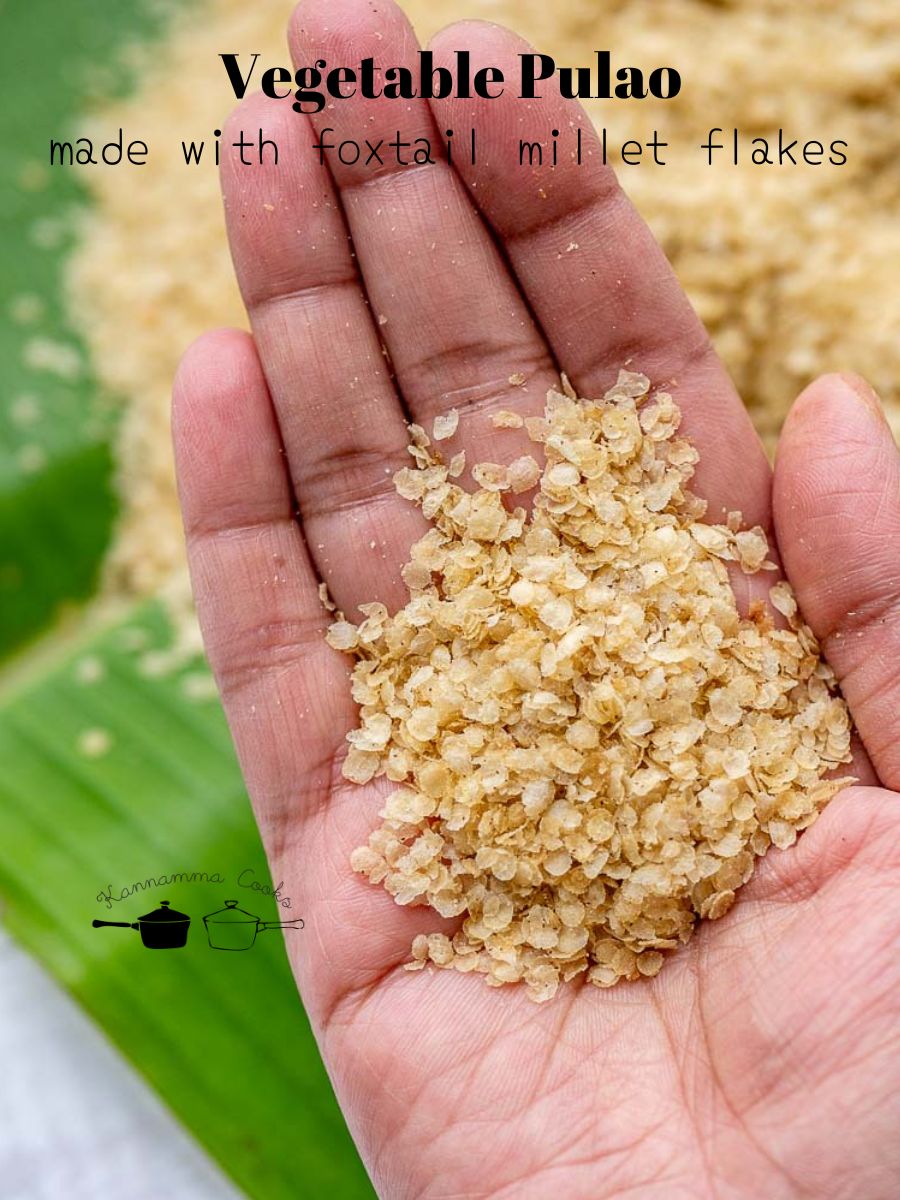 Here are the things you can buy online for making this recipe.
Foxtail Millet Flakes https://amzn.to/3OlmTKW
White Granite Pan with Lid PFOA Free https://amzn.to/3HDhdsD
Coconut Oil https://amzn.to/3O9nboD
Biryani Masala Powder https://amzn.to/3tNv0Is
Cultured Ghee https://amzn.to/3bi66u0
Here is the video of how to make Foxtail Millet Flakes Vegetable Pulao Recipe

Print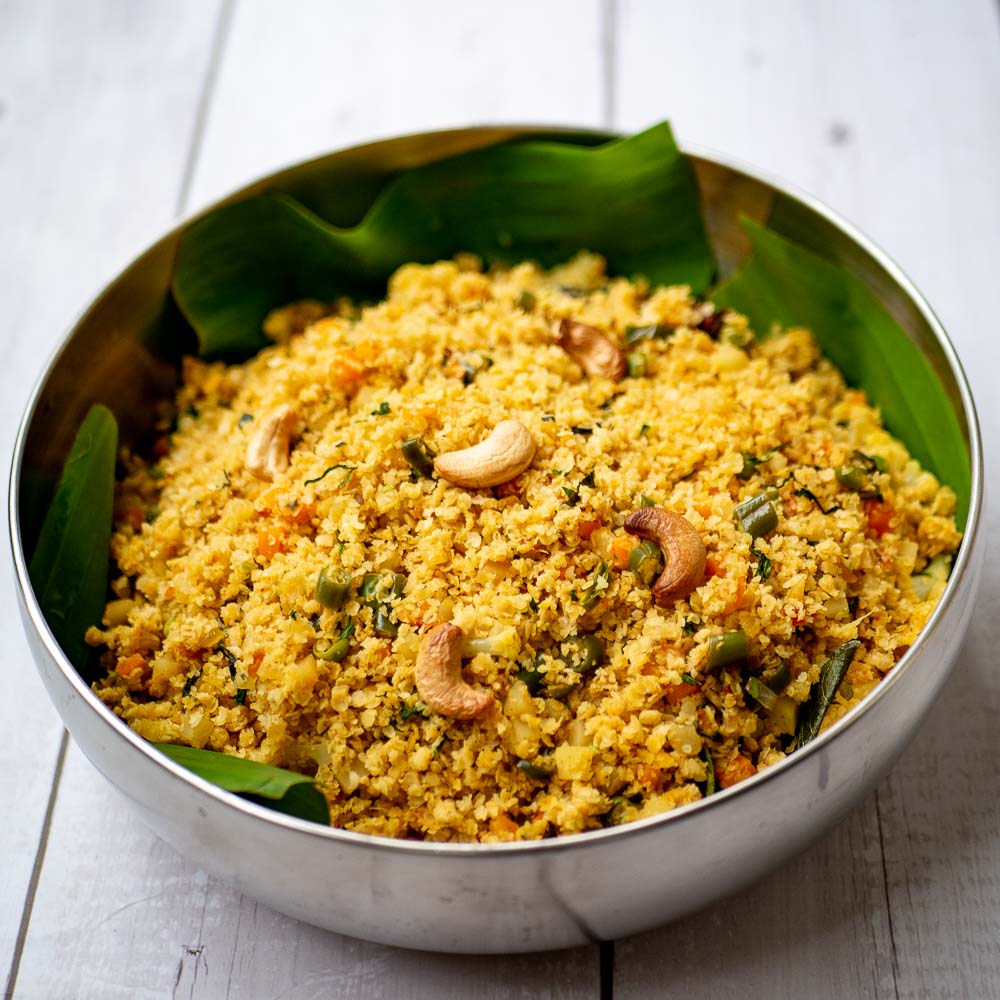 Foxtail Millet Flakes Vegetable Pulao Recipe
Vegetable pulao made with foxtail millet flakes and a lot of veggies is a delicious lunch box recipe that is healthy and loaded with fiber.
Total Time:

30m

Yield:

3

-

4

servings

1

x
2 cups foxtail millet flakes
1 tablespoon coconut oil
1 small piece cinnamon
2 bay leaves
2 cardamom
1 star anise
2 cloves
1/2 teaspoon cumin seeds
1 sprig curry leaves
2 green chillies, chopped
1/2 cup onion, chopped
1/4 teaspoon turmeric powder
1/2 teaspoon red chilli powder
1/2 teaspoon biryani masala powder
2 teaspoon crushed ginger & garlic
2 tomatoes, chopped
1 teaspoon salt
3 cups mixed vegetables
2 tablespoon water
2 tablespoon mint leaves, chopped
2 tablespoon coriander leaves, chopped
10 roasted cashews
1 teaspoon ghee
Instructions
I have taken about two cups of foxtail millet flakes for making this recipe today. Place the flakes on top of a colander so the water when added can drain immediately. Add water to the flakes and wash them once. No need to soak the flakes in water. As the texture is thin, wetting the flakes in water will do. After adding the water, immediately make sure to drain all the excess water by tapping the colander. The millet flakes need to be just moist. Nothing more than that. If it absorbs a lot of moisture, it will become mushy and pasty. We do not want that. So drain the excess water completely.
After draining the water, let it sit for 10-15 minutes. The flakes will rehydrate, increase in size and become fluffy during this time. The flakes would have become soft too. Our millet flakes prep is ready. Set aside.
Take a wide pan and add in coconut oil. You can also add ghee if you like. Add in a small piece of cinnamon, bay leaves, cardamom, star anise, cloves, cumin seeds, curry leaves and chopped green chillies. Adjust the green chillies according to your taste. Saute for a minute for the spices to get aromatic. Add in the chopped onion. Saute the onions till they are soft. Add in the turmeric powder, red chilli powder and biryani masala powder. Ready made masala powder is fine for this recipe.
Crush about 6 cloves of garlic and an inch of ginger in a mortar and pestle to a coarse paste. Add the crushed ginger and garlic to the pan. Saute for a minute for the spice powder and the ginger and garlic to nicely get roasted in oil. At this stage add in the chopped tomatoes. Add in the salt along with the tomatoes.
Cook for a few minutes till the tomatoes are mushy. Once the tomatoes are mushy, add in the vegetables. Add in about 3 cups of mixed vegetables. I have used potatoes, green peas, cauliflower, green beans and carrots. Make sure to add potatoes as they give a nice texture to the pulao. Also cut all the vegetables to a fairly similar size and try to chop them small so they cook fast and they cook evenly. Feel free to mix and match the veggies according to what you can find in your refrigerator. Mix well to combine. Once the vegetables are well coated in masala, add a few tablespoons of water for the vegetables to cook. Cover the pan with a lid and cook on a low flame for seven to eight minutes.
After the said time, take a small piece of potato and try to mash them. It should easily mash. If it's hard, cook for a couple of more minutes.
Once the veggies are cooked, add in the chopped mint leaves and chopped coriander leaves. Mix well to combine. No need to cook for long after adding the mint and coriander.
Now, add in the rehydrated foxtail millet flakes that we made earlier. They should be soft but not mushy. After adding the flakes, gently mix well to combine. Make sure to mix in such a way that the flakes are evenly coated with the masala. Do not add any water at this stage. The moisture from the masala is just enough and will keep the flakes nice and fluffy.
After mixing well, cover the pan with a lid and cook for a minute more on a low flame just to heat up the flakes.
Finish the pulao by sprinkling some roasted cashews. Also add in a little ghee for aroma. At this stage, switch off the flame and cover the pan with a lid and let it rest for 15 minutes for the flavours to mingle.
Our healthy and delicious millet flakes vegetable pulao is ready to be served. You can serve as is or with a side of cucumber raita.
Author:

Prep Time:

10m

Cook Time:

20m
Keywords: millet vegetable pulao