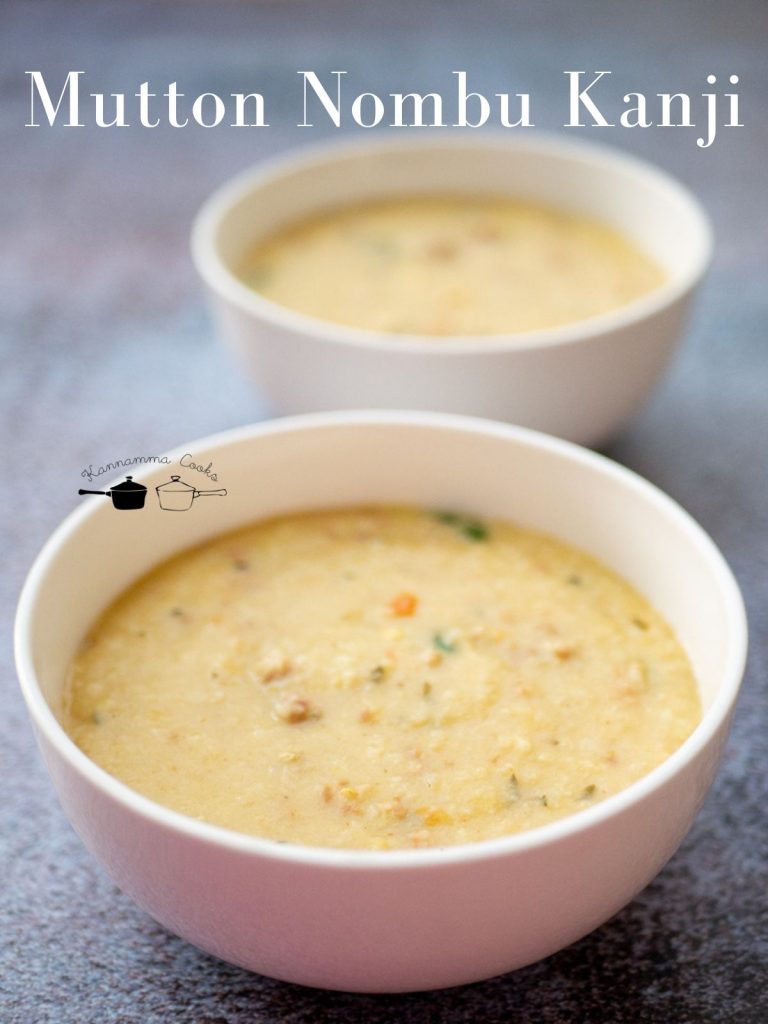 Recipe for Mutton Nombu Kanji. Meat Porridge served during Ramadan time. A very comforting porridge that is light on the stomach and easy to digest. Recipe with Video.
I had already shared traditional Palli Vaasal nombu kanji.
https://www.kannammacooks.com/nombu-kanji-nonbu-kanji-ramadan-kanji/
Nombu Kanji / Nonbu Kanji is a porridge made during the Ramadan season to break the fast in the evening.
Here are some pointers while making the kanji
Do not add too much oil or ghee while making the kanji. The Kanji needs to be very light.
Do not add too many spices as they can irritate the stomach after the long fast and can make one feel very bloated afterward. This recipe should be very soothing to the tummy.
Fenugreek seeds (vendhayam) are an important ingredient in the kanji. Nombu Kanji is never made without vendhayam (fenugreek). It helps to keep the body cool as fenugreek has cooling properties.
Sometimes, little drumstick leaves are added to make it richer and nourishing."
Drumstick leaves are a nutrient-dense food. Drumstick leaves are an iron-rich food source (31% Daily Value per 100 g consumed). During the Ramadan season, the rice is sold as grits – "noi arisi" or "arisi kurunai" in shops. If one can't find the rice grits or lives abroad, they can be made easily at home in bulk and stored and used. I have shared the recipe for making rice grits below. Let this Ramadan season bring in lots of love to everyone.
Here is the video of how to make Mutton Nombu Kanji Recipe | Ramzan Nombu Kanji Recipe | Iftar Recipe
Print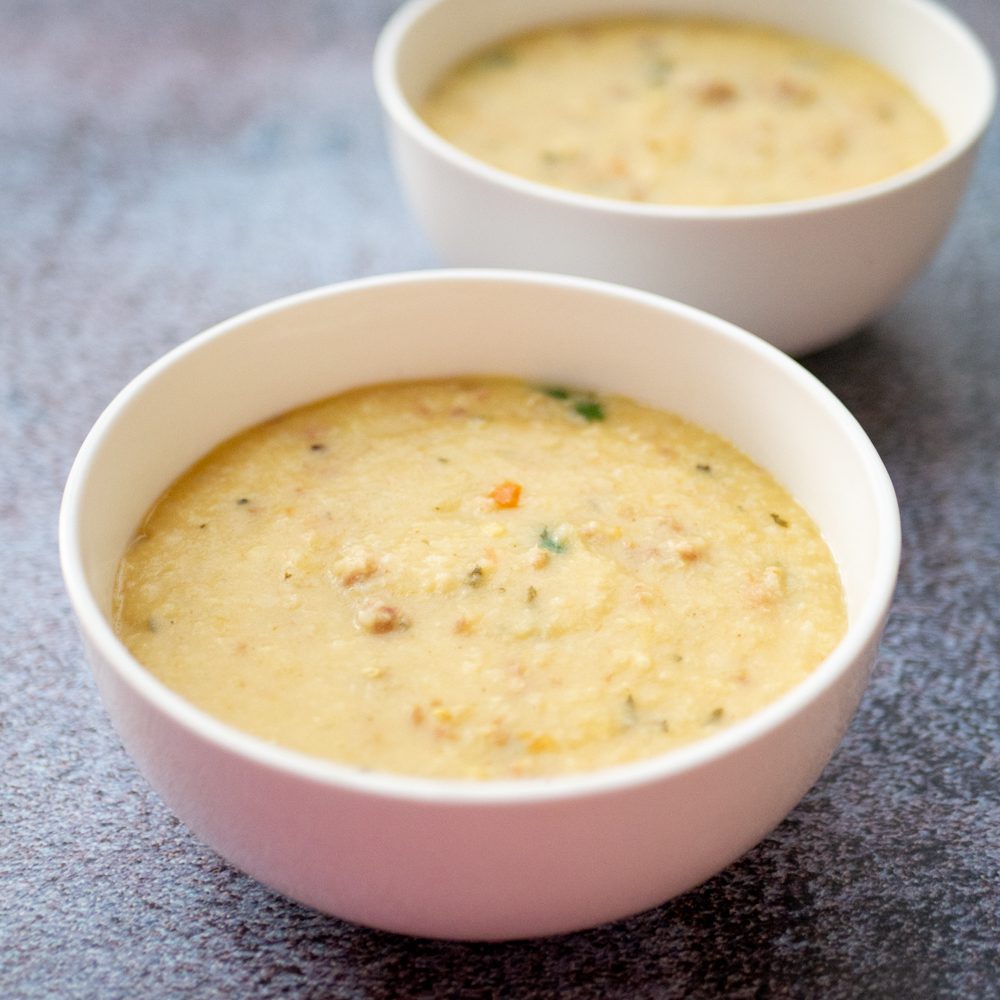 Mutton Nombu Kanji Recipe
Nombu Kanji / Nonbu Kanji is a porridge made during the Ramadan season to break the fast in the evening.
Total Time:

60m

Yield:

5

servings

1

x
1 cup seeraga samba rice
2 tablespoon vegetable oil
2 cloves
2 cardamom
2 small piece of cinnamon (cassia)
1/2 teaspoon fennel seeds
1/8 teaspoon fenugreek seeds
1/4 cup onions finely chopped
1/4 cup moong dal
2 green chillies
1 teaspoon ginger garlic paste
1/4 cup tomatoes, chopped
3 sprigs of mint leaves
3 sprigs of coriander leaves
1/2 teaspoon turmeric powder
3/4 teaspoon red chilli powder
1.5 teaspoon salt
150 grams of minced mutton
1.5 liters of hot water
1/4 cup thick coconut milk
2 sprigs coriander leaves (for garnish)
Instructions
To make noi arisi / rice grits
First, let's make rice grits. You can make it in larger quantities if you want and store it and use it for the entire season. Take the rice and wash it in water for 3-4 times. Soak the rice in water for 10 minutes. After soaking, drain the water completely and dry the rice on a cloth for 15-20 minutes. Once the rice is dried and has very little moisture left, pulse it in a mixie one or two times so that each grain of rice gets broken into 2-3 pieces. Set aside.
To make the kanji/porridge
Heat oil in the pan and add all the spices, fenugreek, and onion. Saute till the onions are soft and starting to brown. Once the onions are soft, add the moong dal. Roast the dal for a minute. Add the green chilies, ginger garlic paste, tomatoes, turmeric powder, red chilli powder, and salt. Cook for a couple of minutes for the tomatoes to soften. Add the minced mutton and mix well to combine.
Add the hot water and the prepared rice grits. Cover the cooker and cook for 4 whistles / 10 minutes.
Remove from heat and wait for the pressure to completely settle. Open the cooker and add little coconut milk and coriander leaves. Mix well to combine. Serve hot.
Notes
If the kanji is thick, dilute it with hot water to desired consistency. Adjust seasoning if necessary.
Author:

Prep Time:

30m

Cook Time:

30m
Keywords: Mutton Nombu Kanji