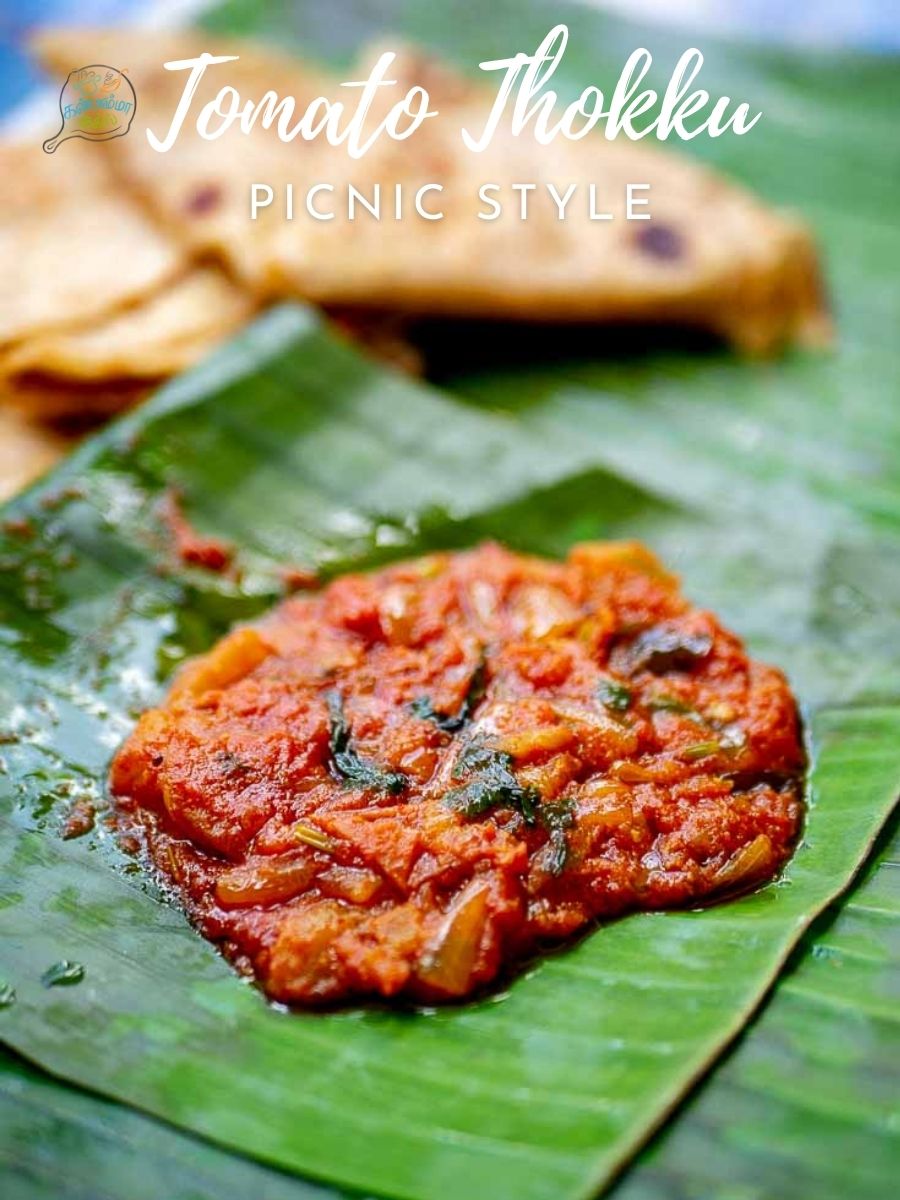 Recipe for easy tomato Thokku that does not require any grinding. This recipe travels well and is perfect for chapati and idli. Recipe with video.
Here are other recipes on the site
Tomato Based Recipes
This tomato thokku is perfect for taking as a side dish for chapati during travel or picnic. This Thokku stays well at room temperature for up to 2 days. The tangy and spicy Thokku is a perfect accompaniment and is a very nostalgic dish in many homes. The recipe is more or less the same in each house with minor variations.
I have shared a variation of this thokku recipe thats made in the pressure cooker. Click Here For Recipe
There is a little sugar added along with the spices while making the Thokku. Do not omit the sugar. The sugar nicely balances out the tangy tomatoes and the spices.
If traveling in a hot and humid climate, cook the Thokku with a little more oil than mentioned in the recipe. The oil will keep the Thokku from getting spoiled. Also avoid adding coriander leaves if taking this thokku on a long travel.
Both country tomatoes as well as regular tomatoes (bangalore thakkali or bangalore tomatoes) work well for this recipe. Country tomatoes might be slightly more tangier than regular ones. Adjust the spices accordingly while cooking. Country tomato Thokku may require a little more red chilli powder and coriander powder to balance the flavours. Add very little at the beginning, taste along and add more if necessary.
Here are the things you can buy online for making this recipe.
Heavy Bottom Non Stick Pan – https://amzn.to/3fuDfBl
Wooden Chopping Board – https://amzn.to/3FvqZet
Triply Saute Pan – https://amzn.to/3Kj6ghR
Indian sesame oil – https://amzn.to/3Fz7iCs
Red Chilli Powder – https://amzn.to/3K9vvmu
Here is the video of how to make Picnic Tomato Thokku

Print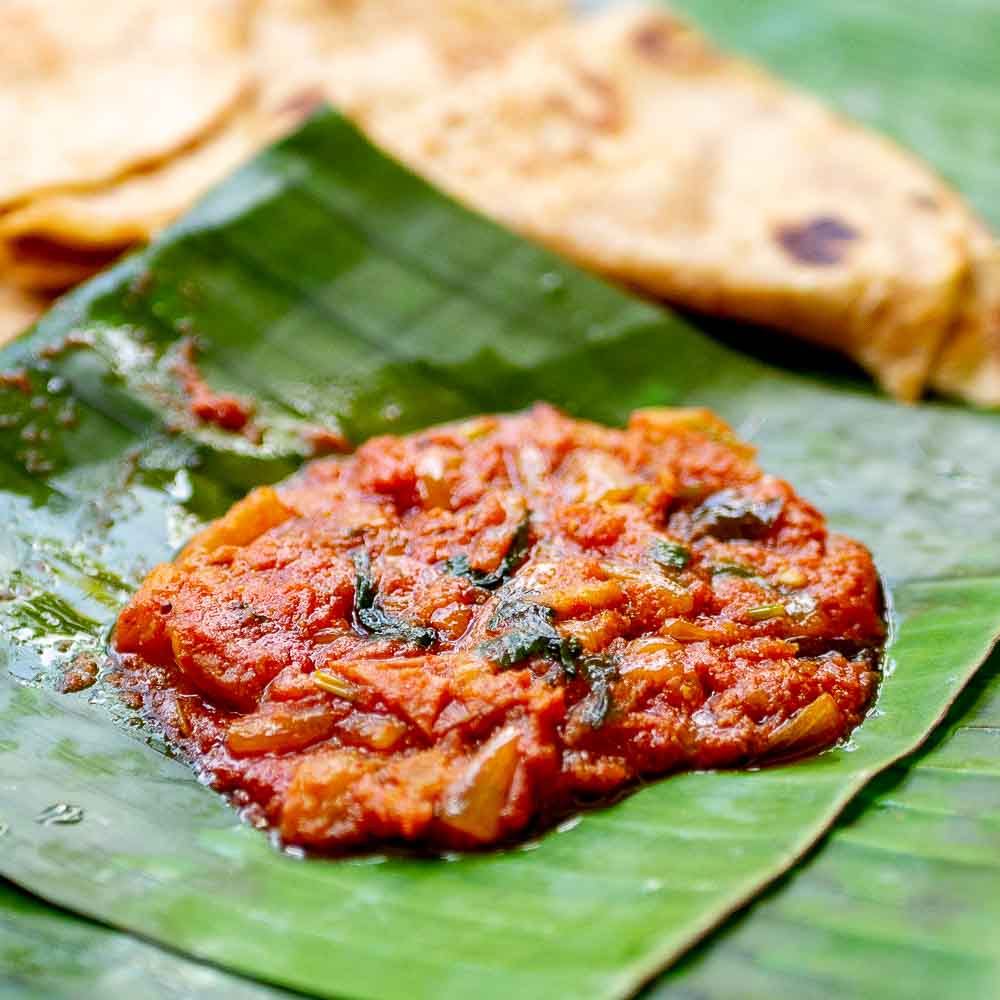 Picnic Tomato Thokku | Thakkali Thokku 
Recipe for easy tomato Thokku that does not require any grinding. This recipe travels well and is perfect for chapati and idli. Recipe with video.
Total Time:

30m

Yield:

1 cup

1

x
1/4 cup Indian sesame oil
1/4 teaspoon mustard seeds
1/4 teaspoon cumin seeds
2 sprigs curry leaves
2 green chillies, sliced
1 cup onion, sliced
6 tomatoes, roughly chopped
1 teaspoon salt
1 teaspoon sugar
1 teaspoon turmeric powder
2 teaspoon red chilli powder
2 teaspoon coriander powder
3 sprigs coriander leaves, chopped
Instructions
Heat Indian sesame oil in a pan. Add in the mustard seeds, cumin seeds, curry leaves and the green chillies. Let the mustard seeds crackle.
Add in the onions and saute for a couple of minutes.
Add in the chopped tomatoes and the salt. Add in the sugar. Add in the spice powders on top of the tomato mixture. Mix once and cover the pan with a lid. Reduce the flame to low. Cook for 20-25 minutes stirring once in a while so it does not scorch at the bottom.
After the said time, mash the tomatoes and the onion mixture with a potato masher. The Thokku should be thick at this stage.
Add in the coriander leaves and cook for a couple of minutes more.
Check for seasoning and add in more salt if necessary.
Switch off the flame and let the Thokku cool. Once the Thokku is cool, bottle it in a dry container and use it within two days. If refrigerated, the Thokku will stay fresh for up to a week.
Serve with chapati, idli or dosai. This Thokku can be mixed with plain rice and had too.
Author:

Prep Time:

10m

Cook Time:

20m