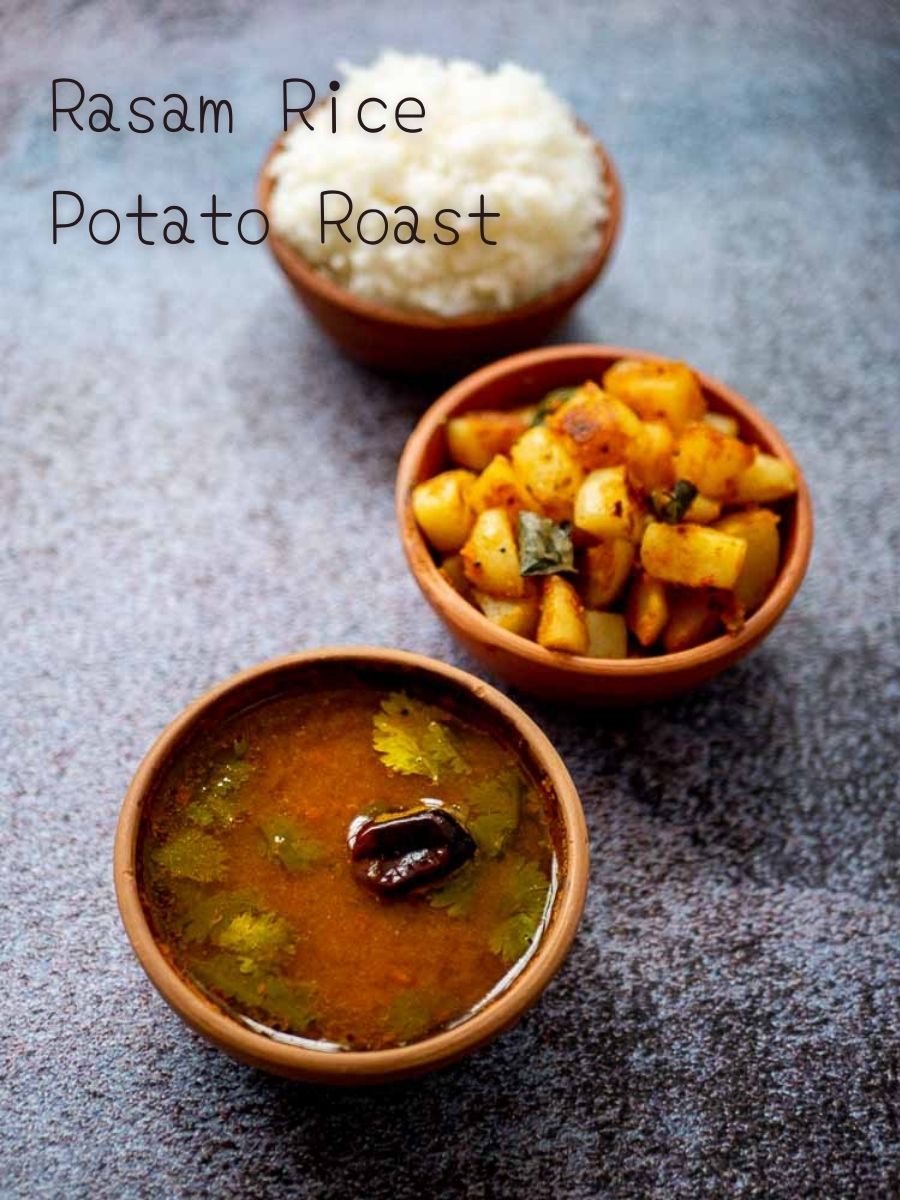 Recipe for everyday rasam and potato roast served with rice. Bachelor friendly recipe.
Rasam Saadham / Rasam Rice and Urulai Kara Kari / Potato Roast is a favorite in many South Indian households. Here is a very bachelor friendly recipe that can be put together in less than 30 minutes with ingredients that are found in everyday kitchen.
For the rasam rice, a paste is ground and boiled with spices. A final tempering of ghee is added to the recipe. If you do not want to do the tempering with ghee, vegetable oil can also be used.
Potato Kara Kari – The first time I tried this potato kara kari, it was serendipity. I have never used besan (kadalai maavu) in potato fry I do at home until recently. The additional touch of besan gives the potato fry a new dimension that I have come to call as the "aloo bonda-ish" flavor that's mind blowing.
Here are the products you can buy online for making this recipe
Non-Stick/Stainless Steel Frying Pan https://amzn.to/347Rry7
Earthen Kadai/Clay Pot https://amzn.to/35H6dfF
Heavy Duty Indian Mixie https://amzn.to/3GptNKD
Here is the video of how to make Everyday Tomato Rasam and Potato Roast

Print
Everyday Tomato Rasam and Potato Roast
Recipe for everyday rasam and potato roast served with rice. Bachelor friendly recipe.
Total Time:

30m

Yield:

3

-

4

servings

1

x
Recipe 1 – Everyday Tomato Rasam Recipe
For Rasam Paste
1 teaspoon black pepper
1 teaspoon cumin seeds
1 dried gundu chilli
4 cloves garlic with skin
1 gooseberry size tamarind soaked in water
3 ripe tomatoes
1/2 teaspoon turmeric powder
1 teaspoon rock salt
1/2 teaspoon jaggery
2 cups water
2 tablespoon coriander leaves, roughly chopped
Tempering Ingredients
2 teaspoon ghee
1/2 teaspoon split urad dal
1/2 teaspoon mustard seeds
3 dried gundu chillies
2 sprig curry leaves
1/4 teaspoon asafoetida
Recipe 2 – Urulai Kara Kari Recipe
For Steaming Potatoes
4 potatoes, peeled and diced
1 teaspoon sambar powder
1 teaspoon chilli powder
2 sprigs curry leaves
3/4 teaspoon salt
2 tablespoon besan (kadalai maavu)
Other Ingredients
2 tablespoon peanut oil
1/4 teaspoon mustard seeds
Instructions
Everyday Rasam
Soak the tamarind in 1/4 cup water for about 10 minutes. Set aside. Add in the black pepper, cumin seeds, gundu chilli, garlic cloves, soaked tamarind along with the water and tomatoes. Grind to a paste.
Add the ground paste to a pot. Add in the turmeric powder, rock salt, jaggery and water. Let it come to a boil. The rasam will foam up.
At this stage, make a tempering. Add ghee to a small tadka pan and let it slightly heat up. Add in the urad dal, mustard seeds, chillies and the curry leaves. Let the mustard seeds crackle. Add in the asafoetida. Let the asafoetida warm up for a few seconds.
Add the tempering to the rasam. Add in the coriander leaves. Switch off the flame and cover the pot with a lid and let the rasam rest for 15 minutes.
Urulai Kara Kari Recipe
Wash and peel the potatoes. Dice the potatoes to small pieces. Mix the potatoes with sambar powder, chilli powder, curry leaves, salt and besan. Mix well to combine. Set aside.
I like to cook the potatoes in a pressure cooker using the pot in pot method. Take a pressure cooker and add half a cup of water to the cooker. Place the potato bowl in the cooker and cover with a lid. Cook on a medium flame for 4 whistles. Remove from heat and wait for the pressure to settle naturally. The potatoes usually cooks in 2-3 whistles but we are cooking for 4 whistles as we are cooking using the pot in pot method. Remember that we did not add any water to the potato bowl. The potato cooks perfectly in this method.
Take a pan, preferably non-stick and add a tablespoon of oil to the pan. Heat the oil and add in the mustard seeds. Let the mustard seeds splutter. Add in the cooked potato mixture to the pan.
Toss the potatoes for 10 minutes until well roasted.
Serve hot!
Author:

Prep Time:

5m

Cook Time:

25m
Keywords: everyday rasam and potato roast