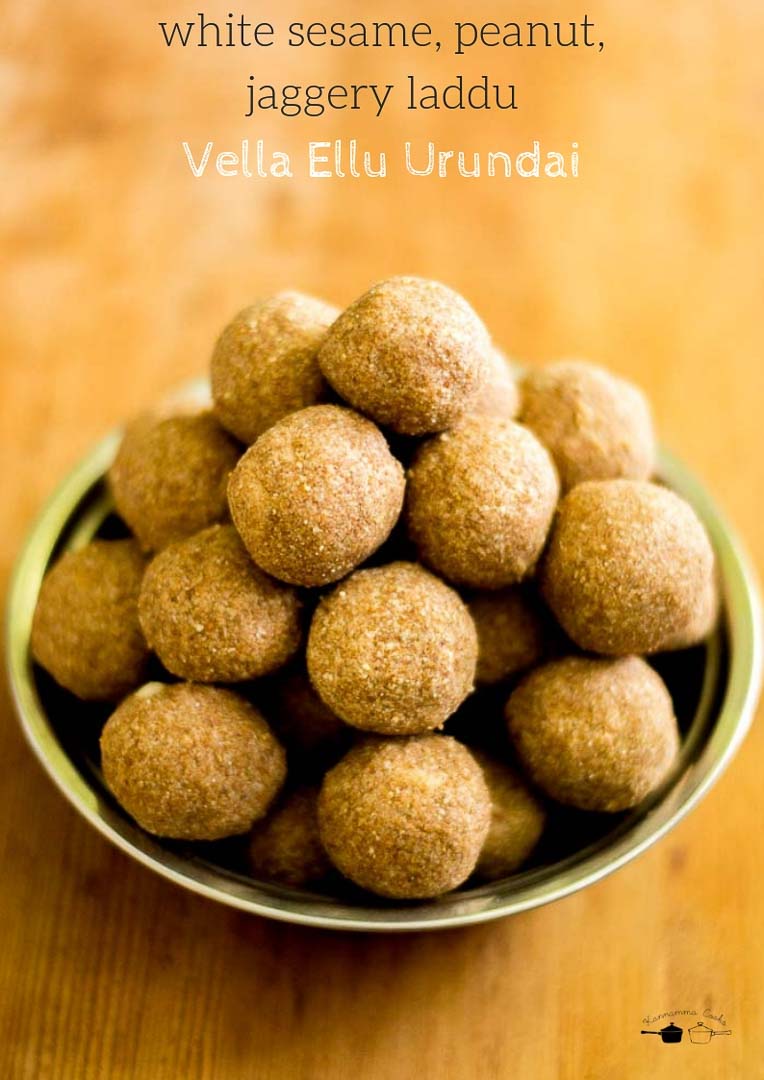 Recipe for vella ellurundai. White Sesame laddu made with roasted white sesame seeds, roasted peanuts and jaggery. Very healthy sweet that can be made in minutes. Recipe with step by step pictures. வெள்ளை எள்ளுருண்டை

This recipe is a slight variation from the traditional ellu urundai / sesame seed laddu that is made with black sesame seeds. While black sesame seed laddu / karuppu ellu urundai involves prep work and is slightly difficult for beginners, this vella elluurundai made with white sesame seeds can be put together in minutes. I had shared some pictures of making this in my Instagram feed recently and many people had asked for the recipe.
https://www.instagram.com/p/BoBs2SMgNNb/?taken-by=kannammacooks
Here is how to do vella ellu urundai / white sesame seed laddu
Sesame is an important seed used in Tamilnadu cuisine. Sesame and its oil is very traditional in this part of the world. Sesame is called as எள் (Ell) in tamil. Sesame oil was referred in olden days as எள்நெய் (Ell Nei). Ell meant sesame and Nei meant fat. Later on the name எள்நெய் (Ell-Nei) became எண்ணெய் (Enn-Nei). So the name எண்ணெய் Enn-Nei was referred only for sesame oil in the olden days. When other kinds of oil started appearing, the term எண்ணெய் (Enn-Nei) became a generic word for oil. Sesame oil became நல்லெண்ணெய் (Nalla-Enn-Nei). Nalla means "good". The nutritional benefits of sesame is astonishing.
Ellu urundai is extremely nutritious as sesame contains several B vitamins, iron, magnesium, calcium, phosphorus, and zinc. Many articles also suggest that sesame consumption may help in small reductions in both systolic and diastolic blood pressure.
The recipe for ellu urundai is very simple. The main ingredients are White sesame seeds, peanuts and jaggery. We will need equal quantity of all these ingredients.
Take a cup of white sesame seeds.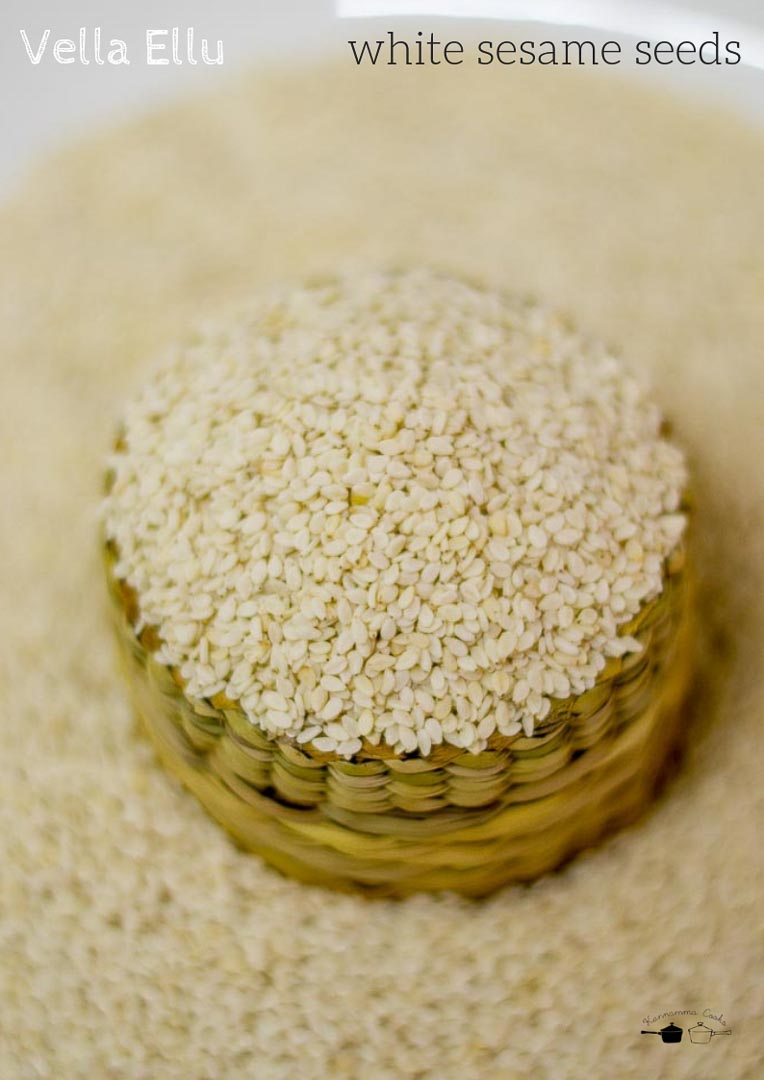 We will also need a cup of peanuts.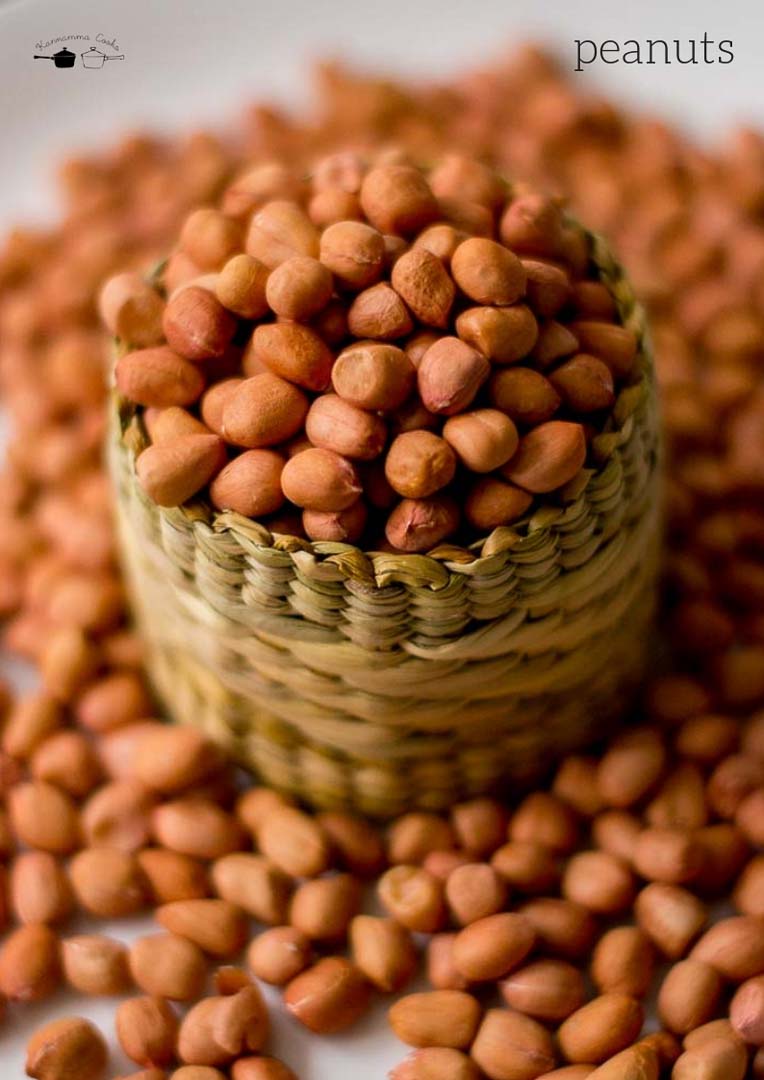 Take a cup of powdered jaggery. (karumbu sakkarai / unrefined sugar also works well).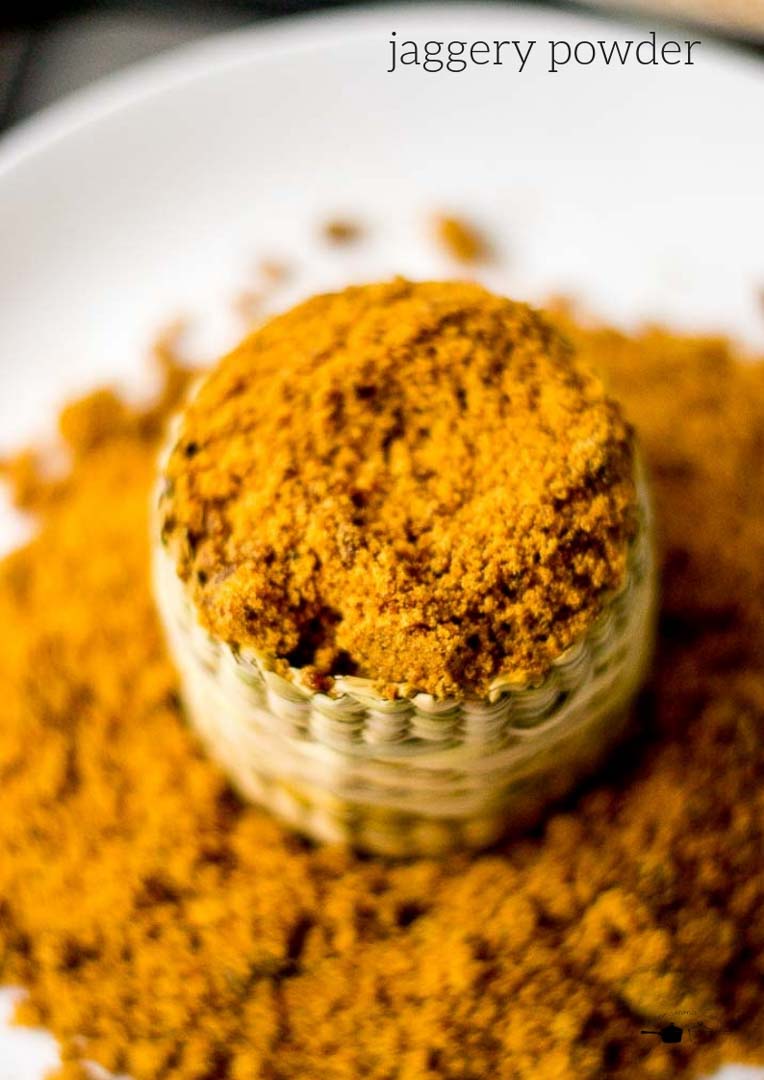 To make the urundai
Dry roast the white sesame seeds on a heavy pan on a low flame for about 5 minutes. Roasting on a low flame is key. If roasted on a high flame, sesame seeds tend to burn fast. So be patient and keep sauteing on a low flame.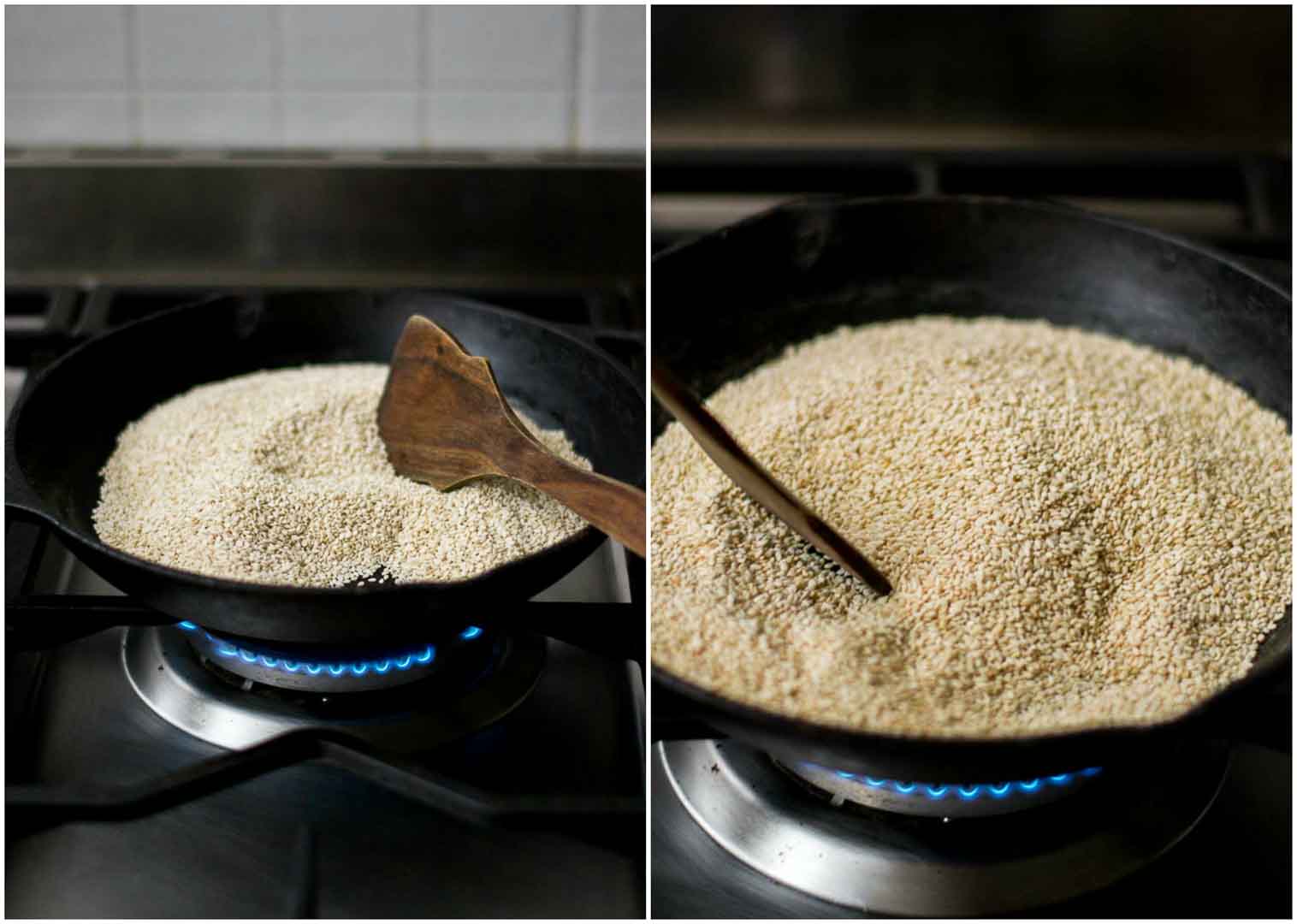 The seeds will slowly change colour and become light brown. At this stage remove the seeds from the pan and transfer to a plate. Set aside.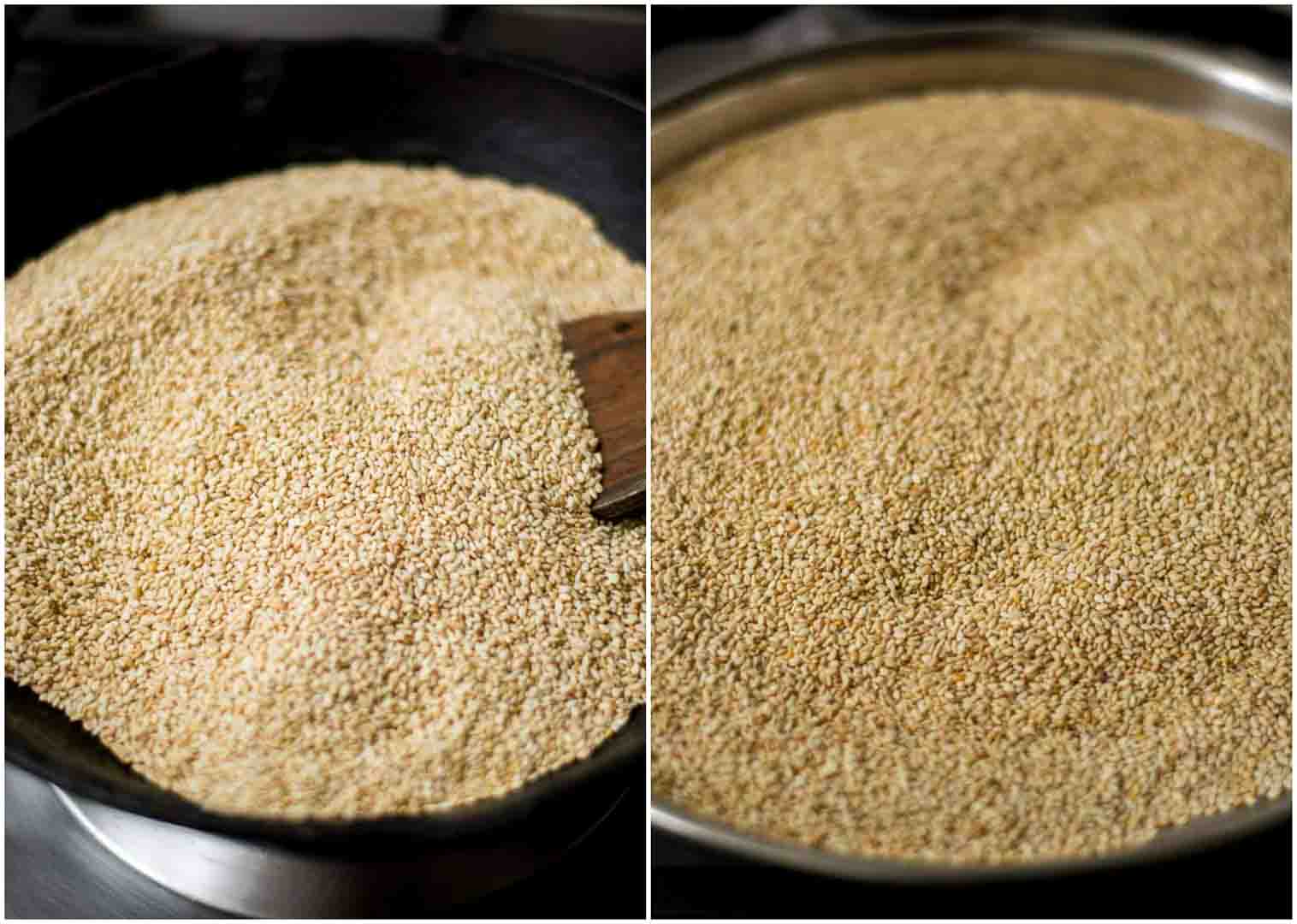 In the same pan, add in the peanuts and dry roast for five minutes. Roast until the outer skin is dark here and there. Remove from the pan and let it slightly cool. I have not removed the skin of the peanuts today. If you desire, you may remove the skin and proceed with the recipe.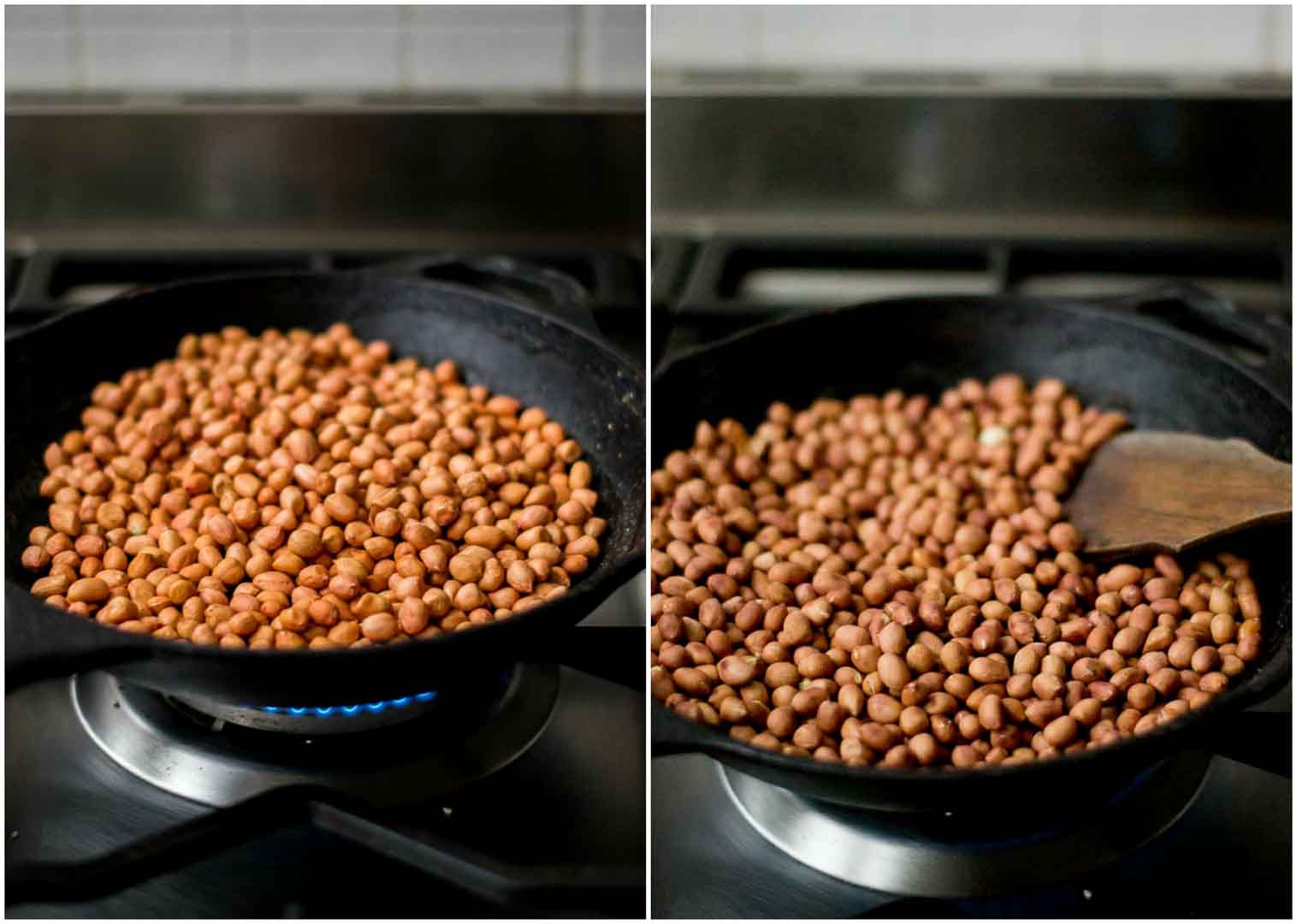 Mix the jaggery, roasted peanuts and roasted sesame seeds on a plate to combine. Do this when the ingredients are still warm. We will be grinding the mixture in batches.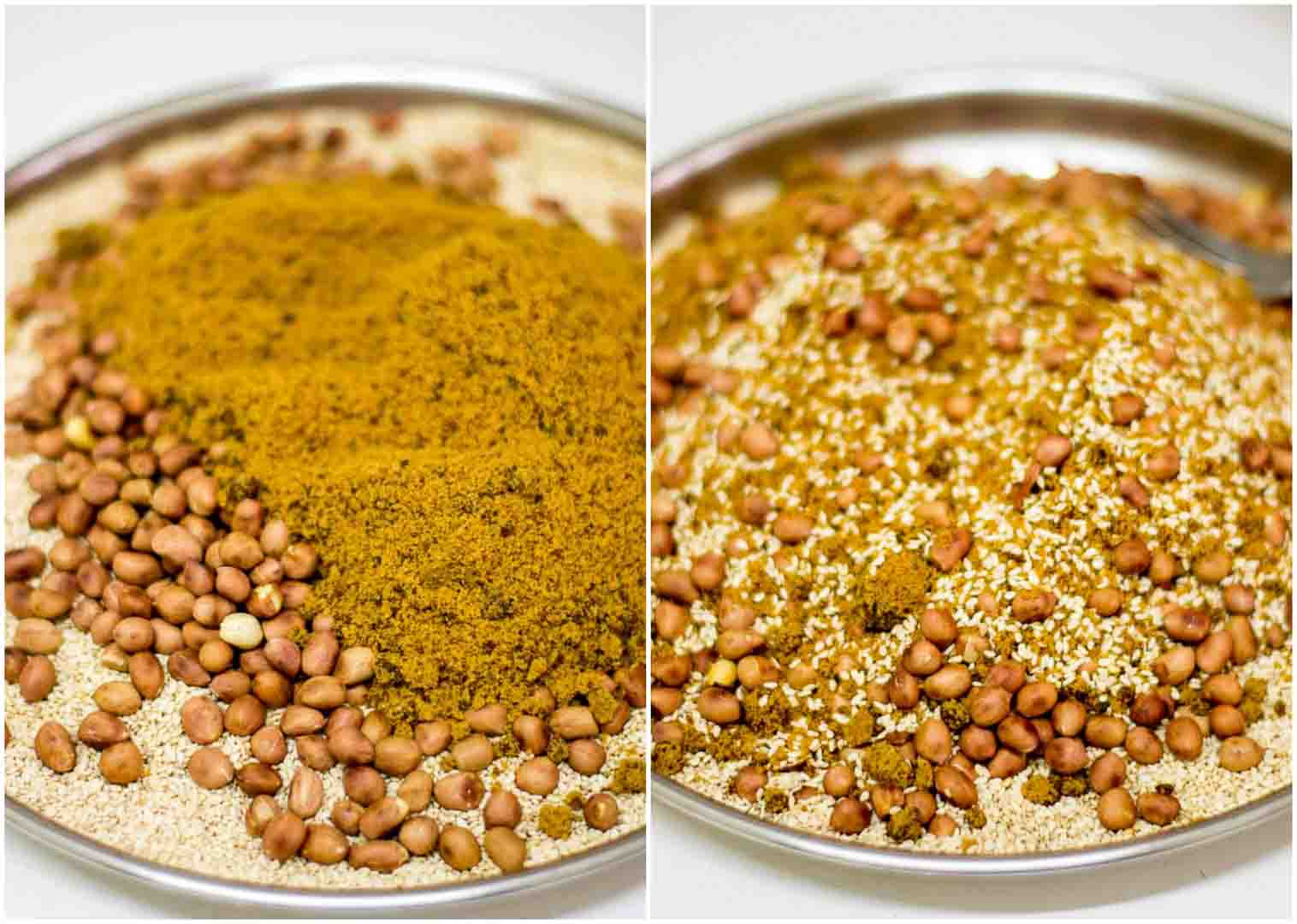 When the ingredients are still warm, we will grind everything to a powder. The warmth makes the jaggery bind well and it will be easier to make balls / laddus later on. Take a mixie jar and add in some of the mixture. Do not add more than half the volume of the mixie jar. Pulse several times in a mixie, until its a very very slightly coarse powder. Set aside to a plate to cool.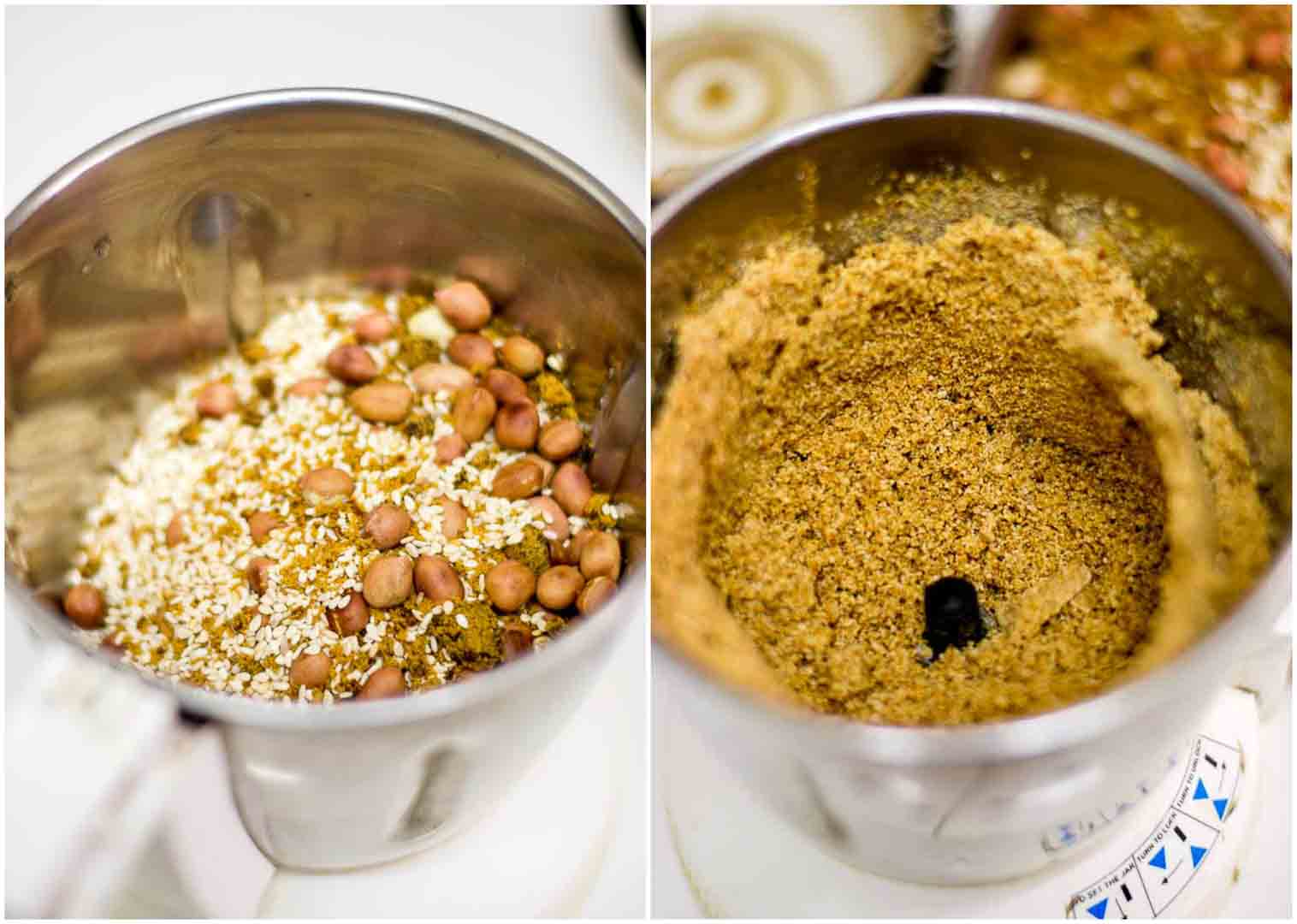 Repeat grinding the laddu mixture. Do it in several batches. Always use the pulse mode to grind laddu.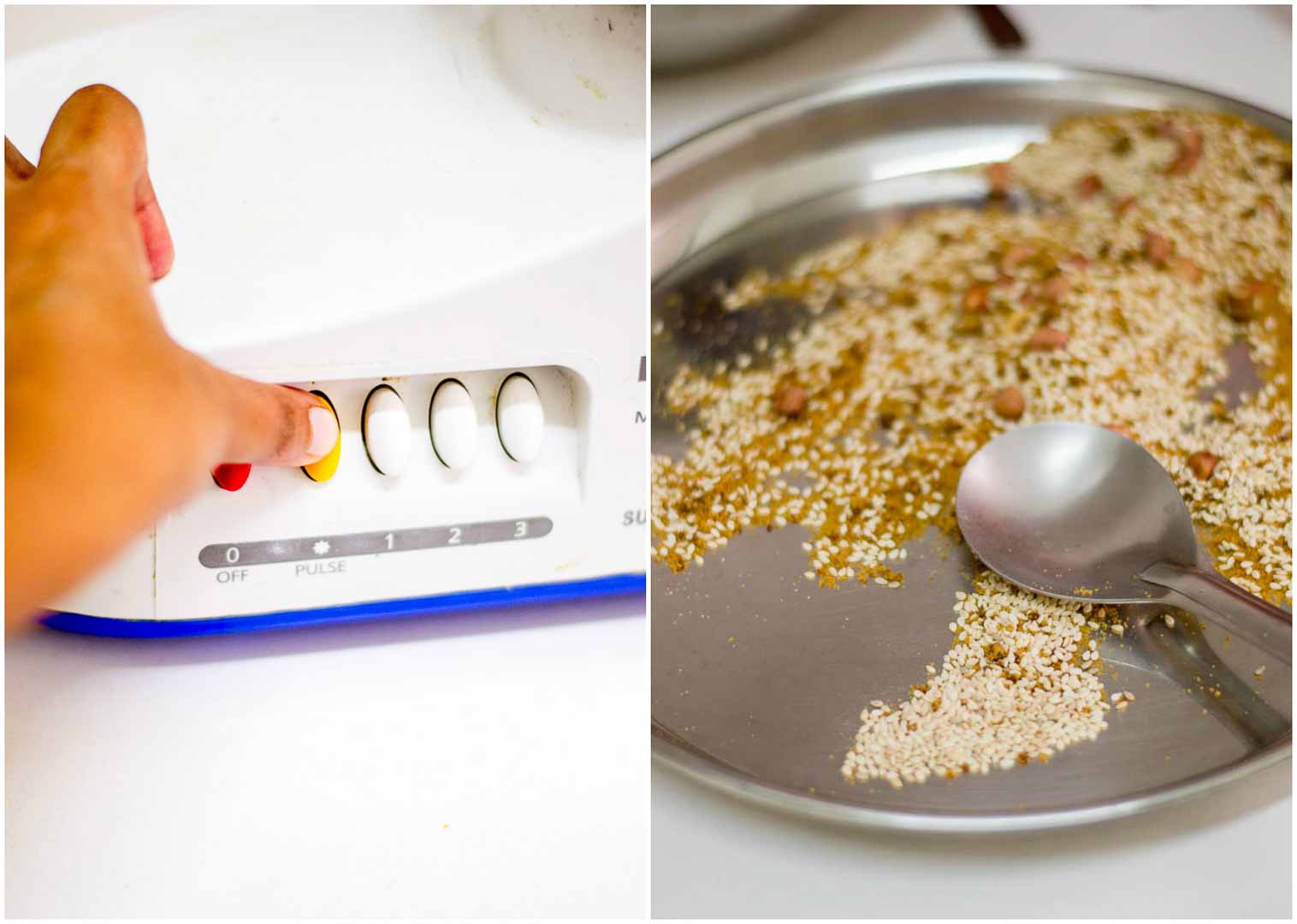 Laddu mixture is ready.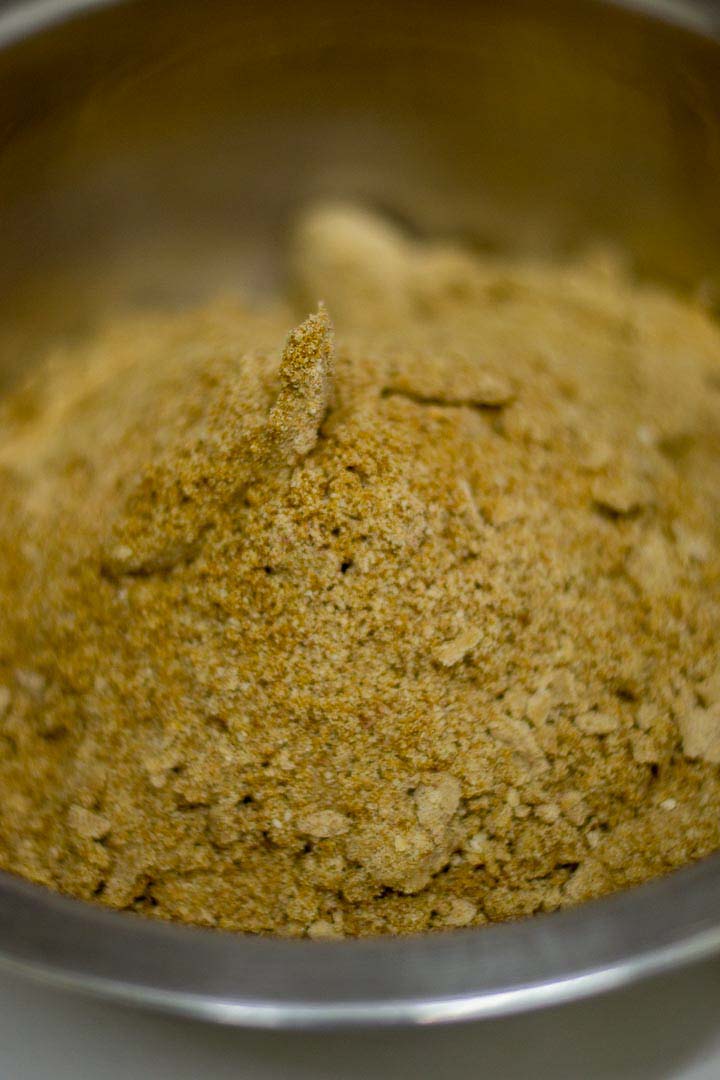 Find a place to sit comfortably and we will start shaping the laddus.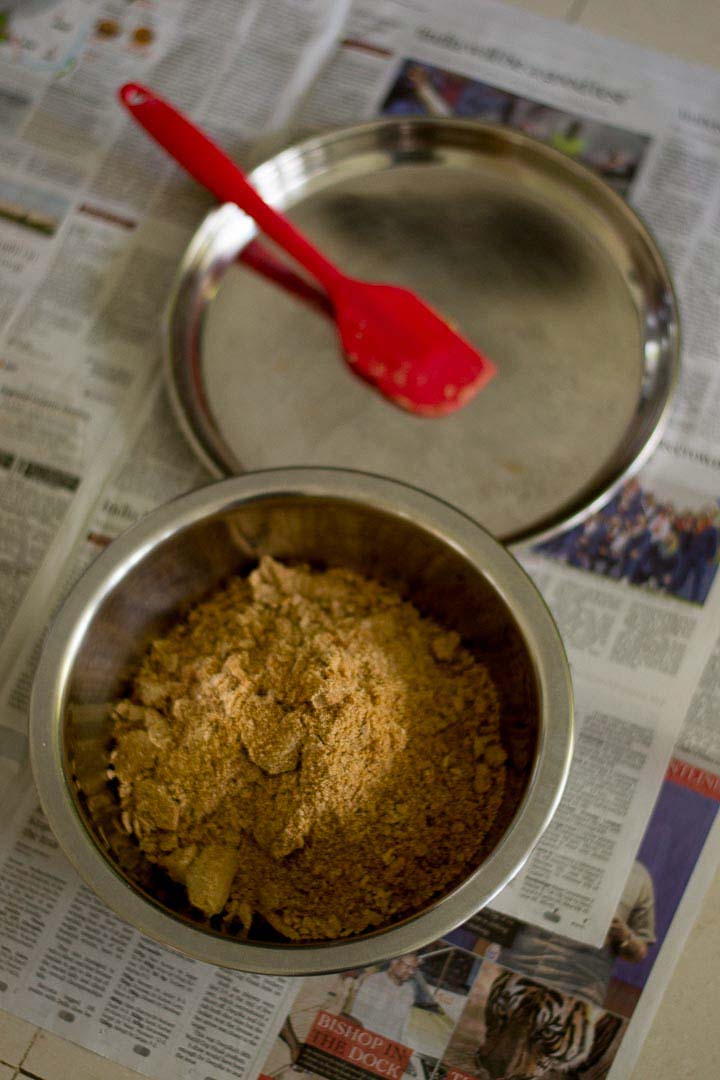 Make small balls / laddus from the mixture immediately. Its easier to make balls when the mixture is still warm. We like to make small balls that are bite size.
Take a handful of the laddu mixture and press between the palms.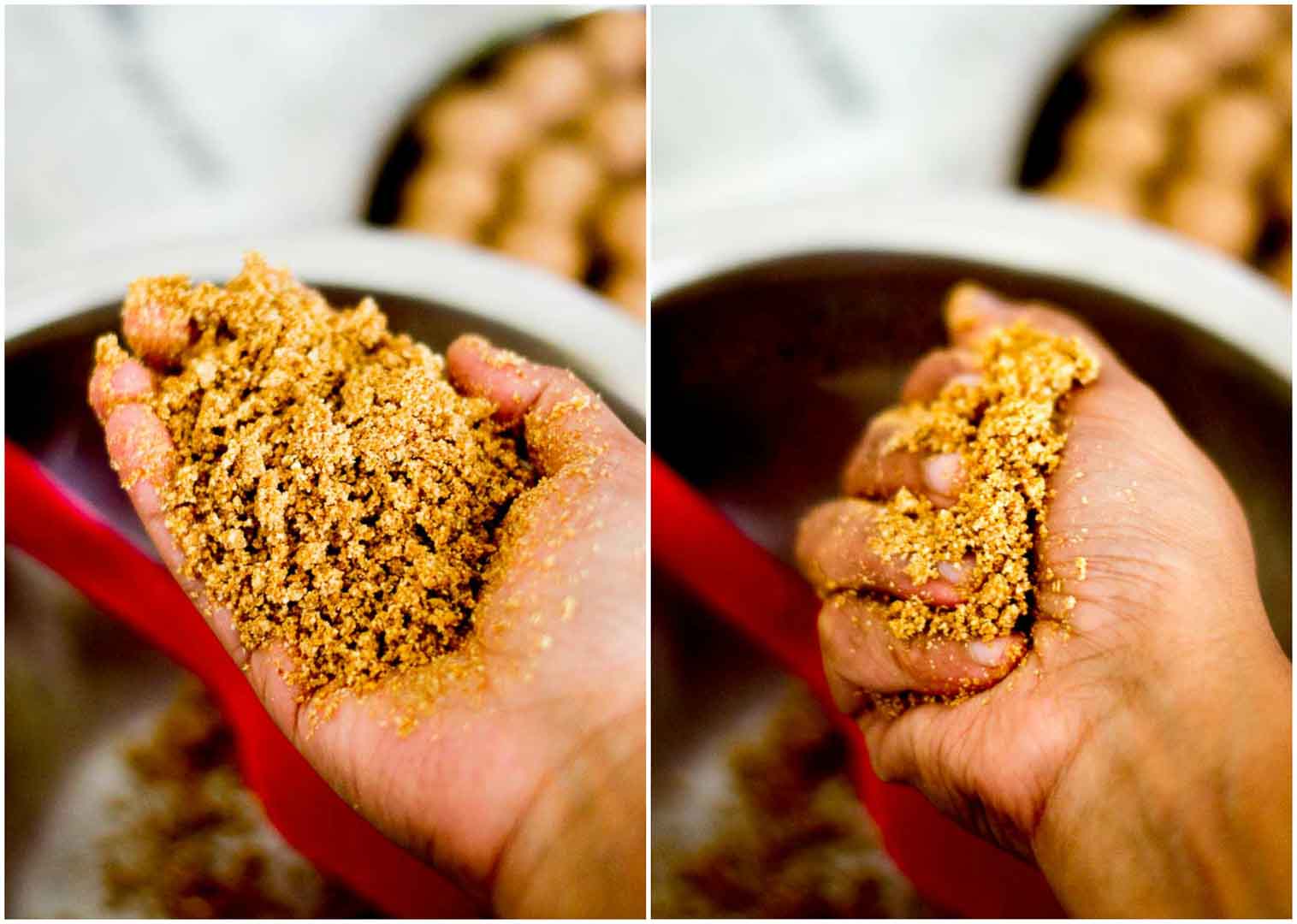 Keep pressing the mixture. The mixture should slowly stick together and form a ball. If its very powdery and balls are not forming, pulse the mixture 1-2 times. Do not grind for long. The oil will start oozing out and the texture of the laddu will be lost.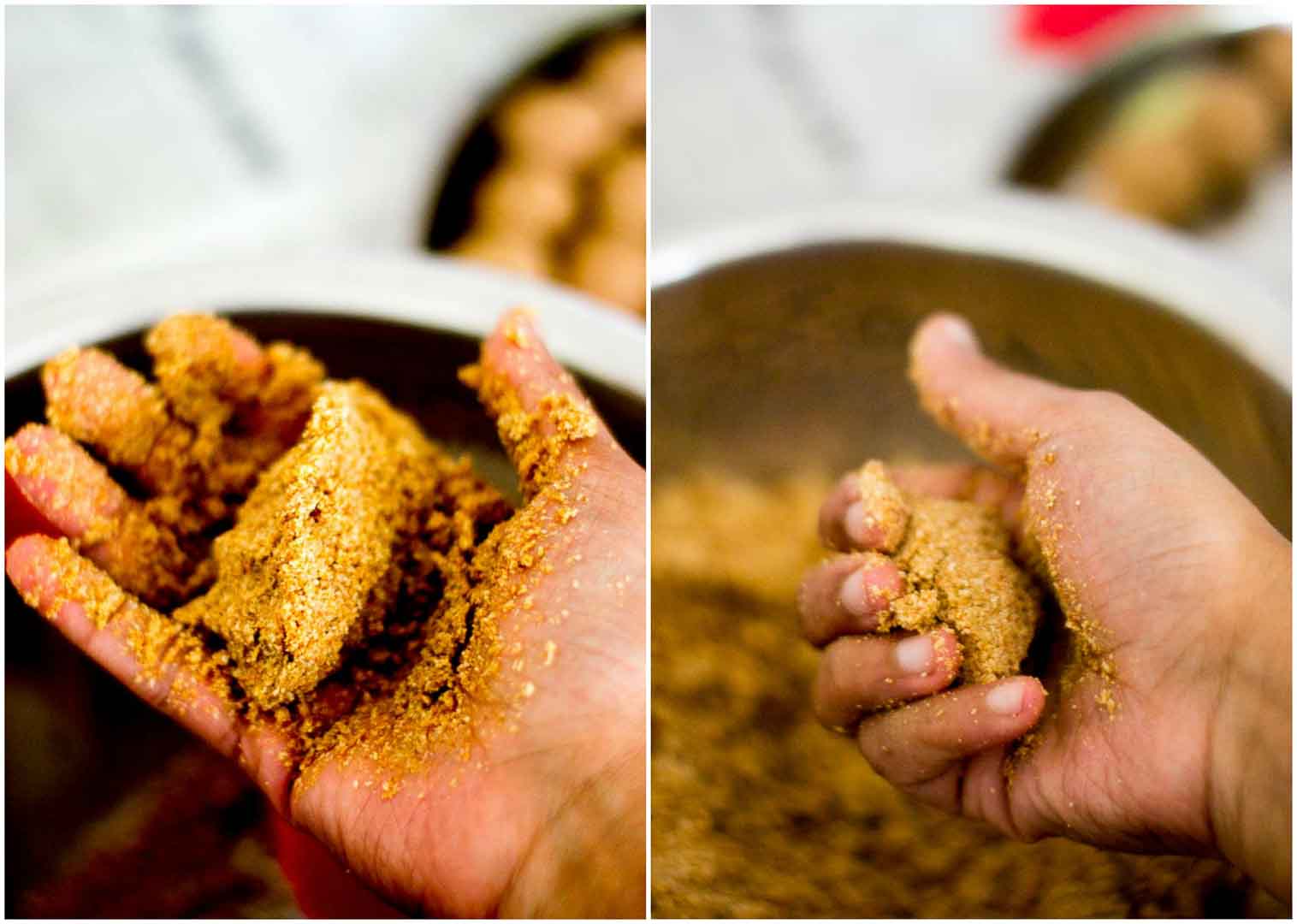 Keep pressing and making balls that are stiff and hold its shape.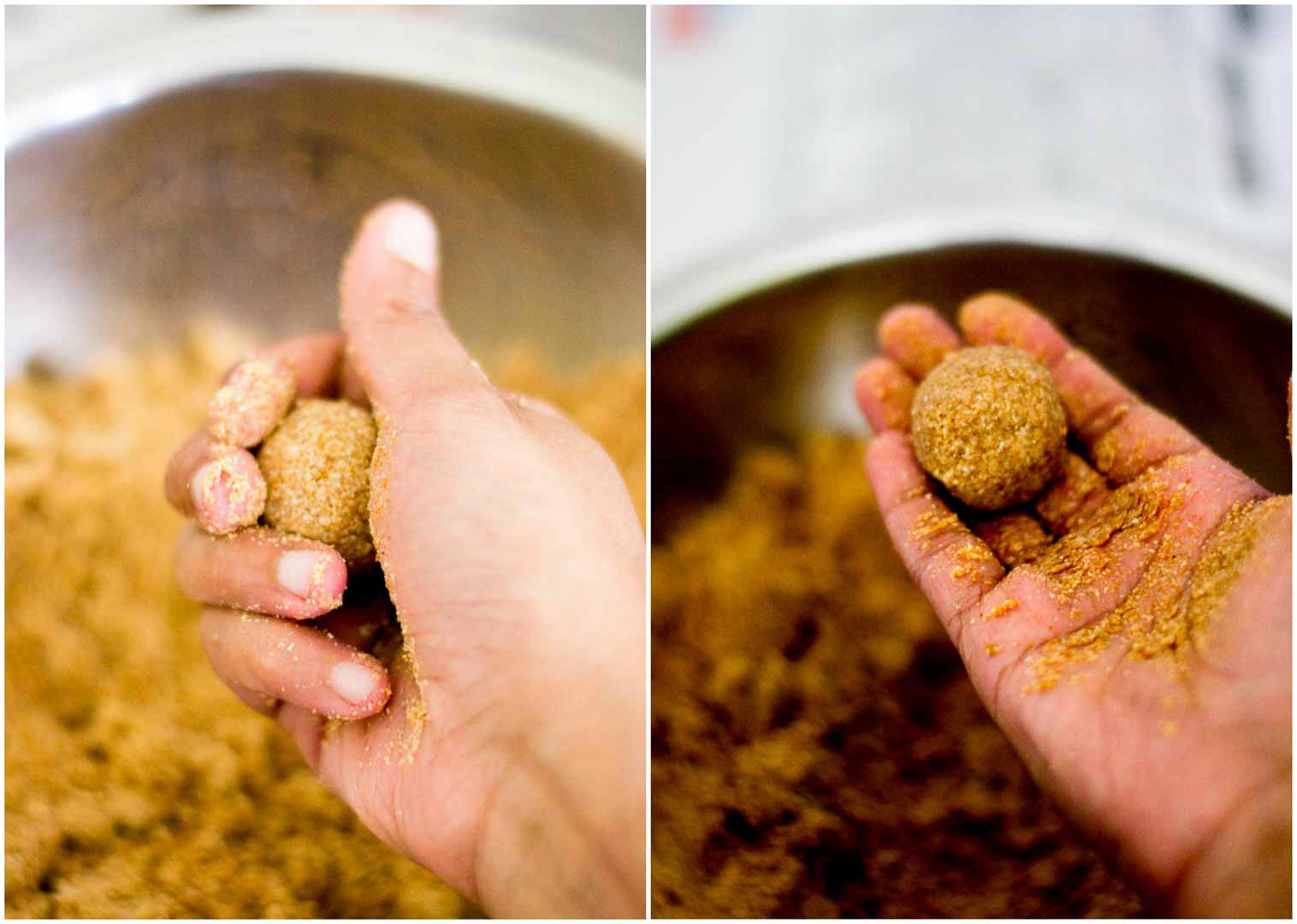 Once you are done, find yourself a quiet spot to lick your fingers. Its one of the most important steps in this recipe. If you do not do this, your ellurundai wont be any good.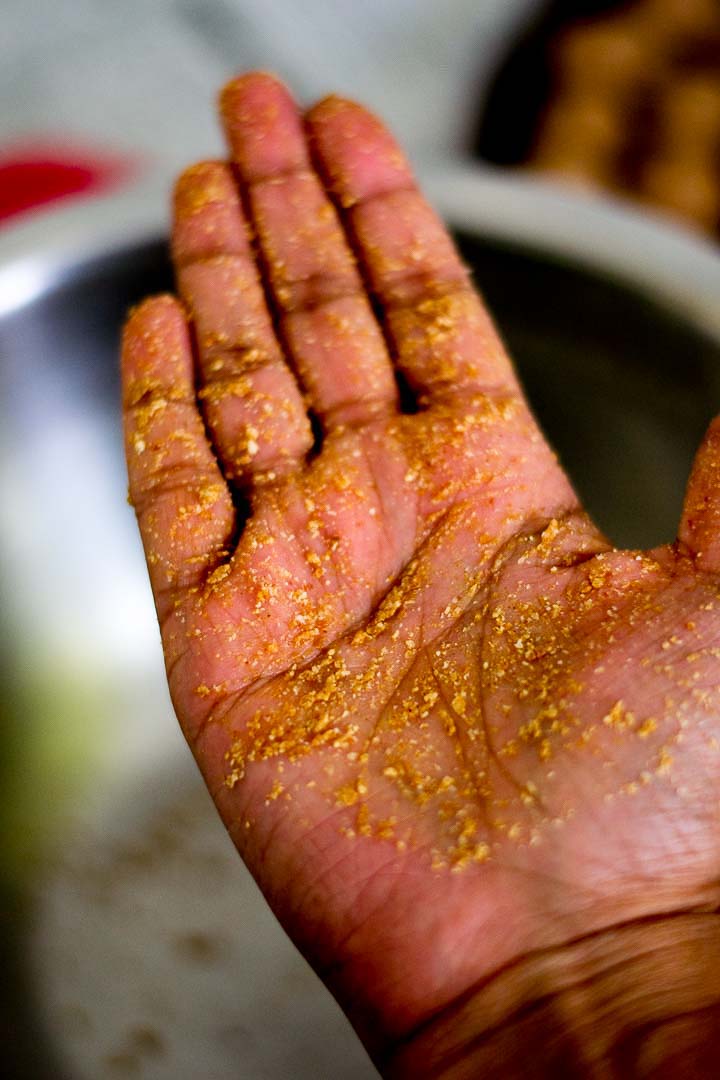 Ellu Urundai is ready!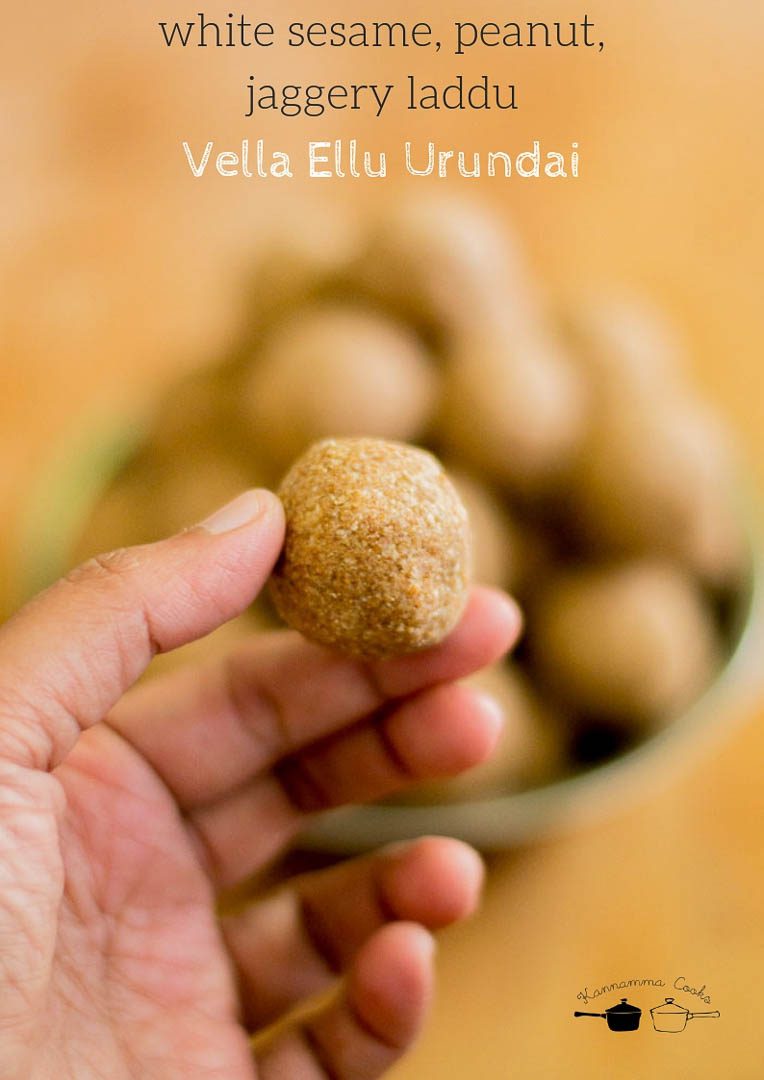 Ellu urundai can be stored at room temperature for upto 3-4 days in an air tight container.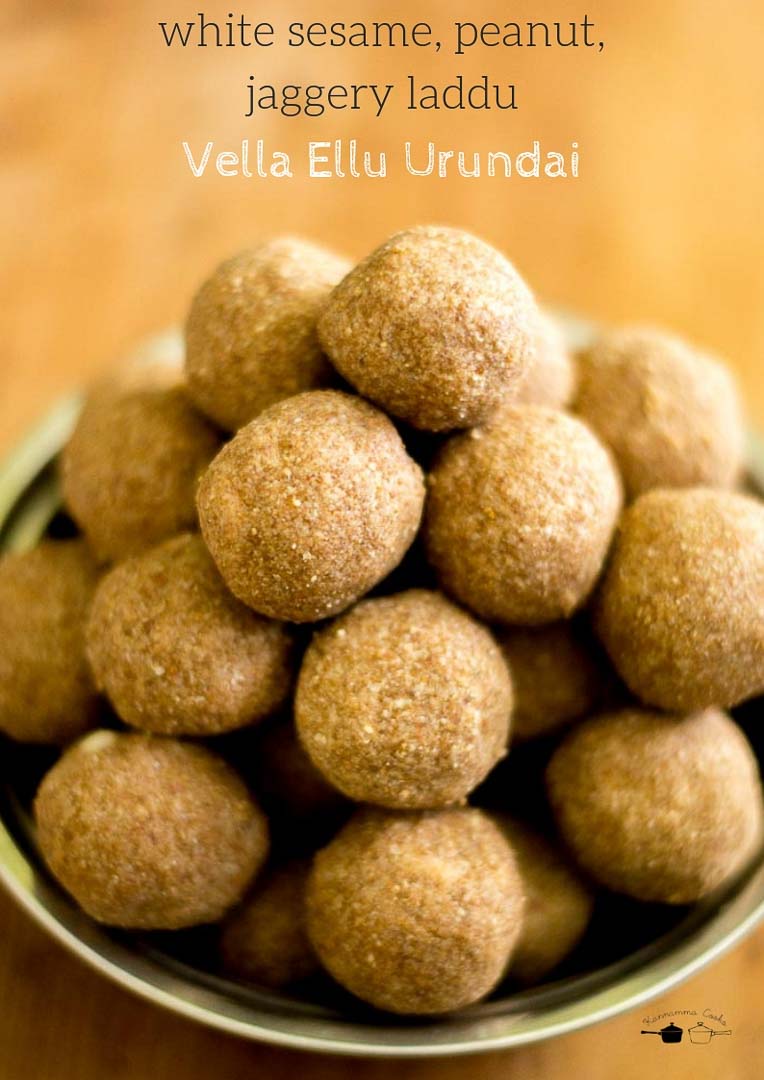 Print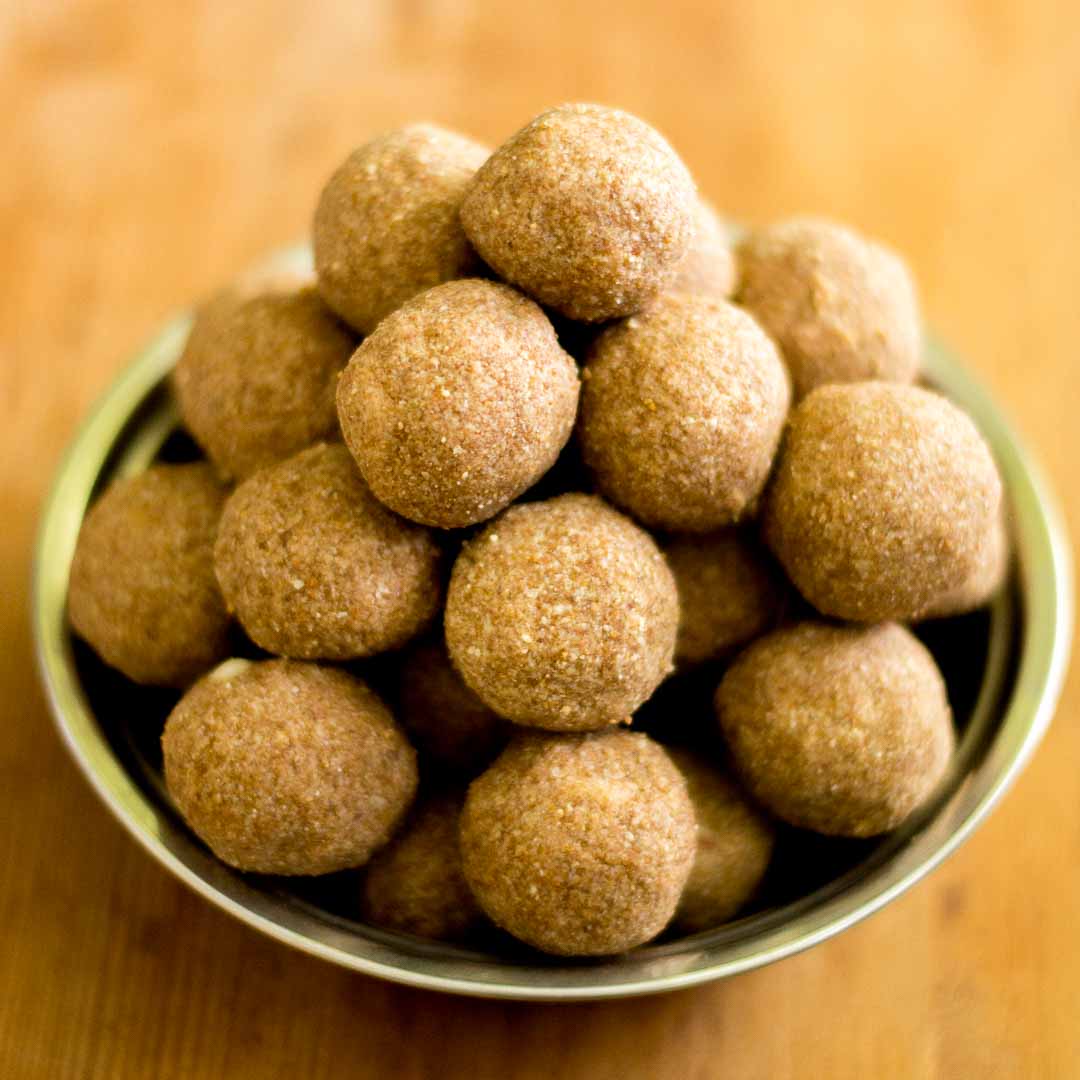 Vella Ellurundai, White Sesame Seed Laddu
Recipe for vella ellurundai. White Sesame laddu made with roasted white sesame seeds, roasted peanuts and jaggery. Very healthy sweet that can be made in minutes. Recipe with step by step pictures.
Total Time:

30 mins

Yield:

20

-

25

laddus

1

x
1 cup

white sesame seeds

1 cup

peanuts

1 cup

jaggery
Instructions
Dry roast the white sesame seeds on a low flame until slightly brown. Set aside.
Dry roast the peanuts and remove the husk. Set aside.
When the ingredients are still warm, grind everything to a powder along with jaggery. Grind in batches.
Make small balls / laddus from the mixture immediately.
Ellu urundai is ready.
Author:

Prep Time:

10 mins

Cook Time:

20 mins

Category:

Dessert

Cuisine:

Tamilnadu
Blast from the past!!!!!