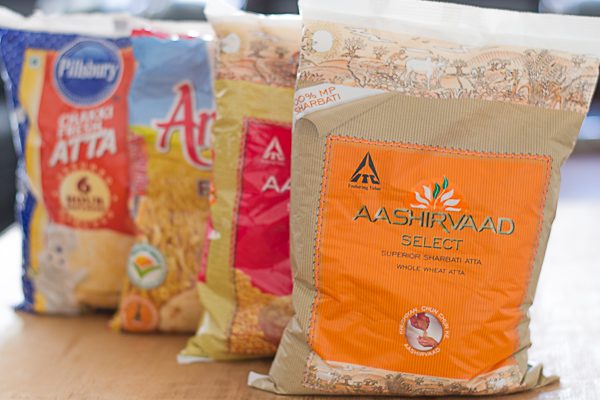 Indian wheat is high in protein and belongs to the aestivum variety used by everyone in the world for making great bread. So whole wheat bread loaves in India should work right? Why my atta bread just doesn't work the way I want it to? Why is it dense and crumbly? I used to bake good soft and fluffy 100% percent whole wheat breads when I was abroad and suddenly after moving back to India, the same recipe would give me horrified loaves. I wanted to know why. After a lot of research I am posting this article so it might be helpful to all bread bakers in India. The culprit to bad loaves is the flour. It is all about the unique milling process in India that is different from the rest of the world. So lets first try to understand how Indian milling is done.
The milling process:
Indian wheat flour is mostly ground in stone mills popularly called as chakkis. Chakki is nothing but a pair of stones, of which, one is stationery and other is a rotating stone. Stone mills generate considerable heat due to friction. The heat causes what is called as STARCH DAMAGE. It also results in considerable damage to the protein in comparison to other milling techniques. The chakki atta is preferred more than the roller mill atta for the texture and taste of the Chapati/Roti (flat bread of India).  Indian atta is a very very finely milled wheat flour. It works wonderfully well for making Indian flat breads and chakki is the most preferred milling process for indian breads. Stone grinding breaks the starch sufficiently to release extra sweetness while burning it slightly to give added flavor to Indian flat breads. Both methods  of milling generate heat. Roller mills generate more heat than chakki and thereby some nutrition and vitamins are lost. But it has less damage to the starch and protein in the flour as it cuts the flour into small particles. But Chakki alters the starch (the force is intense) which is not good for western bread making but great for indian bread chapati/roti.
So what happens in chakki milling?
Roller milling results in 5% to 6% starch damage whereas chakki milling results in 11% to 13% starch damage. Let's say protein in the flour on an average accounts for 10% of flour weight. But 70% is starch. Its equally important like the protein. Its important to understand that they make up for more than 50% of the dough volume. Its important that it works with the gluten chain when formed to tenderize it. When baked, the starch absorbs the water and gets fat or swollen.  The moisture absorption is more in chakki flour than in normal whole wheat flour. So what? It means that you need to alter the liquid ingredients of the recipe as almost all the recipes for whole wheat bread uses traditional wheat flour. Because of this starch damage and protein loss, breads made out of 100%  chakki atta is dense and dry like the picture below.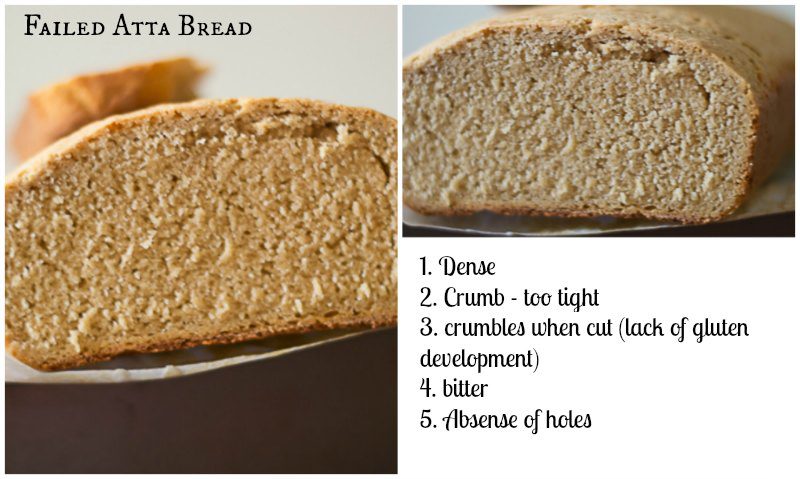 Also Indian wheat is light in color! Why?
India produces mostly 3 kinds of wheat.
95% "triticum aestivum" or the common bread wheat
4% "triticum durum" or the pasta wheat
1% "triticum dicoccum" or the emmer wheat (also known as khapli,samba godumai,diabetic wheat) – India is the largest cultivator of emmer wheat in the world.
Indian Gov portal says, Indian wheat is largely medium hard, medium protein wheat which is similar to the USA Hard white wheat. So what is whole hard white wheat? Its the same like any other wheat but has no major genes for bran color. For example Hard red winter wheat has upto 3 bran genes. That is the reason why indian atta is lighter in color and milder in flavor. Experts are of the opinion that the two kinds of wheat are the same nutritionally. Most of the nutrition differences among wheat varieties are driven by environmental conditions, such as weather, soil composition, drought etc..
The famous and unique Indian Sharbati wheat
The protein in wheat will be higher when there is drought and thats where our Indian sharbati atta rocks!
What is Indian Sharbati Atta? Sharbati atta comes exclusively from the state of Madhya Pradesh. Note that all wheat coming from MP is NOT Sharbati. The Sharbati is a rain-fed phenomenon where there's no organized, large-scale irrigation. The high potash content in the soil, low humidity and rain irrigation results in wheat that is naturally 1-2 per cent higher in protein content than the normal 10-12 percent elsewhere. Sharbati belongs to the aestivum genre of wheat, the common bread wheat.
So how do we get a decent whole wheat bread loaf out of atta?
Grinding your own wheat flour can help make decent wheat loaves. You can grind your wheat berries in a regular roller mill. It was an epiphany when I held a good whole wheat sandwich loaf that was not dense. I have a toddler son who will refuse to eat bread if its not fluffy. So I add a little bit of vital wheat gluten to make it "wonder bread" fluffy.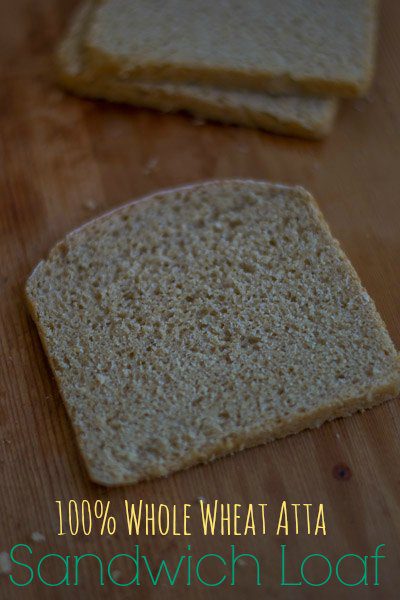 References:
On food and cooking – Harold McGee,Peter Reinhart – whole grain baking, Larousse gastronomique, Bread Bible – Rose Levy beranbaum, farmer.gov.in/cropstaticswheat.html, www.google.com/patents/us6098905, india2012.icc.or.at/webfm_send/29 www.aaccnet.org/publications/cc/backissues/1962/documents/chem39_155.pdf, indiatoday.intoday.in/story/grains+of+gold/1/1561.html, www.apeda.gov.in, www.muehlenchemie.de, wholegrainscouncil.org, king arthur flour.