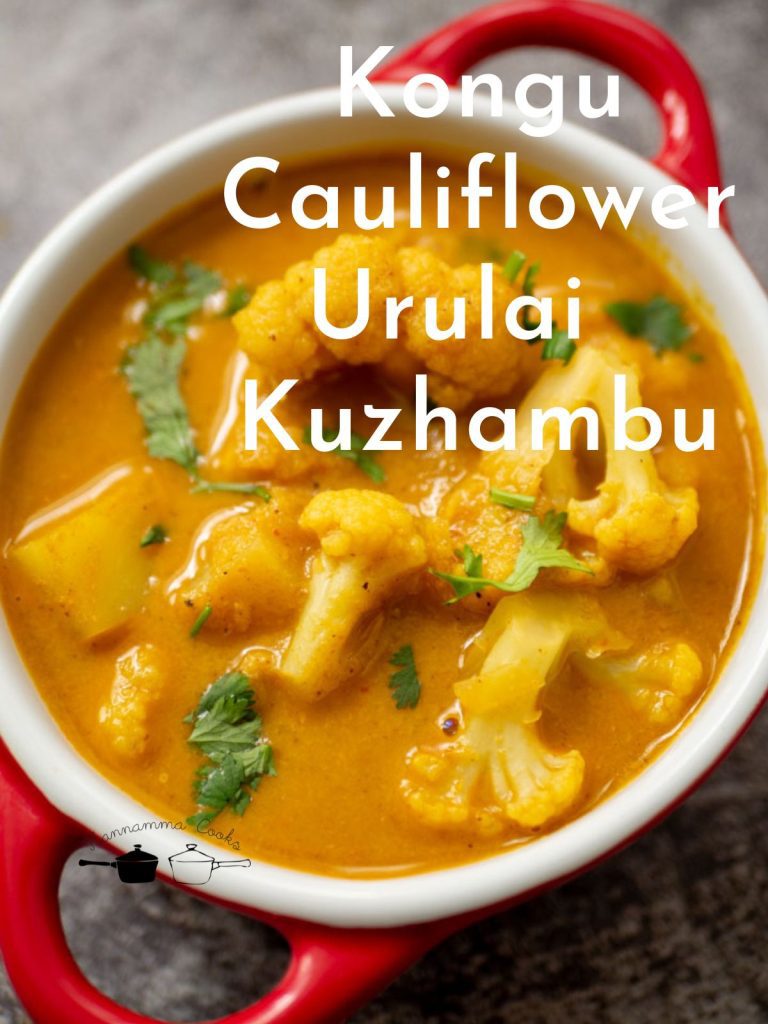 Recipe for traditional Kongunadu style cauliflower kuzhambu served for breakfast with idli and dosai. Recipe with detailed video.
Even if you are pudhu maapilai (new bridegroom), you won't be served Kari soaru (meat feast) every day in kongunadu. You will be served with a superb thakkali kuzhambu or this cauliflower kuzhambu for breakfast along with idli and dosai and the works. I promise, no one misses the meat if this kuzhambu is served for breakfast. This is a flavor-packed curry that goes so well with idli and dosai. In places like Pollachi and the South, potatoes are added to the curry while it's also made just with cauliflower alone in many places. The roasted spice masala gives a nice robust flavor to the kuzhambu. The curry has a little addition of tamarind. If using tangy country tomatoes, you can even skip the tamarind part. This dish just smells like kari kuzhambu. It goes well with rice too.
Do try this recipe at home and I am sure that it will become a regular.
Cauliflower
Cauliflower that we get in the market in India almost always has small worms and their eggs sticking inside the florets. Soaking the florets in salted hot water for about five minutes brings out all the impurities. Some households add a little turmeric to the hot water while soaking. After soaking for 5 minutes, strain the water and use the cauliflower in the recipe as desired.
Tomatoes
If using country tomatoes that are very sour, omit the tamarind. Country tomatoes / naatu thakkali is preferred for making this recipe. If you cannot source Tamil-style country tomatoes, use regular tomatoes along with a little tamarind.
Cooking oil
I have used gingelly oil for making the kuzhambu today. Groundnut oil or coconut oil can also be used for making this cauliflower kuzhambu.
Here are the things you can buy online for making the recipe
Ikea Non-Stick/Stainless Steel Frying Pan https://amzn.to/347Rry7
Teak-wood Chopping Board https://amzn.to/3hZa4qm
Serrated Knife Set https://amzn.to/3HN9M3D
Heavy Duty Indian Mixie https://amzn.to/3GptNKD
Glass Mixing Bowls (500 ml) https://amzn.to/3hMJnVD
Here is the video of Cauliflower Urulai Kuzhambu | Kongunadu Style Cauliflower Potato Curry For Breakfast | Side Dish For Idli And Dosai
Print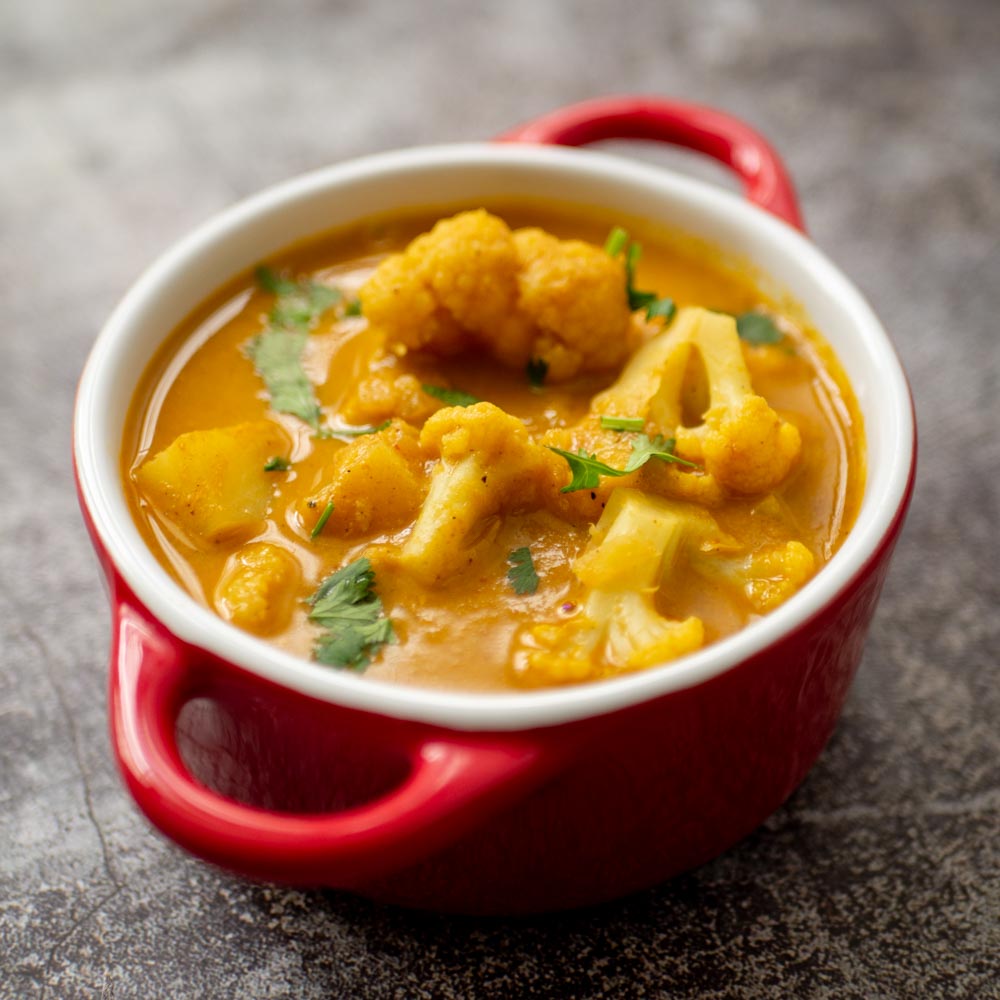 Cauliflower Urulai Kuzhambu
Recipe for traditional Kongunadu style cauliflower kuzhambu served for breakfast with idli and dosai. Recipe with detailed video.
Total Time:

60m

Yield:

6

servings

1

x
For the Roasted Masala Paste
2 teaspoon gingelly oil
1/4 inch piece of cinnamon
2 cloves
3/4 teaspoon fennel seeds
1/4 teaspoon cumin seeds
1 tablespoon coriander seeds
4 dried red chillies
1/4 teaspoon black pepper
1 pod country garlic
1 sprig of curry leaves
1/2 cup Indian shallots, sliced
1/2 inch piece tamarind
3 tomatoes, country variety, chopped
1/2 teaspoon salt
1/2 cup fresh shredded coconut
1/2 cup water
Other Ingredients
500 grams cauliflower florets
2 teaspoon gingelly oil
1/2 cup onions, finely chopped
1 sprig curry leaves
1/2 teaspoon turmeric powder
1/2 teaspoon salt
2 potatoes peeled and diced
3 cups water (divided)
2 sprigs coriander leaves, chopped
Instructions
For the Roasted Masala Paste
First, lets make the main prep for this kuzhambu, the roasted masala paste. Heat oil in a pan on a low flame. Add a small piece of cinnamon and cloves. Add the fennel seeds, cumin seeds, coriander seeds, dried red chillies, black pepper, garlic, and curry leaves. Roast on a low flame for a minute. Make sure not to burn the spices.
Add the sliced shallots, a small piece of tamarind (if using) and saute till the shallots are soft and starting to brown.
Add the tomatoes and the salt. Saute till the tomatoes are soft and mushy. Once the tomatoes are mushy, add the fresh coconut and cook for a minute more. Remove the pan from heat and let the mixture cool a bit.
Grind everything with little water to a smooth paste. Set aside.
For making the kuzhambu
Heat oil in a pan and add in the onions and the curry leaves. Saute for a couple of minutes till the onions are soft. Add the turmeric powder and the salt. mix well to combine. Add the diced potatoes if using and add some water to cook the potatoes. Mix well. Cover the pan with a lid and cook for 10 minutes on medium flame.
Add the cauliflower. Add the masala paste. Wash the mixie with water and add it back to the pan. Mix well to combine. Cover the pan with a lid and cook for 10 minutes on medium flame.
The curry is ready. Finish the curry with a generous sprinkling of coriander leaves.
Serve with tiffin items or rice
Author:

Prep Time:

15m

Cook Time:

45m
Keywords: Cauliflower Urulai Kuzhambu