Carrot beans poriyal, carrot beans thoran, carrot beans stir-fry. Basic technique and a video demo of flash cooking vegetables for poriyal and thoran. Cook veggies in less than 5 minutes with this technique.
If there is one thing you would want to try from this site, then try flash cooking vegetables.
So whats the deal and whats flash cooking anyway?
Flash cooking is nothing but cooking at high heat for a very short time.
So what happens when you do that???
The veggies cook perfectly and retains all the bright and vibrant colors. Veggies are cooked to perfection without becoming mushy with very less intervention during cooking. There is no sauteing, there is no mess.
OK. Kind of interesting. Then?
Its easy, its addictive and you will never look at cooking veggies the same way again. Its perfect every time. Every single time.
Will the veggies smell raw as we are not sauteing?
No. Absolutely not. Its my family approved recipe. Trust me and enjoy the joy of flashing.
Will the veggies burn?
We add a little water to prevent the veggies from burning. If you use the correct equipment and cook just for 2 whistles, you are gonna be just fine. I dont even add oil to cook veggies these days.
Dont believe me. See this video and give it a try.
A little note on equipment.
Please use a 2-3 liter cooker only. This recipe was tested several times in a 3 liter prestige stainless steel pressure cooker.

Indian cookers whistle. If it does not, have it checked.
If using induction stove (recommended), cook the veggies in 1200W until your cooker whistles 2 times.
If using gas stove, keep on medium high and cook for two whistles again.
Depending on the quantity of veggies used, the timing may range from 5-7 minutes. Go by whistles and not time to get the perfect cooked veggies every single time.
When 2 whistles are over, switch off the flame and release the pressure immediately. Do not try to force open the cooker with the pressure inside. Its dangerous.
Print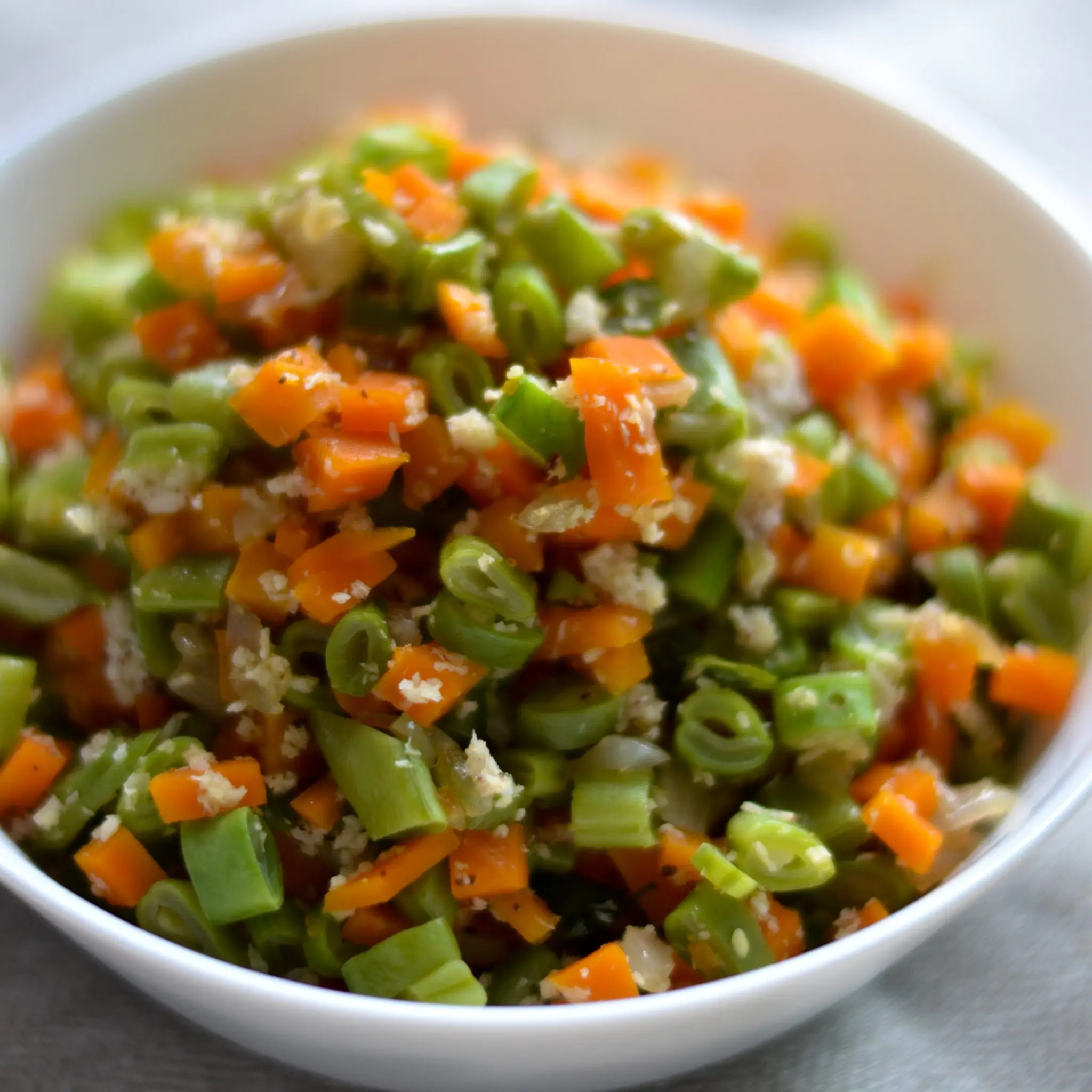 5 minutes poriyal / thoran – Flashed veggies
Flash cooked vegetables for poriyal / thoran. Basic carrot vegetable poriyal done in under 5 minutes.
Total Time:

15 mins

Yield:

3

persons

1

x
3 teaspoon

water

200 grams

carrot (about

2

carrots), chopped

100 grams

beans ( about

12

–

15

beans), chopped

1

small onion, chopped

2

sprigs curry leaves

1 teaspoon

salt

3 tablespoon

fresh shredded coconut
Instructions
Take a pressure cooker ( 2 or 3 liters only).
Add in the water to the pan. The little water will help in creating steam and to avoid the veggies from burning.
Layer the veggies in the cooker.
Add in the curry leaves, salt and the coconut.
Cover the cooker and add on the whistle weight on top.
Start the heat on the gas stove or induction stove, whichever you are using.
If using induction stove, cook on 1200 w until the cooker whistles 2 times.
If using gas stove, set the heat to medium high and cook until the cooker whistles 2 times.
In both the methods, it will take about approximately 5-7 minutes. Do not go by time. Go by whistles only.
After exactly 2 whistles, switch off the stove and remove the pressure from the cooker manually. Be careful. Do not at any point in time, force open the cooker without releasing the pressure first.
Stir well and serve.
Notes
I have not used any oil in this recipe.
You can cook any veggies using the same technique.
Beetroot, cabbage, peas, cauliflower, brocolli, potatoes, spinach etc… can be flashed using the same technique.
Cut the veggies into small pieces for even cooking.
When cooking mixed veggies, slow cooking veggies need to be cut smaller than quick cooking veggies, to match cooking time.
Author:

Prep Time:

10 mins

Cook Time:

5 mins

Category:

Side dish

Cuisine:

Tamilnadu
This is one of the most used OPOS – One Pot One Shot techniques. This recipe method of flashing veggies can become a base for infinite OPOS curries. For example, instead of just coconut, if you added coconut-chili-cumin paste and mixed in yogurt after opening, this would be aviyal !
The term OPOS and One Pot One Shot are registered trademarks owned by Mr.Ramakrishnan. The recipes and techniques have been adapted from him. They are used in Kannamma Cooks with prior permission.