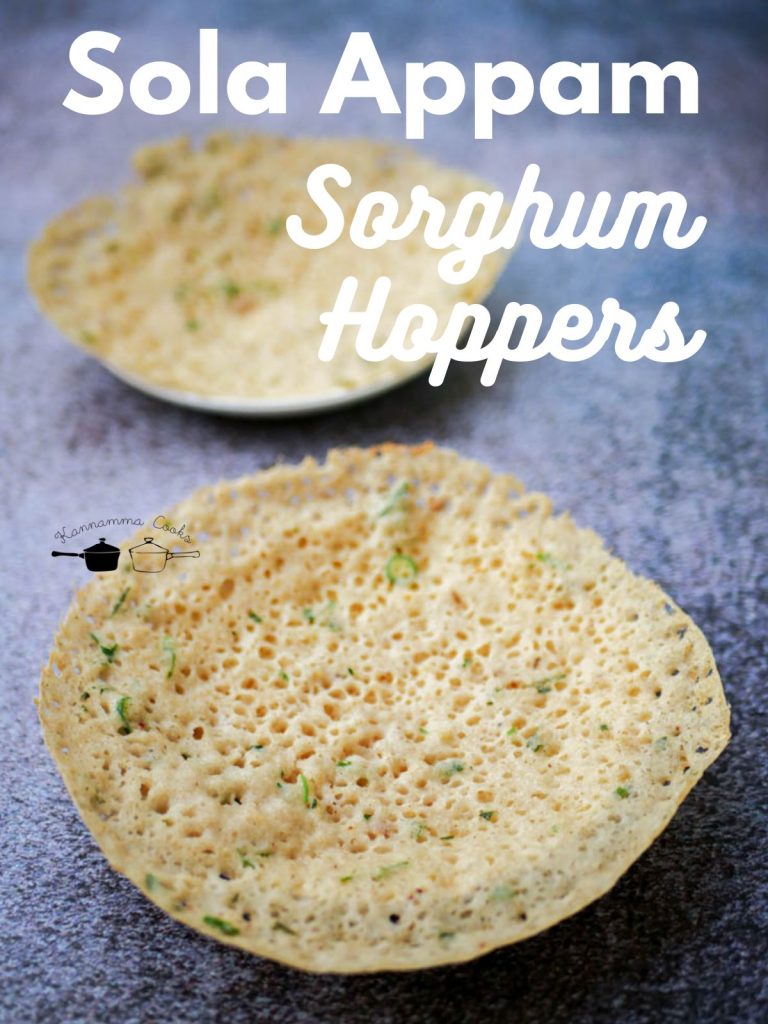 Recipe for solam / jowar appams made with whole grains ground and made into a fermented batter. Sorghum Hoppers that are healthy, whole grain, and gluten-free.
A healthy whole grain breakfast appam. Sorghum Millet also called as solam in Tamil is a nutritious millet rich in minerals and fiber. This sola appam, the jowar appam is made by soaking the jowar millet along with brown rice and a few fenugreek seeds. It's better to soak the grains overnight. Once soaked, It is ground along with the addition of little cooked rice, fresh shredded coconut, yeast, jaggery, and salt. The ground batter is then fermented for 6-8 hours. Fermenting also improves the bioavailability of the millets. Just before making appams, a tempering of spices and herbs is added for that extra flavor. This batter can be refrigerated and used for a couple of days. Another healthy way of including whole grains in our diet. Hope you like this recipe.
One question I get repeatedly asked is the substitution for yeast. While yeast is one of the safest ingredients to use, for some reason some of you may not want to use it and I respect that. In that case, you can add a scoop of old appam batter or idli batter instead of yeast and that will help kickstart the fermentation process. Also adding a pinch of baking soda just before making the appams will help in getting fluffy appams.
Another thing is if it's okay to use sorghum / jowar flour instead of jowar. I have found that appams made with flour are not very great in texture and sometimes it turns out gummy as the flour is usually ground to a super fine texture. So I prefer sorghum grain to flour. Soaking the grain and grinding them also results in better fermentation when compared to using flour.
Here are the things you can buy online for making this recipe
Active Dry Yeast https://amzn.to/3n0f30R
Appachatty https://amzn.to/42BFRVE
Heavy Duty Indian Mixie https://amzn.to/3GptNKD
Brown Basmati Rice https://amzn.to/3wLSGgK
Serrated Knife Set https://amzn.to/3HN9M3D
Here is the video of Masala Solam Appam | Appam Made With Jowar Grain | Sorghum Hoppers Recipe | Healthy Fiber Loaded Masala Appam Recipe
Print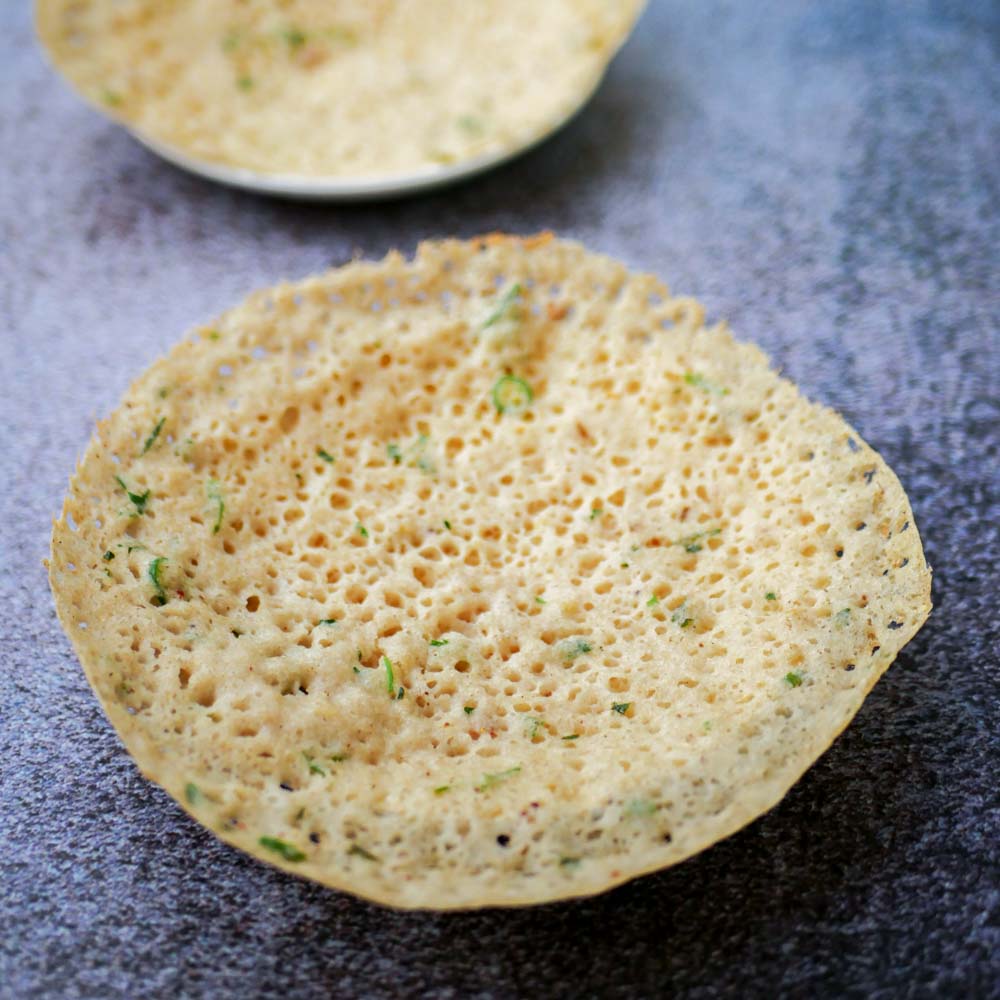 Masala Solam Appam | Sorghum Hoppers Recipe
Recipe for solam / jowar appams made with whole grains ground and made into a fermented batter. Sorghum Hoppers that are healthy, whole grain, and gluten-free.
Total Time:

8h20m

Yield:

15

small appams

1

x
Main Ingredients
1 cup solam / sorghum
1 cup brown rice
1/4 teaspoon fenugreek seeds
1/4 cup cooked rice
1/4 cup fresh shredded coconut
1/4 teaspoon active dry yeast
1 teaspoon jaggery
1 teaspoon salt
2 cups water
For Tempering
1 teaspoon vegetable oil
1/4 teaspoon mustard seeds
1/4 teaspoon cumin seeds
1 teaspoon minced ginger
2 sprigs curry leaves finely chopped
1/4 teaspoon red chilli flakes
1 green chilli finely chopped
2 tablespoons coriander leaves, chopped
Instructions
Wash and soak the solam along with rice and fenugreek seeds overnight. A minimum of 6-hour of soak is required as the grains are very hard. After soaking, drain the water used for soaking. Add a cup of water and grind to a paste. Halfway through, add the cooked rice, coconut, yeast, jaggery, and salt. Grind again to a fine paste. Transfer the ground batter to a bowl. Rinse the mixie with a cup of water and add to the bowl. (A total of two cups of water is used for grinding the batter). Cover the bowl with a lid and let the batter ferment for about 6-8 hours. Once fermented the batter should be foamy and bubbly. Set aside.
Tempering: Heat oil in a pan and add in all the tempering ingredients except chillies and coriander. Let the mustard seeds crackle and the curry leaves crisp up. Remove the tempering and add it to the batter.
Add the coriander leaves and the green chillies to the batter and mix well to combine. The appam batter consistency should be thin. Little thinner than the dosai batter consistency. Add water if necessary to adjust the consistency of the appam batter.
Heat appam kadai or appa chatti until hot. Ladle some batter into the kadai in the middle. Slowly rotate the pan to make the appam batter adhere to all the sides of the pan. Use your hands to rotate the pan in a circular motion and guide the batter to stick to all sides.
Cover with a lid and let it cook for a minute on medium flame. Appam cooks only on one side. Appam is done when the sides are brown. Remove the appam slowly with the help of a spatula. Serve the appams hot.
Author:

Prep Time:

8h

Cook Time:

20m
Keywords: Masala Solam Appam