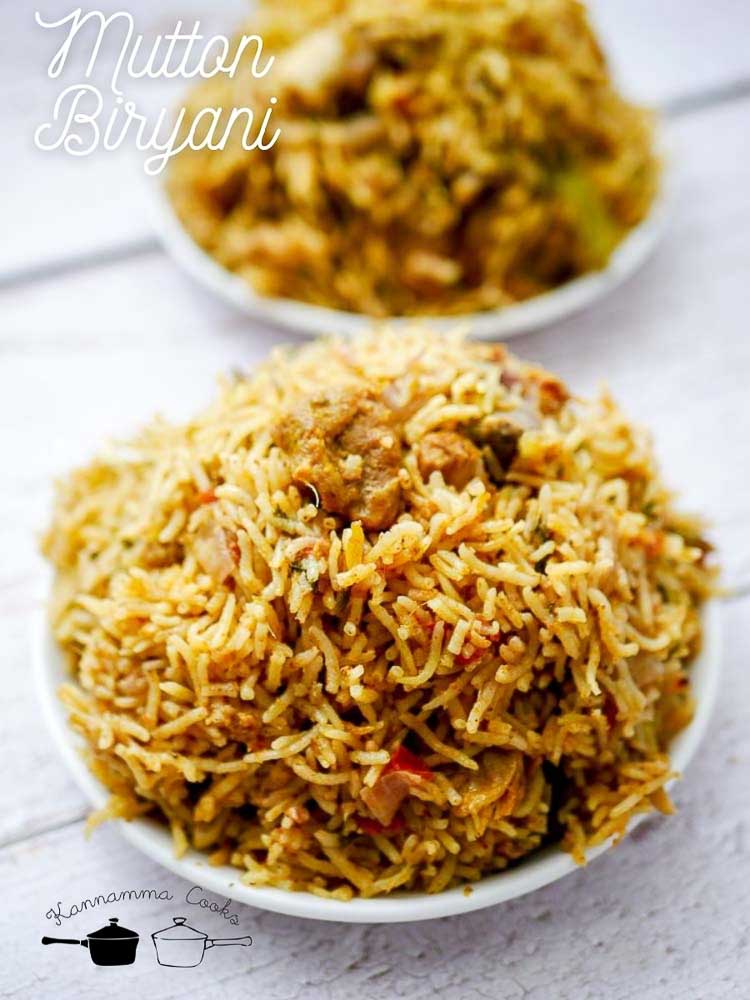 Recipe for Jaya Aunties Mutton Biryani. A family recipe. A rich mutton biryani made with homemade masala paste, coconut milk and spices. Recipe with video.
I got this recipe from Nithya sometime back. Nithya is my sister in law Padma akka's cousin. When she asked me if I wanted to try, I just jumped straight in. She had gotten this recipe from her aunt Jaya. She had told me that it was a long recipe when she sent me her precise instructions with pictures. There are close to about 30 ingredients that go into this biryani. This recipe is a keeper. Its a very rich biryani made with mutton, copious amounts of ghee, coconut milk, nut paste and all things good. My son loves mutton a lot and he approved the dish with much gusto on the very first bite. Its so good. Jaya auntie is Nithya's dad's childhood friends wife. When she told me that she was like her second mother, I knew how precious she was to her. No Diwali or a special occasion was celebrated in her place without Jaya aunties menu. She told me that Jaya aunties kitchen is spotless all the time and she keeps everything so organized. I am eagerly waiting to meet her sometime when I visit Coimbatore. Now, lets dive into this awesome mutton biryani recipe.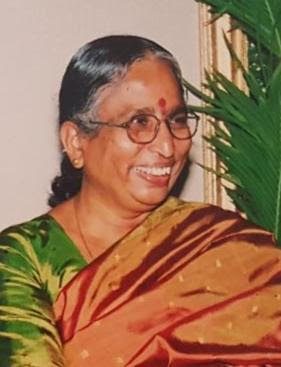 Here are some of the things you can buy online for making this recipe
5 liter Pressure Cooker 
Heavy Duty Indian Mixie
Readymade Coconut Milk 
Basmati Rice 1
Basmati Rice 2
Here is the video of how to make Jaya Aunties Mutton Biryani with Coconut Milk

The masala paste
This home made masala paste is what makes this dish a winner. The spices are a little extra when compared with a traditional Tamilnadu style biryani but it works so well in this recipe. I think cloves and mutton complement each other. The spices and the shallots, ginger and garlic is ground raw to a thick fine paste and added later. There is no need to dry roast the spices. Everything can be ground raw for this recipe.

Cooking Mutton
Mutton is mixed with plain yogurt, turmeric powder and salt. Little water is added and cooked in a pressure cooker. Mutton with bone-in is preferred for biryani. Bone has a lot of flavour. So always cook mutton with bone-in while making biryani. I cook the mutton for 12 minutes in a pressure cooker and that works well. Ignore the number of whistles. I let the pressure settle before opening.

The quality of rice and mutton is very important while making biryani. I have mentioned the links of the brands I use above. The stock that comes from cooking mutton is full of flavour. We add that along while making the biryani.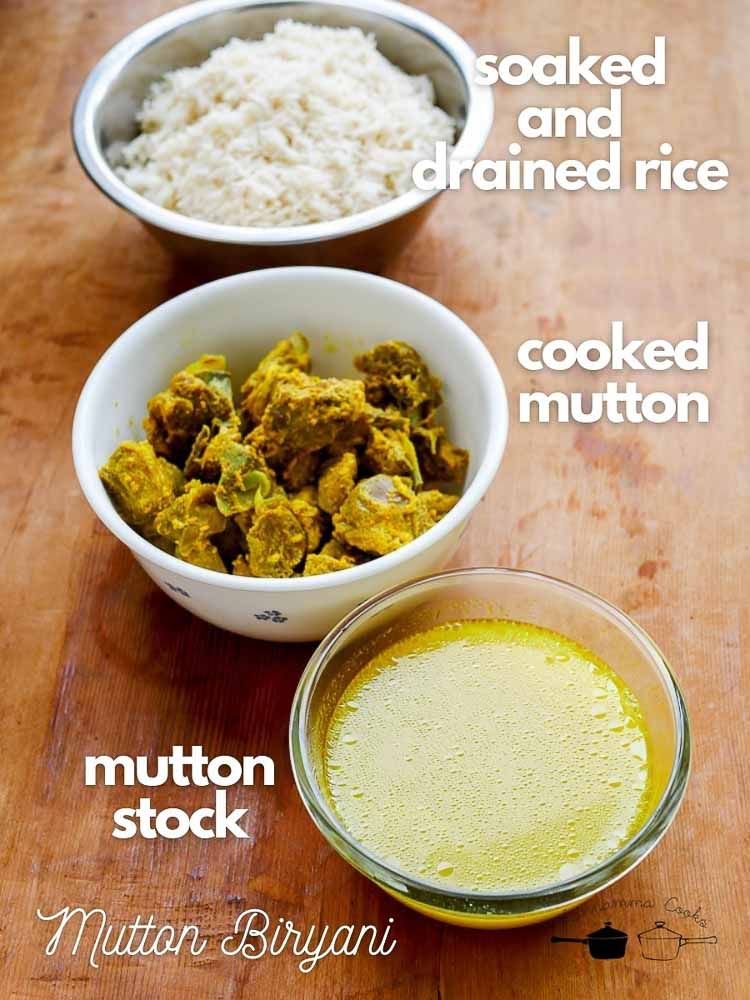 There are a lot of ingredients that go into making this biryani. Get the prep work done and the mise en place in place. That's the only way to go.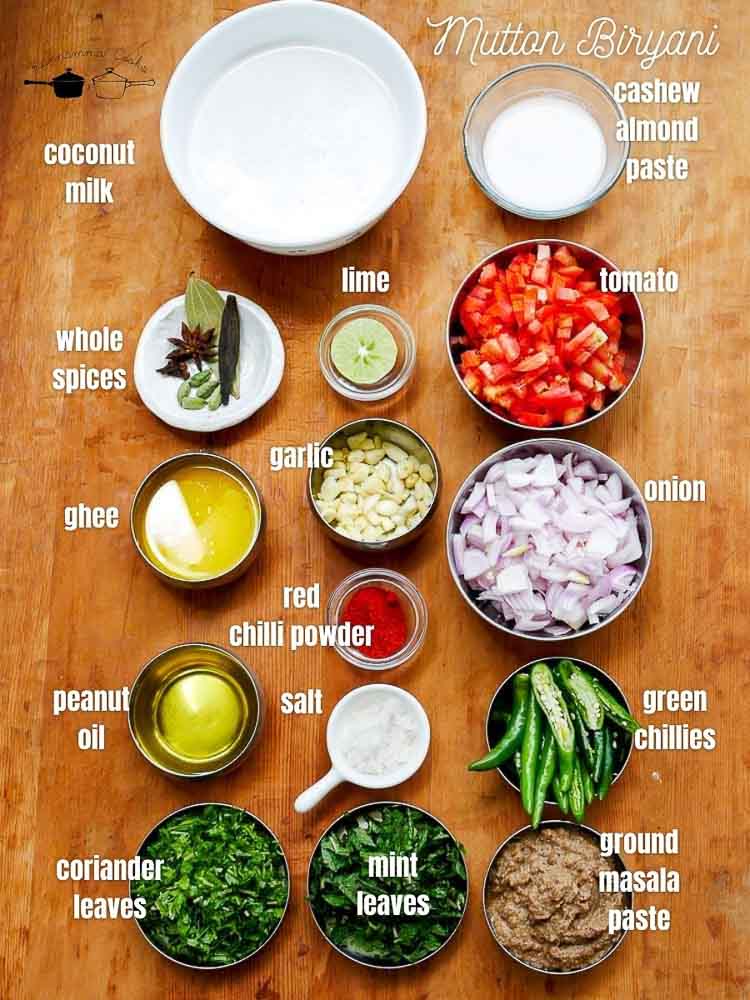 Print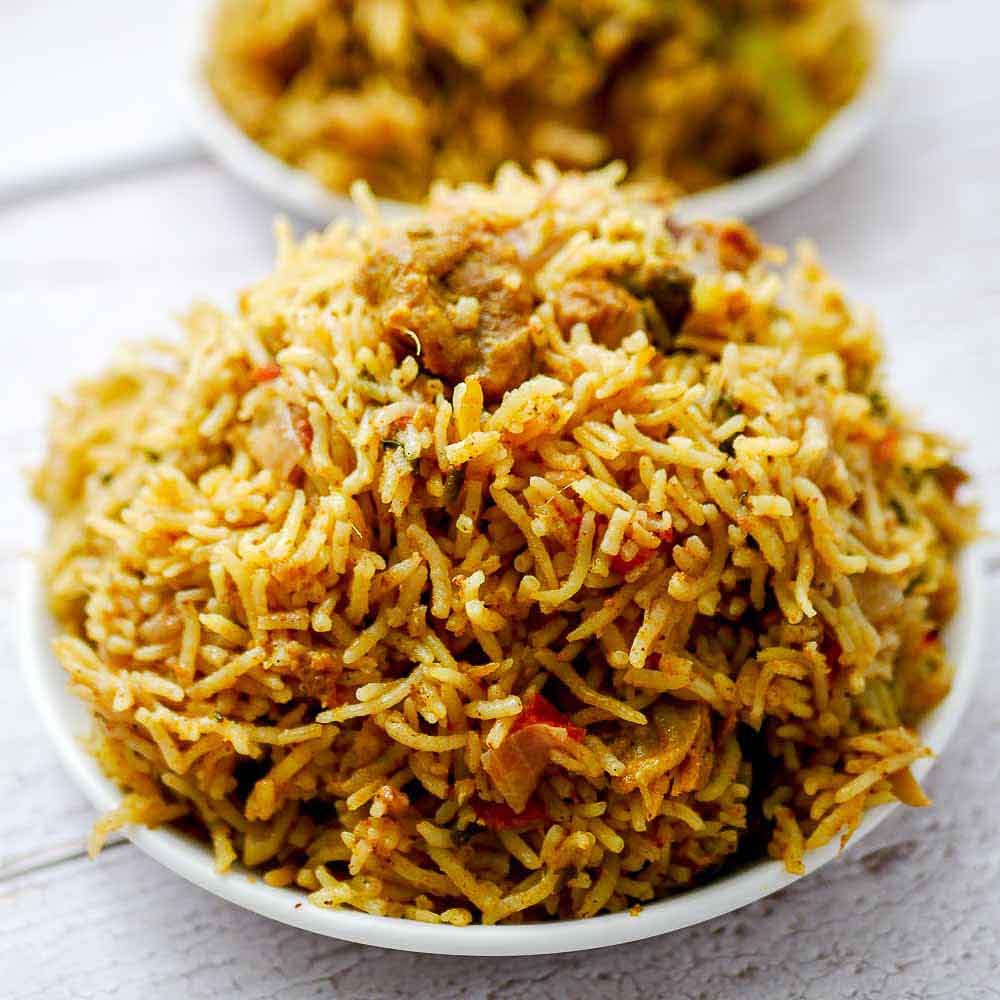 Mutton Biryani with Coconut Milk
Recipe for Jaya aunties Mutton Biryani. A family recipe. A rich mutton biryani made with homemade masala paste, coconut milk and spices. Recipe with video.
Total Time:

1h15m

Yield:

5

servings

1

x
For Biryani Masala Paste
3 (1 inch piece) cinnamon – cassia
15 cloves
8 cardamom
1 small piece kal pasi (stone flower)
10 small Indian shallots
2 inch ginger, roughly chopped
1 whole pod garlic
For Coconut Milk
1/2 of a coconut
2.5 cups water
For Cooking Mutton
500 grams mutton (bone-in)
1/2 cup plain yogurt / curd – whisked
1 teaspoon rock salt
1/2 teaspoon turmeric powder
1/2 cup water
Cashew Almond Paste
4 cashews
4 almonds
1/4 cup water
Other Ingredients
500 grams basmati rice
1/4 cup ghee
1/4 cup groundnut oil (peanut oil)
1 bay leaf
1 maratti moggu
4 cloves
5 cardamom
1 star anise
3/4 cup onions, sliced
1 teaspoon red chilli powder
3/4 cup tomatoes
1 teaspoon rock salt
6 cloves garlic, roughly chopped
6–8 green chillies, slit into two
1/4 cup mint leaves, chopped
1/4 cup coriander leaves, chopped
1/2 of a lime, juiced
Instructions
Biryani Masala Paste
We will need to make a masala paste for this biryani. Take all the ingredients listed under masala paste to a small mixie jar and grind to a fine paste. Do not add any water while grinding. There is a lot of cloves that goes into the masala. Trust me. It works so well in this recipe.
Coconut Milk
I recommend you go the extra mile to make your own coconut milk. The fresh taste of coconut milk cannot be beat. But having said that, if hard pressed for time, you can use canned coconut milk too. Use about 200 – 250 ml of canned coconut milk if not using fresh coconut milk.
Cooking Mutton
Mutton is precooked in the pressure cooker. Add the mutton, plain curd, rock salt, turmeric powder and little water. Cook for about 12 minutes on medium flame. Ignore the number of whistles. Once the pressure settles, the mutton should be done. Remove the stock and mutton and set aside.
Rice Prep
Wash the rice 2-3 times in water. Soak the rice in fresh water for 15-20 minutes. Do not soak for longer than that. After the said time, drain the rice and keep aside. I have used Daawat brand basmati rice.
Cashew Almond Paste
Soak the cashew and almond in water for about 20 minutes. Grind them with 1/4 cup of water to a fine paste. Set aside.
Cooking the Biryani
Heat ghee and oil in a pressure cooker. This is a very rich biryani and uses 1/4 cup each of ghee and oil. I have used peanut oil. If you want to go easy on the ghee or oil, you can reduce the amount.
Once the oil is hot, add in the dry spices and sauté for about 10 seconds. Add in the sliced onions and sauté till the onions are soft. Add in the red chilli powder and the ground masala paste. Cook for couple of minutes. Add in the tomatoes, chopped garlic, rock salt and the green chillies. Remember that we have already salted the mutton. So go easy on the salt. We can always adjust the seasoning later if need be.
The amount of green chillies you add in the biryani is totally up to you. Add according to your family's preferences.
Cook till the tomatoes are soft and mushy. It will take about 5-6 minutes. Add in the coconut milk, the mutton stock and water if necessary. We will need 1.5 cups liquid for every 1 cup of rice used. Let it come to a boil.
Add in the cooked mutton and the rice. Add in the cashew almond paste. Mix well. Add in the coriander leaves, mint leaves and the lime juice.
Close the pressure cooker and cook for 5-6 minutes. Let the pressure settle on its own. Once the pressure settles, open the cooker and gently mix the biryani.
Enjoy!
Author:

Prep Time:

30m

Cook Time:

45m
Keywords: mutton biryani with coconut milk