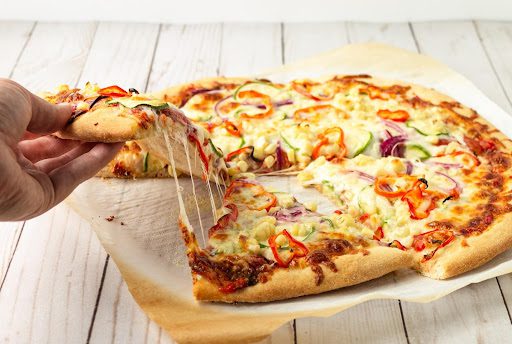 Photo by Quin Engle on Unsplash
Everybody loves pizza. And what's not to love? A beautiful crust, fresh and tasteful toppings, and the best cheese to top this all make pizza an all-time favorite all around the world. As a pizza lover, you never have to go far for a good slice of pizza. It is sold in nearly every supermarket, and a pizzeria can be found in just about every city. But nothing tops a homemade pizza.
I will tell you everything you need to know to make the best pizza from scratch.
Pizza dough
A good pizza depends mostly on the quality of the dough. To get a decent crust, you need to have a good dough, to begin with. And that looks easier than it is. A lot can go wrong when preparing pizza dough, but with the recipes on mysliceofpizza.com, you have a great starting point.
When creating a dough, don't forget:
The quality of flour is very important for making pizza dough. The best flour to use is '00'. This type of flour is higher in gluten and finer of consistency. This makes an excellent pizza dough.
Don't forget to add the yeast. It is essential to make the dough rise enough.
Give the dough time to rest. If you want a great crust with lots of air, the dough needs at least two hours of rising time.
Knead the pizza dough enough to activate the gluten. This makes for a much better result.
Knead the dough with your hands and avoid using a rolling pin. This will make the crust lighter and crispier in the end.
Toppings
The best part of pizza is that you can vary endlessly with toppings and flavors. The classic Italian pizzas are pizza Napolitana, pizza Margharita, pizza Quattro Stagioni, pizza Frutti di Mare, pizza Tonno, pizza Quattro Formaggi, and pizza Funghi. But don't just limit yourself to that. You can add all the ingredients, sauces, cheeses, and fresh herbs that you like to create your own ultimate pizza. Regularly used sauces are tomato sauce, pesto sauce, and Alfredo sauce. You can combine these sauces with different vegetables like tomato, onion, mushrooms, olives, courgette, bell pepper, spicy pepper, and herbs like basil, parsley, rosemary, and coriander.
And don't forget to add fish or meat if you prefer a non-vegetarian pizza. Regular toppings are tuna, salami, ham, pepperoni, and chicken, but there are a lot of pizza restaurants out there that use kebab, tandoori chicken, buffalo chicken, or ground beef to flavor the pizza. Some will say it's a no-go, but it really depends on your personal preferences. There is no such thing as a pizza law, so what will they do if you like a kebab pizza or like to top your pizza with pineapple? Don't overload your pizza, though. It can make the crust uncooked and sticky in the middle.
Cheese
And let's not forget the cheese. Some would say a pizza is not a pizza if it doesn't have one, or many, types of cheese on it. The most commonly used type of cheese is of course mozzarella. Tomato sauce and mozzarella are a classic combination, but there are many other types of cheese out there that fit just as well on any pizza. Parmesan, Pecorino, Gorgonzola, and ricotta are classic Italian cheeses that taste magnificent on a pizza. But even Gouda, Cheddar, goat cheese, paneer, or vegan cheese go well if you match it to the other toppings.
Tips for preparing the pizza
If you have your dough and your toppings, it is time to prep and bake your new favorite pizza. Ideally, a pizza is baked on a pizza stone. You can place this stone in the oven or use it in an outdoor oven. Make sure the oven is preheated at 450-500˚F or 230-260˚C. How long your pizza should be in the oven depends on how thick your crust is and the temperature. Usually, a good 8 to 12 minutes should be enough to get a golden brown and crunchy crust and perfectly melted cheese.
Enjoy the pizza right away for the best experience!