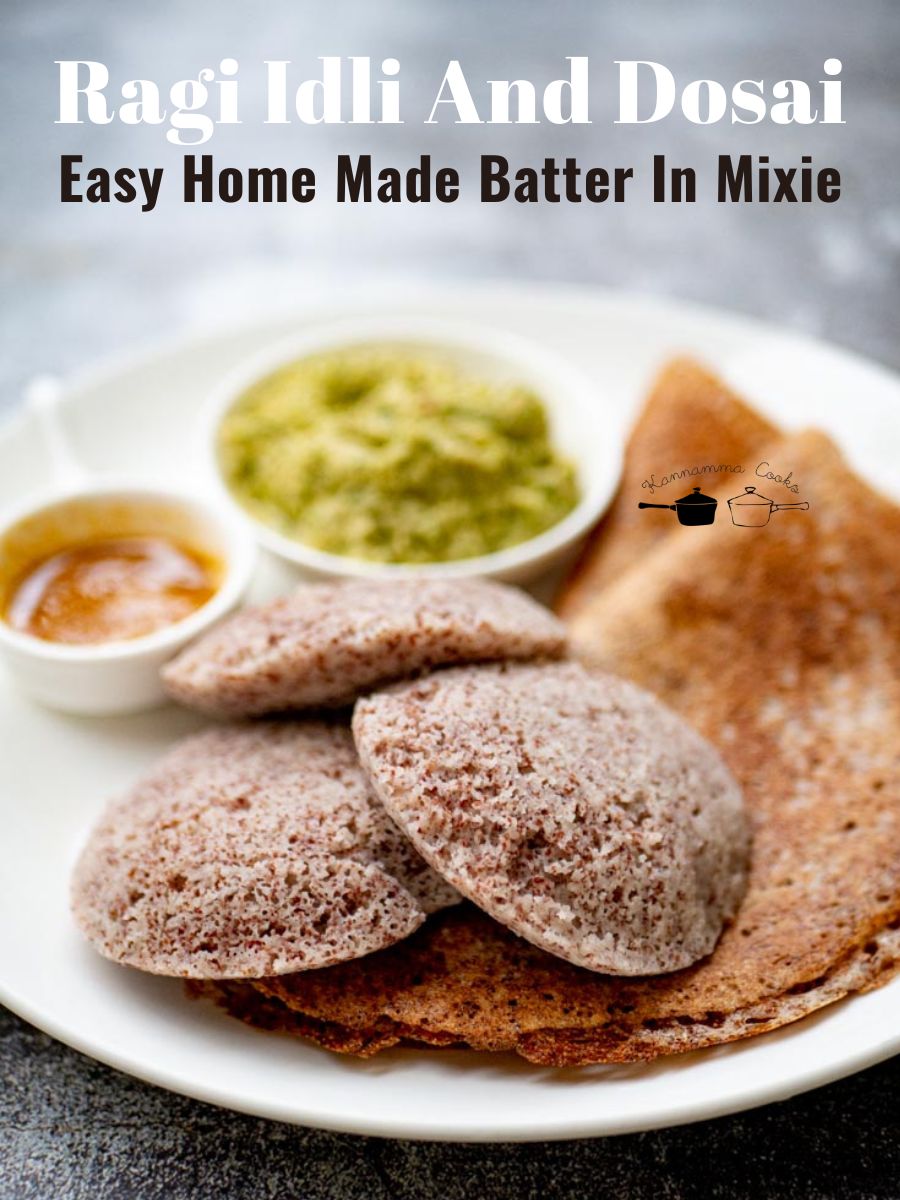 Recipe for Idli and Dosai batter made with Ragi – Finger Millet. Easy everyday batter recipe made using the mixie method. Fermented Idli and Dosai Recipe.
Here is an easy recipe for making everyday idli and dosai incorporating millets. I have used Ragi-Finger Millet. This recipe will work with any kind of millet. The addition of idli rice adds a soft texture to the idlis so you don't need to have a battle with children at home at the dining table. The texture of the idlis comes out just like regular idlis. One can increase or decrease the ratio of millets to rice, but I find 50:50 rice and millets to be the sweet spot.
Tip: Do not over ferment the batter as it turns sour too quickly. If you live in a place where it's very humid or hot, you can half ferment the batter for 4-5 hours and then refrigerate the batter. The batter will continue to ferment slowly in the refrigerator.
Use ice water to grind the batter so the mixie does not heat up making the batter warm while grinding.
The addition of poha / aval also aids in fermentation and keeps the idlis fluffy while steaming.
Make sure to use the batter within three days.
Here are the things you can buy online for making this recipe
Idli Rice https://amzn.to/3GFuP8S
Ragi – Finger Millet https://amzn.to/3CtZLpZ
Heavy-duty Indian Mixie https://amzn.to/3jVkXip
Dosa Griddle https://amzn.to/3GmzICn
Dosa Spatula / Fish Turner https://amzn.to/3GkCYOp
Idli Steaming Pot https://amzn.to/3jUOHeZ
Idli Cloth https://amzn.to/3Ql1fJ6
Here is the video of how to make Ragi Idli and Dosai using mixie

Print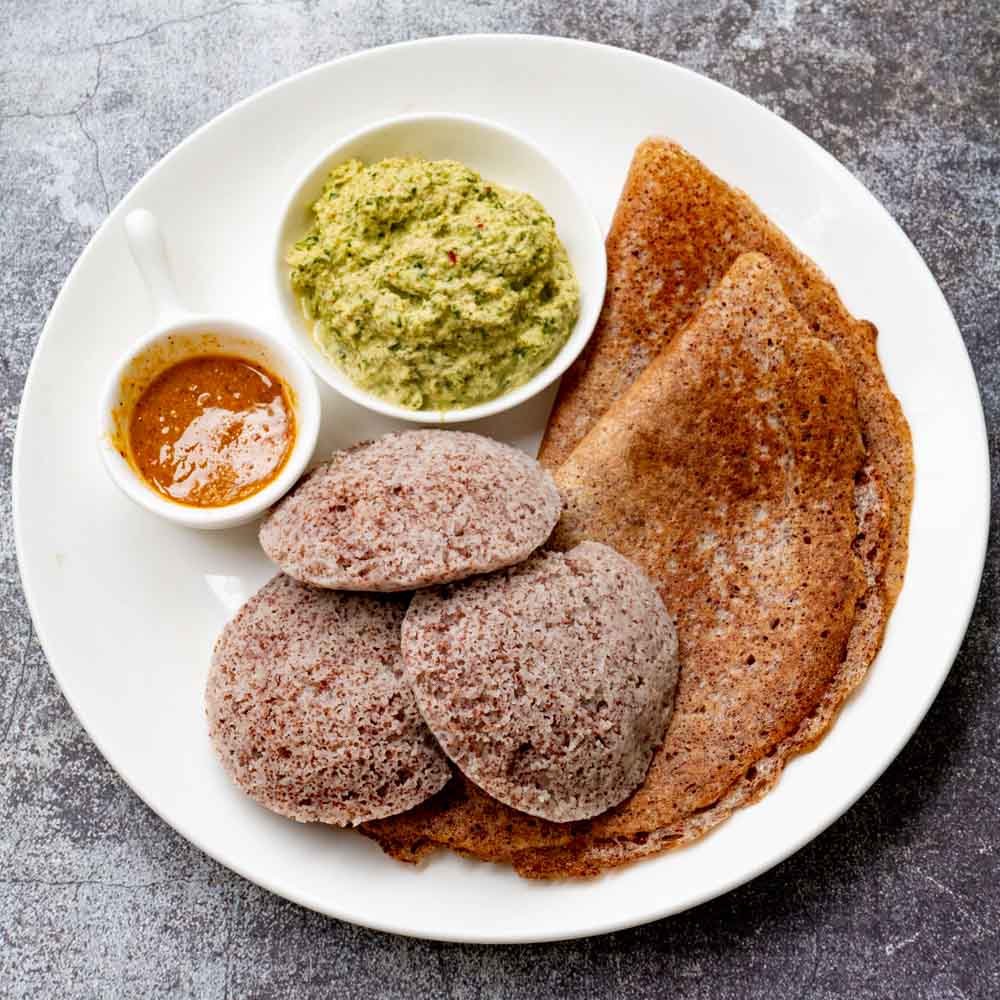 Ragi Idli and Dosai – Mixie Method
Recipe for Idli and Dosai batter made with Ragi – Finger Millet. Easy everyday batter recipe made using the mixie method. Fermented Idli and Dosai Recipe.
Total Time:

8h20m

Yield:

20

big idlis

1

x
1 cup ragi – finger millet
1 cup idli rice
1/4 cup urad dal
1/4 cup aval / poha
1 teaspoon fenugreek seeds
1 teaspoon salt
1 cup water to grind
Instructions
Wash the millet, rice, and lentils in water 2-3 times. Soak them along with poha and fenugreek seeds for a couple of hours. After a couple of hours, drain the water used for soaking.
Grind the soaked and drained ingredients to a smooth batter. Add water while grinding and grind in batches.
Finally add in the salt and mix well to combine. Ferment the batter for 6-12 hours. If it's summer, it will take about 6-8 hours. In winter, it will take a longer time. If you live in a very cold place, leave your batter in some place warm. Leaving your batter inside your oven with the pilot light on works great if you live abroad and your place is cold. Once the time is up, the batter should have increased in volume. Take a ladle and mix it well. Your batter is ready. Refrigerate the batter after fermentation. Use within 3 days.
TO MAKE IDLI
Fill two inches of water in an idli vessel and put it on medium flame. Wet a cloth and line an idli plate. Ladle the batter on the plate and steam for 6-7 minutes. After the said time, unmold the cloth. Sprinkle water while unmolding.
TO MAKE DOSAI
Dilute the batter with little water to pouring consistency.
Heat the dosai griddle until medium hot. Add 1/3 cup batter and swirl to cover dosai griddle. Sprinkle 1/2 teaspoon of Indian sesame oil / peanut oil or ghee. Cook until underside of the dosai is golden brown, about a minute. Flip once. Cook for a few seconds. Remove dosai from the griddle and repeat with remaining batter. Serve hot.
Author:

Prep Time:

8h

Cook Time:

20m
Keywords: ragi idli and dosai