Recipe for Brinji made with mixed vegetables, spices and coconut milk. This is an easy one pot recipe perfect for a lunch box.
When growing up, brinji was what was made for birthdays and special occasions. Biryani and Pulao are new entrants to Tamil cuisine. As a kid, I loved it when brinji was made. More than the rice, it was the fried bread that made it a dish to look forward to. The fried bread croutons are mixed with the rice at the end. It will soak up the flavours of the rice and will slightly become soggy. The soaked croutons are so tasty to eat and they are very addictive. I still look forward to this dish and it is one of my favorites. My son loves this too. Half of the fried croutons almost always magically vanished before they could meet the rice.
Here is another version of brinji recipe
https://www.kannammacooks.com/brinji-rice-tamilnadu-brinji-sadam-coconut/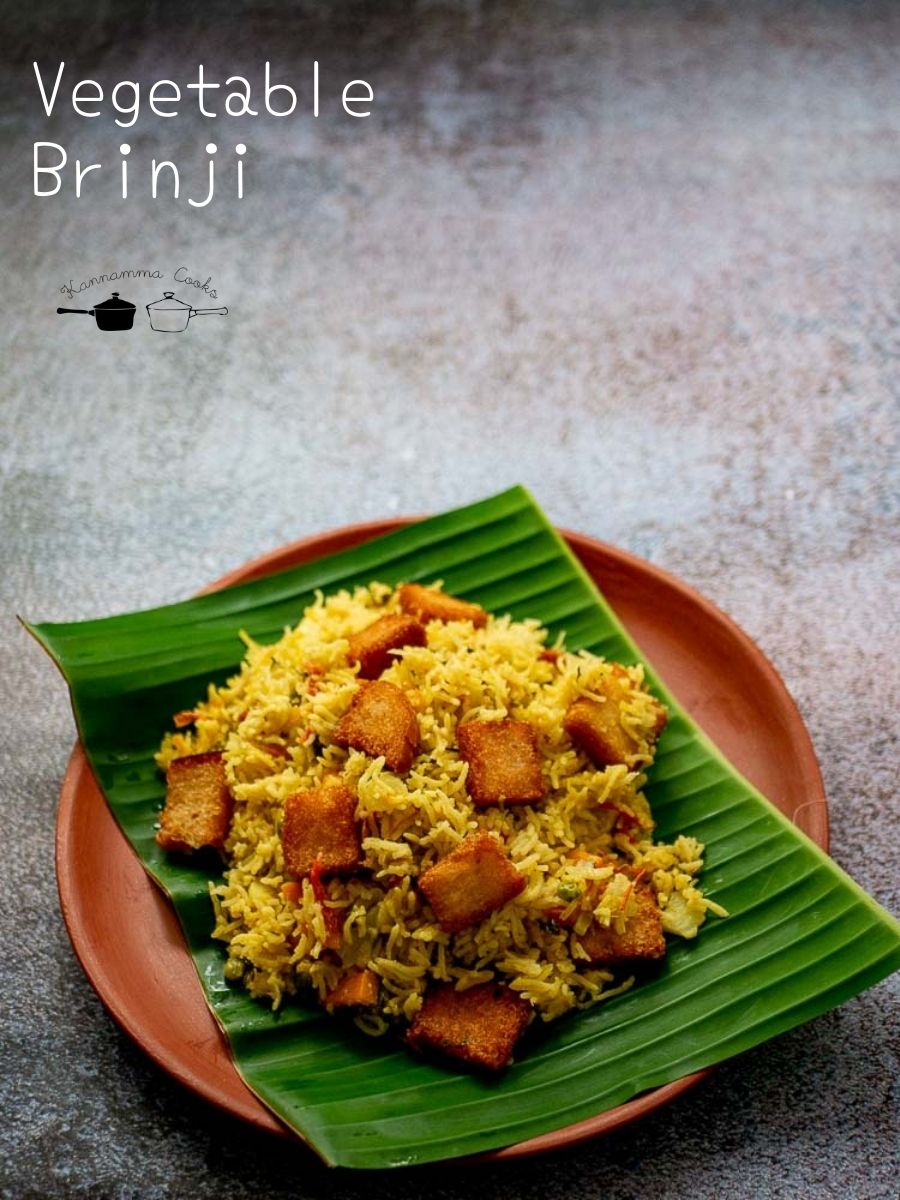 Here are the things you can buy online for making Vegetable Brinji Recipe
Bergner Pressure Cooker 5.5 liters https://amzn.to/3bO1BYn
High Curcumin Lakadong Turmeric Powder https://amzn.to/3a99yHh
Aged Basmati Rice https://amzn.to/3s2Vjsp
Basmati Rice https://amzn.to/3IUeD1S
Here is the video of how to make Vegetable Brinji Recipe

Print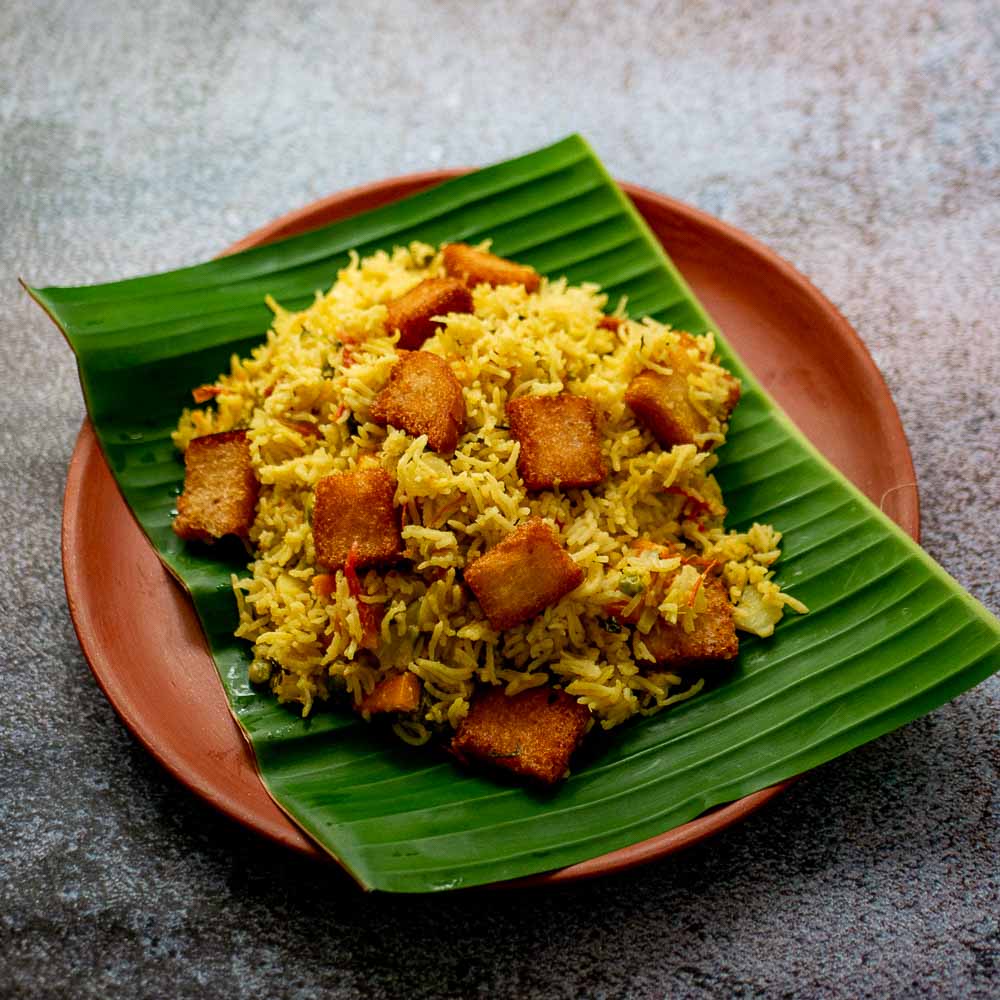 Vegetable Brinji Recipe
Recipe for Brinji made with mixed vegetables, spices and coconut milk. This is an easy one pot recipe perfect for a lunch box.
Total Time:

50m

Yield:

4

servings

1

x
For Brinji Paste
1 pod garlic
1 inch piece ginger
4 long green chillies
1/2 teaspoon fennel seeds
2 tablespoon water
Other Ingredients
1 teaspoon ghee
2 tablespoon vegetable oil
4 cloves
1 piece star anise
2 cardamom
3 bay leaves
1 sprig curry leaves
1 cup onions, sliced
2 tomatoes, sliced
1 teaspoon salt
1/2 teaspoon black pepper powder
1/2 teaspoon turmeric powder
3 sprigs mint leaves, chopped
3 sprigs coriander leaves, chopped
3 cups mixed veggies
1 cup thick coconut milk
2 cups water
2 cups basmati rice
1/2 of a lime, juiced
For Bread Croutons
4 slices bread
oil to deep fry
Instructions
Here is how to make vegetable brinji
We will be using two cups of basmati rice for this recipe. Wash the rice in water. Once the rice is washed, soak in water for 20 minutes. Set aside.
We will be making the brinji in a pressure cooker today as it's easy and fast. Add some ghee and vegetable oil to the pot. Add in the cloves, star anise, cardamom, bay leaves and curry leaves. Saute for a few seconds.
Add in the sliced onions. Saute the onions till they are soft. It will take about 2-3 minutes. While the onions are cooking, let's make a brinji paste. Take a small blender and add in the garlic, ginger, some green chillies – adjust the chillies according to your taste. Add in some fennel seeds and little water. Grind this mixture to a smooth paste. Add this paste to the pan. Add in the sliced tomatoes and the salt. Mix well to combine. At this stage, add in a little black pepper powder and turmeric powder. Mix well to combine. Cover the pan with a lid and cook for a few minutes till the tomatoes are soft and mushy.
Once the tomatoes are cooked, add in the mint leaves and the coriander leaves. Saute for a minute after adding the herbs.
We will be using three cups of mixed veggies. Use whatever veggies your family likes. I have used a combination of green peas, potatoes, carrots, green beans and chow chow. Use whatever you have in your refrigerator. Frozen green peas are what I have used today.
Add in the veggies to the pan and mix well to combine. Add in a cup of thick coconut milk. I have used canned coconut milk. Add in two cups of water. In total, that's 3 cups of liquid made up of coconut milk and water. If using home made coconut milk, you can use a combination of first pressed milk and second pressed milk. In total we need three cups of liquid for this recipe.
After adding the liquid, mix well to combine. Let it come to a boil. Once the liquid is boiling, add in the soaked and drained rice to the pan. Add in juice of half a lime at this stage. Cover the pan with the lid and cook for 2 whistles on medium flame. It should take about 4-5 minutes. After the whistles, wait for the pressure to settle before opening.
In the meantime, get the croutons ready. Dice some bread slices into small squares. Deep fry these bread pieces in hot oil. While frying, keep turning them so they brown evenly on both sides. Remove the bread croutons and drain them on paper towels. They will be oily. Change the paper towels one or two times to drain off the excess oil.
Once the pressure settles, open the cooker and gently mix well. Add in our croutons to the cooked brinji and cover the pan with a lid and allow it to rest for 10 minutes before serving.
A delicious and tasty brinji is ready. Serve hot with a side of a simple yogurt raita and potato chips.
Author:

Prep Time:

20m

Cook Time:

30m
Keywords: Vegetable Brinji Recipe