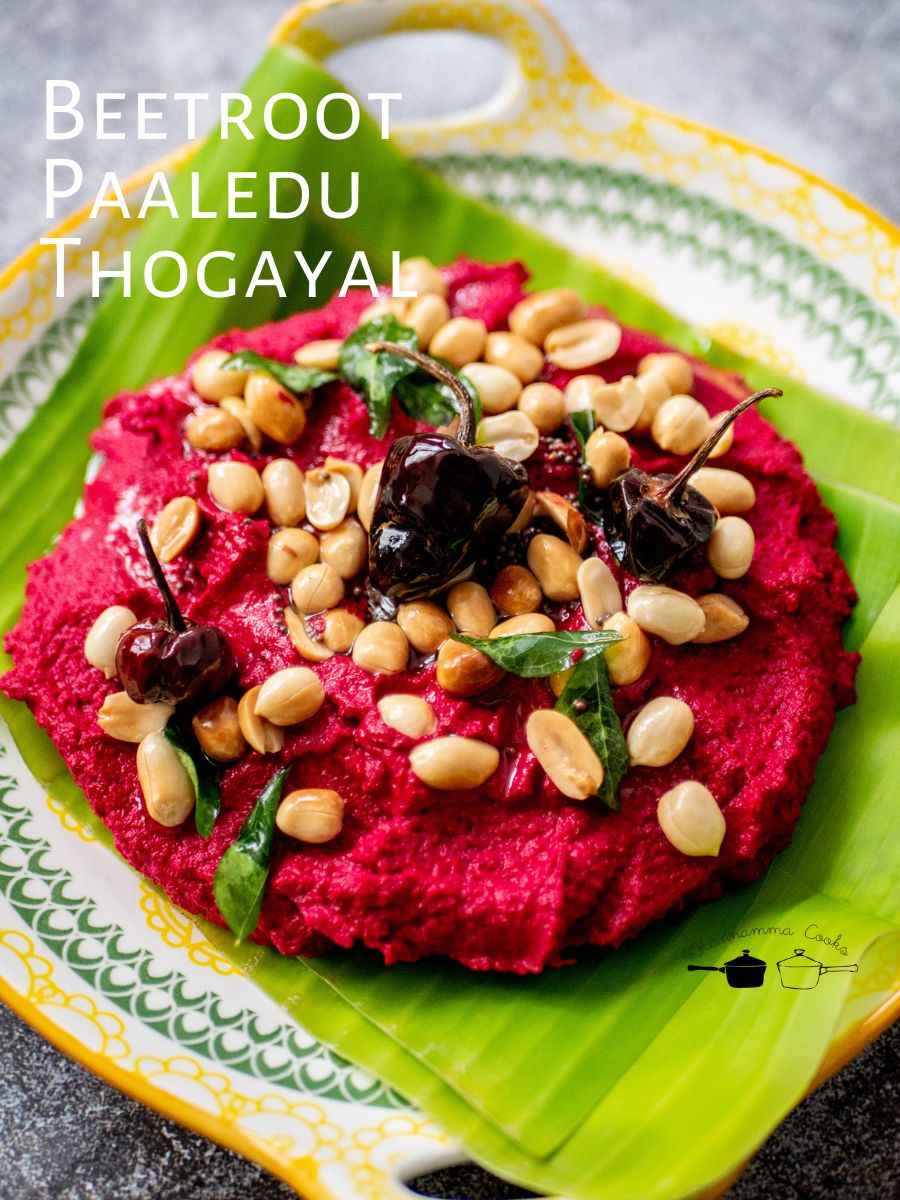 Recipe for Beetroot Paaledu Thogayal | Beetroot Chutney With Milk Cream Recipe
Paaledu is the milk cream that comes to the top after chilling the boiled milk. Traditionally it is used to make butter by churning the collected cream.
In Kongunadu, paaledu is added to Keerai (greens) and chutneys made with veggies. It makes the chutneys very unctuous and is a delicacy. The greens and chutneys fortified with paaledu are usually served with hot parboiled rice for lunch. The roasted peanuts used while tempering adds a nice crunch and texture to the thogayal / chutney.
Here are the things you can buy for making this recipe.
Saute / Stainless Fry Pan https://amzn.to/2AWJDAI
Carote Knife https://amzn.to/3IWGrnd
Hard Anodized Small Tadka Pan https://amzn.to/3NxjVSN
Heavy Duty Indian Mixie https://amzn.to/3GptNKD
Glass Mixing Bowls (500 ml) https://amzn.to/3hMJnVD
Here is the video of how to make Beetroot Paaledu Thogayal | Beetroot Chutney With Milk Cream Recipe

Print
Beetroot Paaledu Thogayal | Beetroot Chutney With Milk Cream Recipe
Beetroot Paaledu Thogayal | Beetroot Chutney With Milk Cream
Total Time:

20m

Yield:

4

servings

1

x
Main Ingredients
2.5 teaspoon Indian sesame oil (divided)
2 tablespoon chana dal
1/4 teaspoon cumin seeds
4 dried red chillies (adjust according to your taste)
4 cloves garlic
1 sprig curry leaves
250 grams beetroot, chopped
3/4 teaspoon salt
1 marble sized tamarind
1/4 teaspoon asafoetida
1/3 cup fresh shredded coconut
2 tablespoon paaledu (milk top cream)
Tempering for thogayal
1 teaspoon Indian sesame oil
1/4 teaspoon mustard seeds
1 sprig of curry leaf
3 dried red chillies
2 tablespoon roasted peanuts
Instructions
Take a heavy-bottomed pan and add the Indian-style sesame oil. Add in the chana dal, cumin seeds and dried red chillies. Adjust the chillies according to your taste. Saute on a low flame till the dal roasts and becomes golden. Remove the roasted lentil mixture to a plate. Set that aside. In the same pan, add a little more oil. Add in some roughly chopped garlic, a sprig of fresh curry leaves, and the chopped beetroot. I have chopped them today. You can also grate them and add. Keeping the cut pieces small helps cook the beets faster. Add in the salt and a small marble-sized piece of tamarind. Mix well so the oil coats the beetroot uniformly. Cover the pan with a lid and cook on a low flame for about five minutes. The beetroots will be half-cooked at this stage. Half cooking the beetroot is enough for this recipe.
Add in a little asafoetida and the fresh shredded coconut. Cook for a minute. Our beetroot mixture is now ready.
Take a heavy-duty mixie or a blender and add the roasted and cooled lentil mixture. Add the beetroot mixture. At this stage add the paaledu – the milk cream. The paaledu makes the thogayal very rich and vibrant in taste. Grind everything to a smooth paste. Add little water while grinding if necessary. The paste should be ground to a thick smooth texture. Set aside.
Now let's make a simple tempering for the thogayal.
Add oil to a small Kadai. Add in the mustard seeds, curry leaves and dried red chillies. Saute for a few seconds. Let the mustard seeds crackle. Add the roasted and skinned peanuts to the pan and saute for a few seconds more. The roasted peanuts add a nice textural crunch to the thogayal.
Add the tempering on top of the thogayal. Our fantastic beetroot thogayal is now ready. Serve the thogayal with hot rice and enjoy.
Author:

Prep Time:

5m

Cook Time:

15m
Keywords: Beetroot Paaledu Thogayal