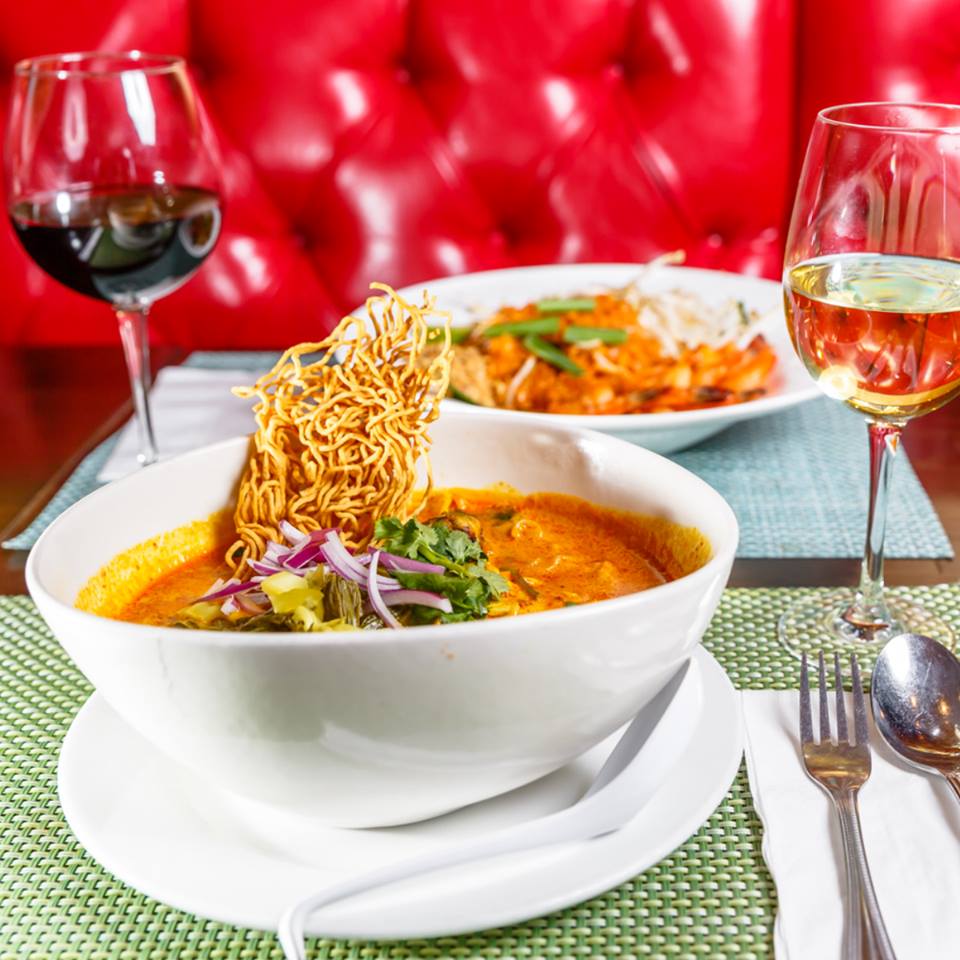 Finding great curry in Vegas can be tricky, unless you know where to look. The best tip to keep in mind is stay off the strip, unless of course you're searching for the same bland butter chicken and garlic naan, in which case maybe this is exactly the place! The collection of restaurants mentioned here should cater for all budgets and even include a couple of gems that serve curry from outside of India.
Rani's World Foods
Don't be alarmed, Rani's is a supermarket, but make your way to the back of the store and you'll find an array of heavily spiced and authentic Indian cuisine. All of the curries are freshly cooked by a charming Indian lady. A thali is a great option if you're hungry and fancy trying a few different dishes. Choose two curries and a daahl and it'll be served to you with fresh chapatis and white rice. This dish would fill up pretty much any appetite, but if you're still hankering for a little something more (and after the taste of the curry how could anyone blame you) there are a selection of freshly made samosas.
Although all of the food on offer is vegetarian, carnivores will not be disappointed. The complex flavours and enormous choice are more than enough to make up for the lack of meat! Once you've finished eating take a wonder around the store and treat yourself to some Indian sweets; they even offer curry to takeaway if you just can't get enough. A meal for one here costs around ten dollars, so you'll have plenty of cash left to buy some goodies to take home.
Turmeric Flavors of India
Although this restaurant is downtown, looking out on Fremont Street, it's a real gem. A little more expensive than Rani's, Turmeric is well worth the extra cash. The building is beautiful, with large windows perfect for people watching and a roof terrace that's open at the weekends. The drinks list is well put together with plenty of beer and wine to choose from, but the real standout is the cocktail menu. Many of the cocktails have an Indian twist; try the Milk & Honey for a sweet and silky alternative to dessert.
The food is what we're here for though. This is another establishment that's brilliant for vegetarians as they offer a full vegan menu which includes a delicious dish called Chole Puri, made up of masala spiced garbanzo and tangy pickle with fresh Puri for dipping. If you don't fancy vegan fare then the a la carte has plenty of choice, but not so much as to make you question the freshness. The Masala Dosa is one of their specialities: soft gram flour crepes filled with a dry potato curry rich with flavours of curry leaf, chilli and turmeric. As a side the Sambhar is excellent: soft yellow lentils, cooked long and low with plenty of ginger. If you're dining as a hungry couple then try the tandoori platter: shrimp, salmon, chicken, kebabs and lamb all shown the heat of the tandoor with refreshing salsa, chutney and raita to add a little freshness. Perfect.
Curry Zen
If you're looking for ways to save some money in Vegas, then this little restaurant is exactly what you've been looking for. Properly off the beaten track, find Curry Zen tucked away in a busy shopping centre. Don't let the location put you off; this eatery offers some of the best Katsu curry in the country. You can choose the spice level of your curry from one to ten, with a three being about right for a mild palate and a seven being nice for someone who prefers things a little spicier. The curry is served with bread to mop up the sauce as well as white rice; carbohydrate heaven. If you're watching the waistline or just stopping for a quick lunch then you can choose a smaller portion and opt for brown rice.
If it's dinner you're stopping by for then treat yourself to some fried oysters as an appetizer; they're beautifully tender with a perfectly crispy batter. It's also nice to top your curry with a boiled egg, though they even offer spam as a topping if that's your thing! The drinks menu is surprisingly good, with beer, wine and the more traditional sake if you fancy a full taste of Japan.
Weera Thai
Another departure from Indian curry, Weera Thai makes inventive and truly delectable Thai food. The patrons themselves admit that their food isn't entirely traditional. They grew up in Thailand where they owned their incredibly successful restaurant where they became famed for Larb Duck, which is still on the menu at their Vegas premises. Although it's not strictly a curry it does deserve a mention, and is an incredibly flavourful ground duck with spices, lime juice and chilli.
Curry-wise their Panang curry is reliably brilliant. For something a little more unusual try the Lanna Kaeng Ho, a Northern Thai dish consisting of stir fried meat with clear noodles and kaffir leaves. Along with the meat and noodles are plenty of crunchy vegetables, bamboo shoots, snow peas and eggplant. Healthy food that tastes divine.