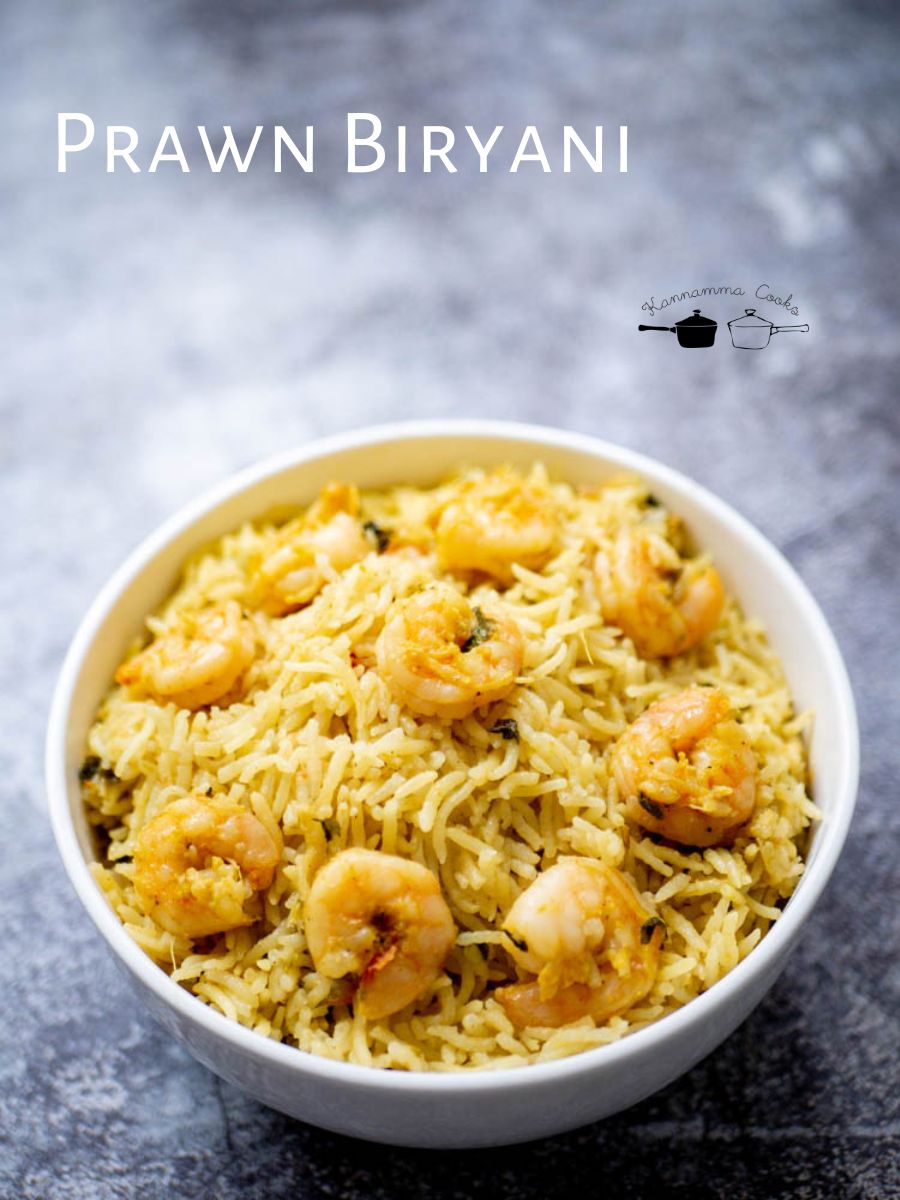 Here is a simple eral biryani recipe made in the pressure cooker. With simple tips in preparation, you can get the fluffiest biryani every single time. Even though the ingredient list is lengthy (There are close to 25 ingredients), most of it can be found in a regular South Indian pantry. This can be made in under 40 minutes making it a recipe for a weekday or for packing it for a school lunch box.
Here are the things you can buy online for making this recipe.
Nutri Blender PRO https://amzn.to/3qJ1guh
Bergner Tri-ply pressure Cooker Pan https://amzn.to/3S5ksxP
Aged Basmati Rice https://amzn.to/3s2Vjsp
Basmati Rice https://amzn.to/3IUeD1S
Carote Knife https://amzn.to/3IWGrnd
Here is the video of how to make Eral Biryani | Pressure Cooker Prawn Biryani With Coconut Milk | Easy Prawn Biryani Recipe

Print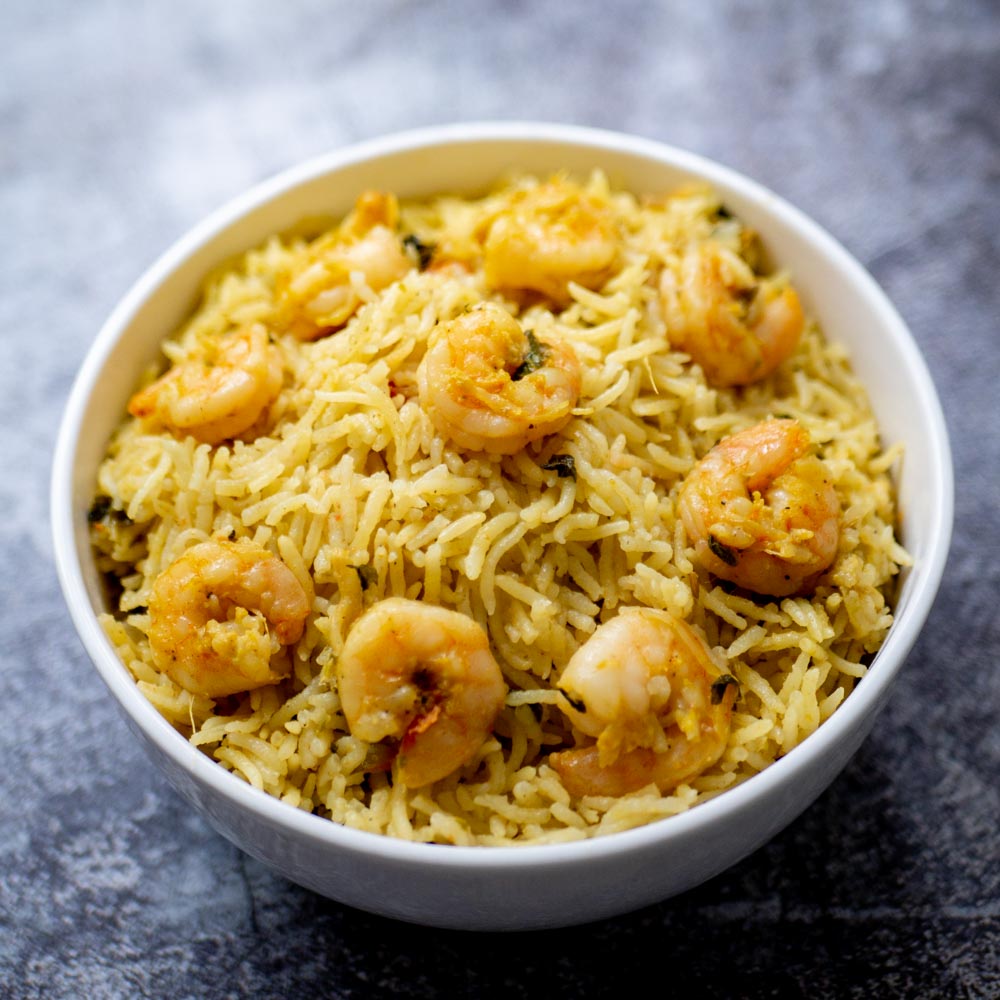 Eral Biryani | Pressure Cooker Prawn Biryani With Coconut Milk
A simple Eral biryani – Prawn biryani recipe made in the pressure cooker. Made using basmati rice and home made spice paste. Recipe with video.
Total Time:

40m

Yield:

3

servings

1

x
Main Ingredients
3 tablespoon vegetable oil
3 bay leaves
1 inch piece cinnamon (cassia)
1 star anise
2 cardamom
4 cloves
10 cashews
1/4 cup onions, sliced
2 tomatoes, sliced
1 teaspoon salt
1 pod country garlic
1 inch ginger
6 green chillies
1/2 teaspoon fennel seeds
1/4 cup coriander leaves
1/4 cup mint leaves
1.5 teaspoon coriander powder
1/2 cup coconut milk
2 cups water
1.5 cups basmati rice
1 tablespoon lime juice
For Marinating Prawns
250 grams prawns
1/2 teaspoon turmeric powder
1/2 teaspoon black pepper powder
1/4 teaspoon salt
2 tablespoon plain curd / yogurt
Instructions
We will be using 1.5 cups of basmati rice for this recipe today. Wash the rice in water. While washing the rice, be gentle so as to not break the rice. Wash once or twice and soak the rice for 20 minutes. After 20 minutes, drain the water and set it aside.
Now let us marinate the prawns.
Take the washed, cleaned and deveined prawns and add it to a bowl. Add in the turmeric powder, black pepper powder, salt, and plain curd. Mix well to combine. Marinate this mixture for at least 10 minutes. Marinating just before starting to cook will be ideal.
Take a pressure pan and add the vegetable oil. Add in all the spices – the bay leaves, cinnamon, star anise, cardamom, cloves, and some cashews. Saute for a few seconds so the spices turn fragrant.
Add the sliced onions and saute for a few minutes. Once the onions are soft, add in the tomatoes and the salt. Cook the tomatoes till mushy.
In the meantime, let us make a spice paste. Add the garlic, ginger, green chillies and fennel seeds to a blender. I have used country garlic today. If using regular garlic, about 6 cloves will be enough. Blend to a coarse paste. Adjust the green chillies according to your taste and family preferences.
Add the ground paste to the pan. Saute for a couple of minutes till the spice paste is dry. Add the coriander leaves, mint leaves, and the coriander powder. Mix everything well to combine.
Add the marinated prawns and mix well. Cook everything for a couple of minutes. The prawns will be half done after a couple of minutes. At this stage add half a cup of coconut milk and two cups of water. The rice to water ratio is for every cup of rice used, use 1.5 cups of liquid. A little bit of extra liquid is ok. So put together, coconut milk and water – we have used 2.5 cups of liquid.
Let everything come to a boil. Add the soaked and drained rice. Add lime juice and mix well to combine.
Cover the pressure cooker and add the whistle weight. Cook for about 4-5 minutes on medium flame. You should get about 2 whistles. After 2 whistles, switch off the flame and wait for the pressure to settle naturally. Open after about 20 minutes so the rice is nicely set.
Our eral biryani is now ready. Here is a small tip. Before mixing, remove all the whole spices that will be sitting on the top. This will make sure that you dont get a whole cardamom or clove while eating that can spoil the palette. After removing the spices, gently fluff up the rice.
Our fantastic prawn biryani is now ready. Serve with a simple raita and enjoy.
Author:

Prep Time:

20m

Cook Time:

20m