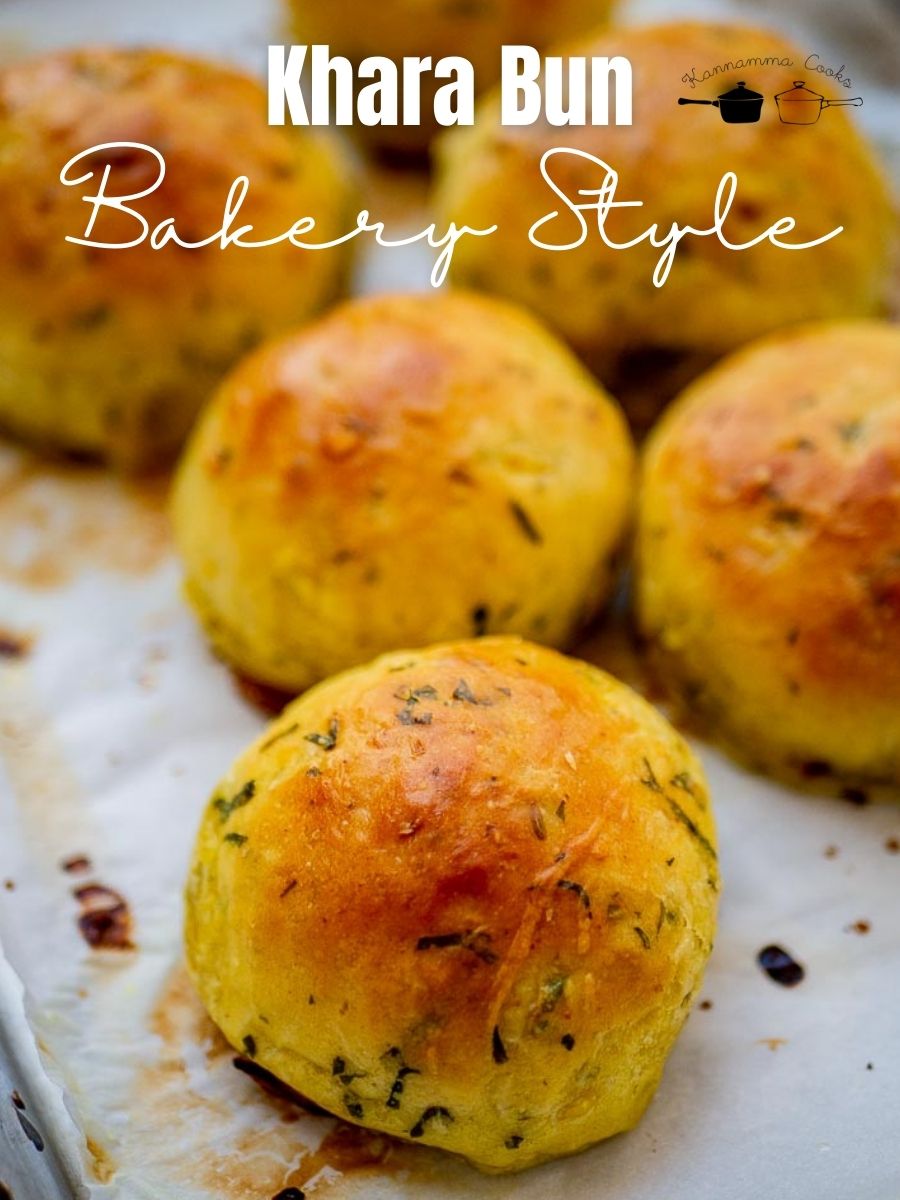 Recipe for Bengaluru bakery style Khara Buns made from scratch at home. Savoury buns spiced with Indian aromatics and chillies. Recipe with video.
Khara Bun is a local Bengaluru Bakery specialty thats a favorite evening pick me up along with tea or coffee. It makes for a quick snack too. "Khara" means savory / spicy and the bun is spiced with aromatics and chillies. This bun can be easily prepared at home and here is the recipe for Bengaluru bakery style Khara Buns.
Ingredients you can buy online for making this recipe
Plastic Bench Scraper https://amzn.to/3Ixa6lQ
Instant Dry Yeast https://amzn.to/3fW9hX7
Parchment Paper https://amzn.to/3AtqmRV
Baking Sheet Pan https://amzn.to/3FVM7uN
Pastry Brush https://amzn.to/3r4utkt
Prep Bowls https://amzn.to/3tV4ptQ
Here is the video of how to make Khara Buns at home

Print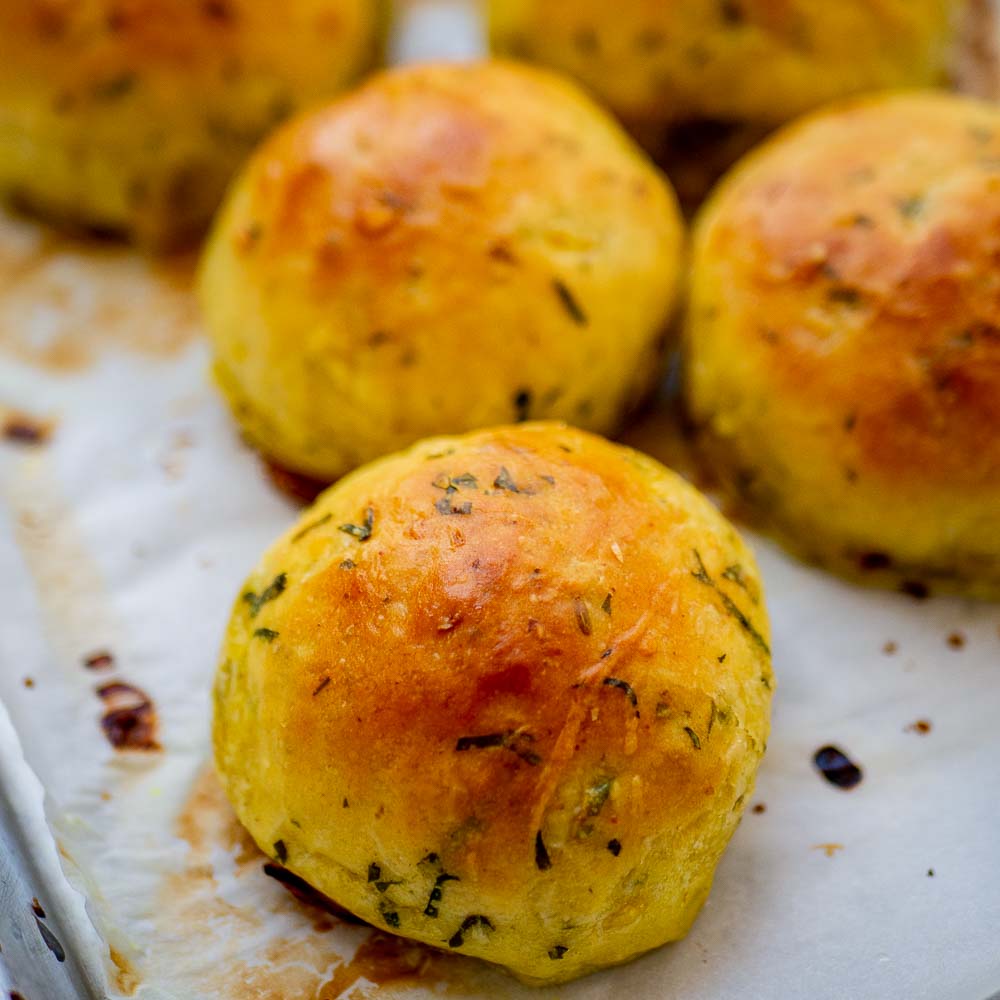 Khara Bun Recipe | Savoury Buns
Recipe for Bengaluru bakery style Khara Buns made from scratch at home. Savoury buns spiced with Indian aromatics and chillies. Recipe with video.
Total Time:

1h20m

Yield:

8

buns

1

x
Ingredients For The Khara Masala
2 teaspoon peanut oil
1/4 teaspoon cumin seeds
2 sprigs curry leaves, finely chopped
2 tablespoon onion, finely chopped
1/2 teaspoon turmeric powder
1/4 teaspoon dried chilli flakes
1 teaspoon green chillies, minced
2 tablespoon coriander leaves, finely chopped
Other Ingredients
1/2 cup warm water
1 teaspoon sugar
1.5 teaspoon active dry yeast
1/4 cup warm milk
1.5 cups / 210 grams maida / all purpose flour
1/2 teaspoon salt
1/2 teaspoon peanut oil
2 tablespoon milk – for brushing buns
Extras
3 teaspoon ghee – for final brushing
Flour for dusting and kneading
Instructions
For the Khara Masala
Heat oil in a small kadai and add in the cumin seeds, curry leaves and the onions. Saute for a few seconds. Add in the turmeric powder, chilli flakes and the green chillies. Saute for a few seconds more. Finally add in the coriander leaves and saute till the leaves are wilted. Set aside.
For the Dough
Take a bowl and add in the warm water, sugar and the yeast. Mix well with a whisk and set aside for five minutes. The yeast will get activated and will foam up. If the yeast does not foam up, it means that its dead and you will need to start with new yeast. I store my yeast in the freezer here in India and it stays fresh and good for months. I buy my yeast online from amazon. Once the yeast has foamed up, add in the milk, the khara masala and the rest of the ingredients.
Form a dough and knead the dough by hand for a good five minutes. The dough will be very soft and will stick to the hands. Dust the dough with little flour while kneading. But do not add too much flour while kneading as the dough will become dry and the buns will become very hard. Resist your temptation to add flour while kneading. Do not add more than a couple of tablespoons of flour while kneading. The dough will come together and start to stick less after kneading. Once the dough is smooth, transfer to an oiled bowl and cover with a plastic wrap or a shower cap.
Let the dough rise until doubled. It will take anywhere between 45 minutes to an hour depending on how humid the place you live is. Once the dough is doubled, remove the dough from the bowl and gently deflate it and knead briefly for a few seconds. Dust it with a sprinkle of flour to avoid the dough from sticking to the bench.
Divide the dough into eight equal pieces. Form each dough into a tight ball. Refer to the video as to how each ball is formed. Its important that there are no cracks while forming the dough else the final bun will show these cracks.
Let the balls rise on a sheet pan for 15-20 minutes.
Brush the buns evenly with milk.
In the mean time preheat the oven to 200 degree Celsius / 390 degree Fahrenheit for about 10-15 minutes. Bake the buns for 20 minutes.
Remove the buns and brush the buns with ghee / melted butter while its still hot.
Enjoy!!
Author:

Prep Time:

60m

Cook Time:

20m