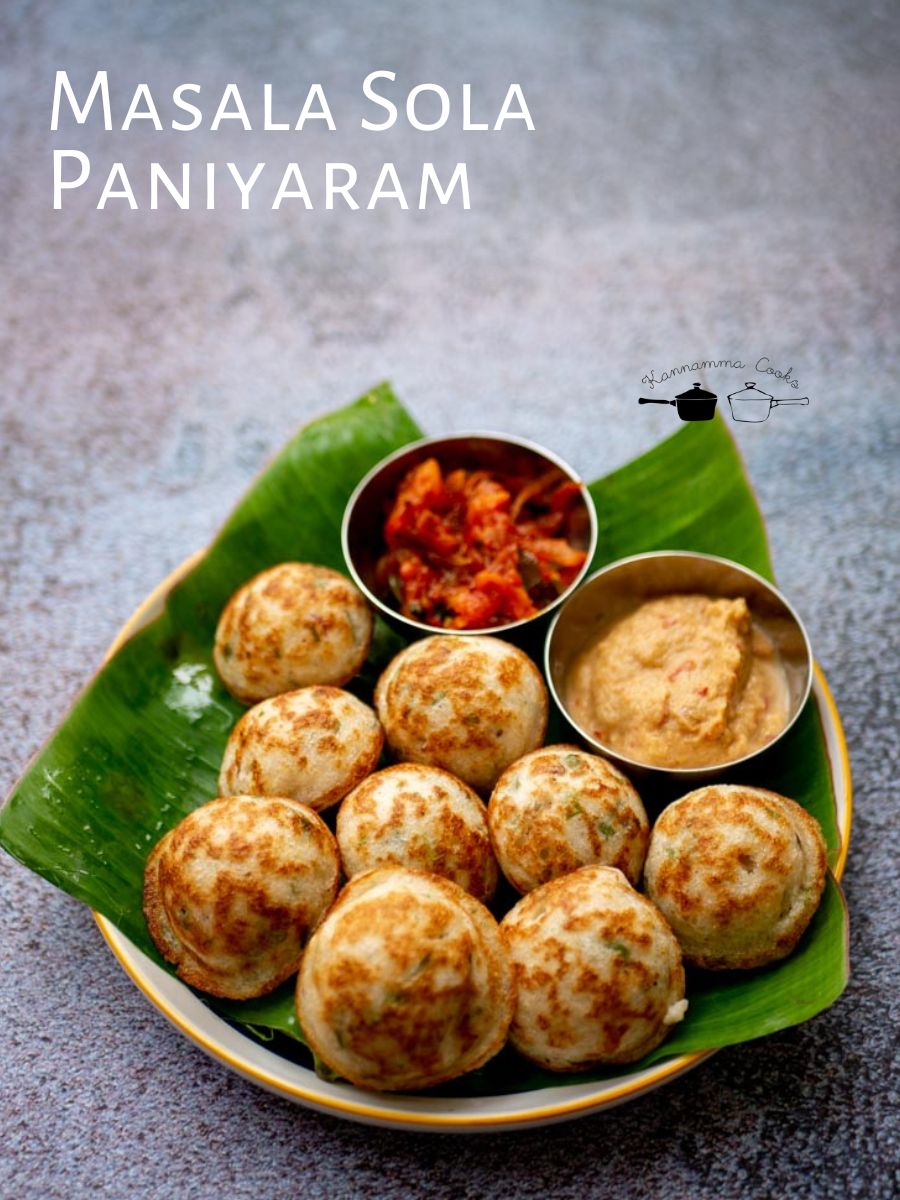 Recipe for fibre-loaded Masala sola paniyaram made with sorghum millet and rice. These paniyarams are flavoured with a tasty coconut masala paste.
Here are the things you can buy for making this recipe
Paniyarakkal / Paniyaram Pan https://amzn.to/3ytve9R
Idly Rice https://amzn.to/34anvSk
Heavy Duty Indian Mixie https://amzn.to/3GptNKD
Carote Knife https://amzn.to/3IWGrnd
Here is the video of how to make Masala Sola Paniyaram | Jowar – Sorghum Paniyarams Flavoured With A Tasty Coconut Masala Paste

Print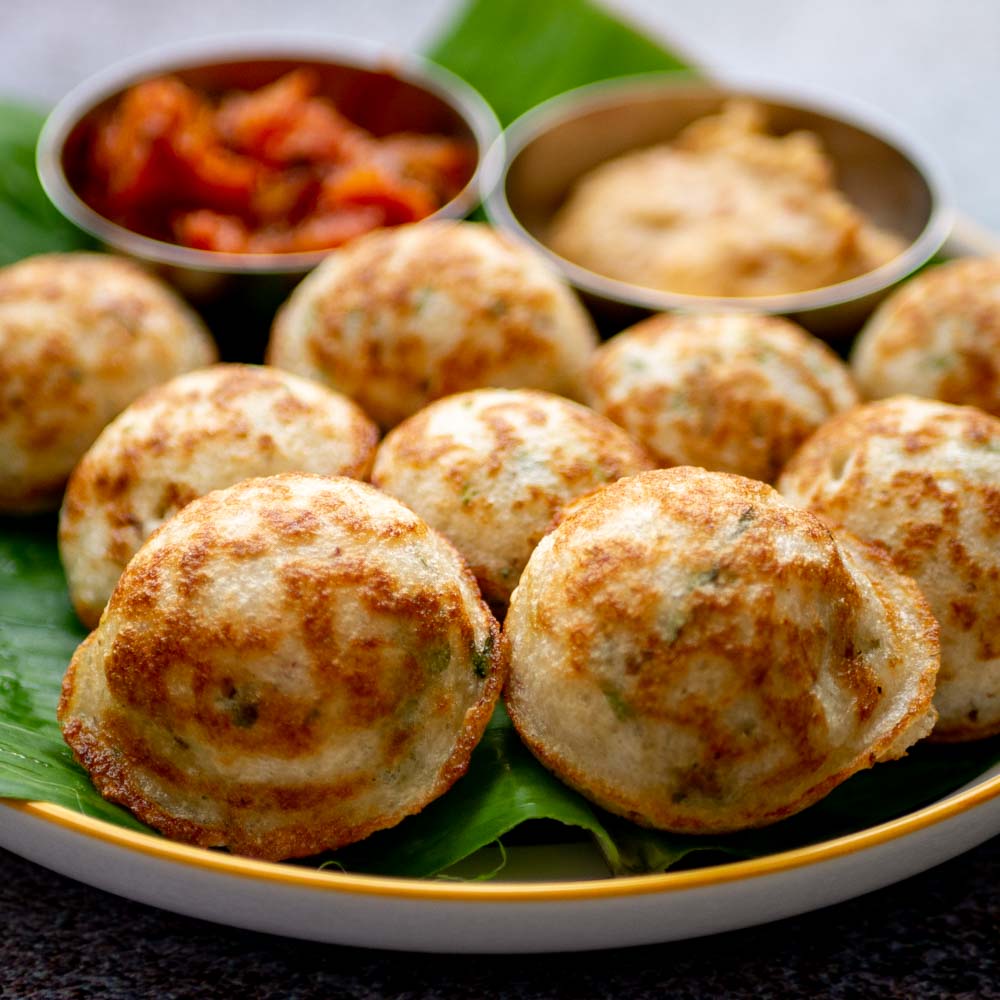 Masala Sola Paniyaram
Recipe for fibre-loaded Masala sola paniyaram made with sorghum millet and rice. These paniyarams are flavoured with a tasty coconut masala paste.
Total Time:

12h10m

Yield:

20

-

22

paniyarams per batch ( makes

two

batches)

1

x
Main Ingredients
1 cup solam / sorghum / jowar
1 cup idli rice
1/2 cup unpolished whole white urad dal
1/4 teaspoon fenugreek seeds
1/2 cup aval / poha
2 cups water to grind
1 teaspoon salt
For Paniyaram Masala
4 shallots
2 tablespoons fresh shredded coconut
1 sprig of curry leaves
1/2 teaspoon cumin seeds
1 green chilli
3 sprigs coriander leaves, chopped
Indian-style sesame oil to make paniyarams
Instructions
First, let's soak all the ingredients. Take a bowl and add all the soaking ingredients to the bowl. one cup of sorghum millets, one cup of idli rice – if you cannot source idli rice, any kind of parboiled white rice like ponni rice can also be used for making this recipe. Add half a cup of unpolished white whole urad dal, a quarter teaspoon of fenugreek seeds – fenugreek aids in better fermentation and finally half a cup of poha, ie aval. The addition of aval will make the paniyarams very fluffy.
Wash everything in water once or twice in water and get rid of the starchy water as much as possible. All the ingredients can be soaked together for this recipe. No need to soak separately. Soak everything for about 4 hours. The grains should have absorbed the water and should have swollen up after about 4 hours. Drain the soaking water completely as millets have anti-nutrients called phytates and soaking can reduce them to a certain extent. So get rid of the soaking water by draining them on a colander. Grind the drained grains in a heavy-duty mixie to a smooth paste. Add about two cups of water while grinding. Grind in batches and do not crowd the mixie. The batter should be smooth in texture. Add a teaspoon of salt to the ground batter and mix well to combine. Mix well so the salt is distributed evenly. I like to salt the batter soon after its ground as it will keep away unwanted bacteria while fermenting. Use a big bowl as the batter will rise during fermentation.
After mixing, cover the bowl with a lid and allow it to ferment in a draft-free place at room temperature. Let it ferment for about 6-8 hours. It might take a little longer if you live in a cold place. If you live in a cold place, ferment inside an oven with its pilot light alone turned on so it will keep the oven at ideal temperature.
After fermenting, the batter should look very bubbly and should have risen well. Mix the batter with a spatula. Our batter is now ready. At this stage, the batter can be stored in a refrigerator and used within a couple of days.
To make the masala sola paniyarams, we shall make a masala paste. Take a small mixie jar and add in some shallots, fresh shredded coconut, curry leaves, cumin seeds and green chillies. Grind to a coarse paste. Grinding the mixture to a coarse paste is important so the paniyarams have a little bit of texture to them while eating.
Take about half of the prepared paniyaram batter in a bowl and add the masala paste. Once you add the masala paste, the batter needs to be used immediately and it does not store well. So add the masala paste only to the amount of batter that you may require. Half of the prepared paniyaram batter added to this masala paste will make about 20-22 small paniyarams. Add some chopped coriander leaves and mix everything well to combine. Our masala paniyaram batter is now ready.
Heat a paniyarakkal on medium flame and grease it with Indian-style sesame oil. Indian-style sesame oil is untoasted and has a very unique flavour. Peanut oil can also be used for making these paniyarams. Once the griddle is hot, add little scoops of the batter to the pan. The batter will rise a little while it cooks. After adding the batter, reduce the flame of the stove to low and cook for two minutes. The paniyarams take time to cook. If you hurry, the outside will be brown and crispy but the inside will still be raw. So cook on a low flame. After a couple of minutes, turn the paniyarams and cook on the other side for a couple of more minutes.
Our paniyarams are done if both sides are cooked golden. If you are cooking for guests at home, you can also sprinkle little ghee just before removing the paniyarams from the griddle. Serve the paniyarams hot with coconut chutney or kaara chutney. Enjoy.
Author:

Prep Time:

12h

Cook Time:

10m
Keywords: Masala Sola Paniyaram