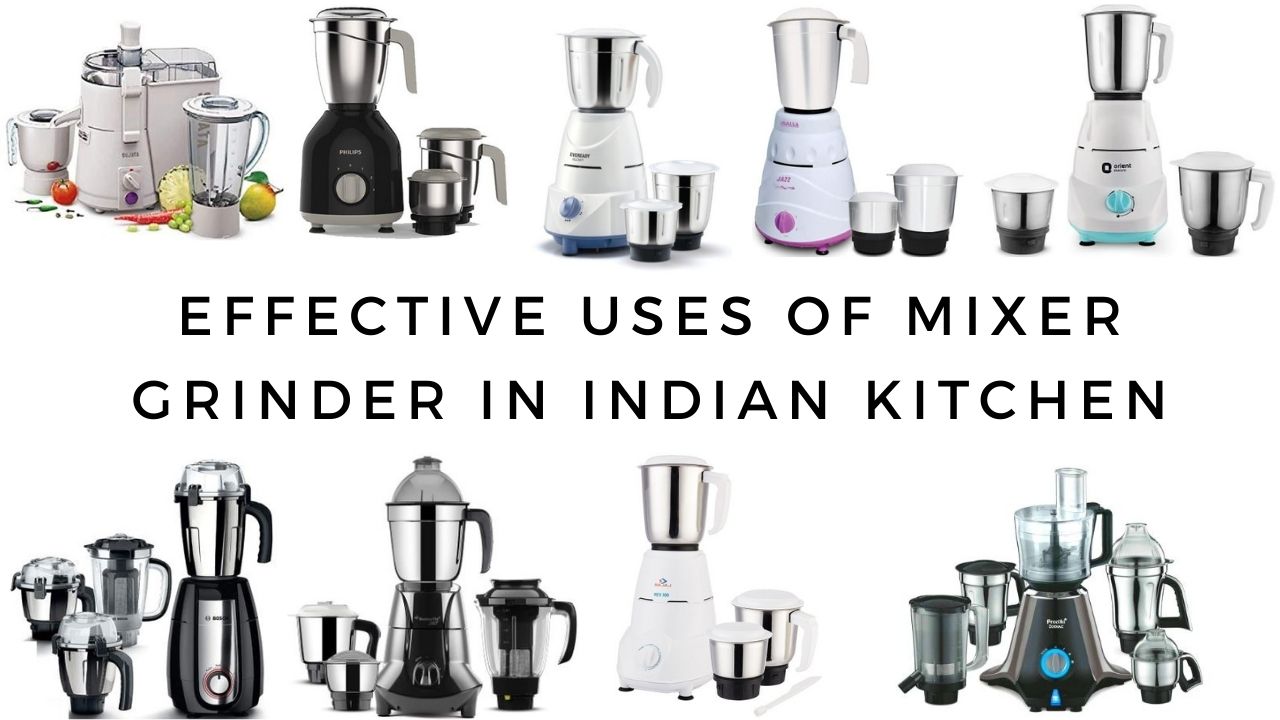 Article contributed by Sheena Behera
India is the land of spices, and here & there, every Indian kitchen needs a mixer grinder. A mixer grinder is a great versatile tool for every kitchen as you can prepare a ton of things, mix them and grind them to your leisure.
There are many practical uses of a mixer grinder in every kitchen and if you cannot reckon them, don't you worry. We have just the information you are looking for.
So whether you are looking to add a mixer grinder to your kitchen arsenal or want to understand the usage of this device so that you can make the right choice while selecting the right mixer grinder brand, stay tuned and keep scrolling.
Some Practical Ways to Effectively Use a Mixer Grinder
There are a ton of ways a mixer grinder can come in handy; you see, to prepare every dish or cuisine, you'll need some herbs and spices.
Back in the old days, these herbs and spices were crushed by hands — well, that was a daunting task; it's been superseded by the blessing of a mixer grinder. So here are some ways that a mixer grinder can help you.
Multitasking and Versatile
Ever found yourself in a situation where you have to deal with many tasks at once? Well, having a mixer grinder can be your best friend in that situation. With different jars, blades, attachments, and options, you get a lot of versatility while operating a mixer grinder. You can grind spices or create a smoothie, or even a detox juice. Plus, you can also use the different jars and blades to make spices or juice accordingly. Thanks to the attachments, you can enjoy your juices or grind the spices in different jars according to your leisure.
Massive Time Saver
If you work the kitchen, you can understand how time flies by, right? A mixer grinder, in this case, is an excellent time-saver. You can easily cut down the time wasted in doing different things by simply using this fantastic electronic appliance. You can chop veggies or pulverize juices without even cutting them to tiny pieces first, as you would typically do.
Chop Vegetables
One of the biggest time killers is chopping vegetables, and while this is a mundane task, you cannot cook without it. So a mixer grinder becomes the best option here; you can easily do dry chopping and wet chopping without any problem. Simply start your mixer grinder at low speed (remember the slower the speed, the larger the pieces you'll have to add) and drop your large pieces of vegetables. Voila! You are ready to cook some scrumptious dishes.
Grind Spices
A mixer grinder's primary job is to crush the spices so that you don't have to do it barehanded. Whether it be black pepper, cardamom, cinnamon, cloves, and so forth, a mixer grinder got your back. You can quickly grind them in advance, saving time and storing them for later use — a classic one stone two birds.
Ease of Usage and Maintenance
Not just that, operating a mixer grinder is fairly straightforward, and maintaining it is not a problem. You can easily dismantle the parts, clean them, and reassemble them once done. Plus, a mixer grinder offers both mixing and grinding to make it more convenient and reliable. It's better to get a mixer grinder rather than purchasing both separately or even purchasing a juicer separately. Not only that but this way, you also save a fair-share amount of money without disturbing your kitchen needs and compromising on quality either.
Grind Sugar to get Fine Sugar
Well, who doesn't love to make confectionary things or those lovely cakes? A lot of times, some food items require granulated sugar, and others explicitly need fine sugar. And you've guessed it, you can grind your sugar to granulate and fine powder form and can store it in different jars for future use, saving you time and effort. This way, you will have your accessories ready when you get an opportunity to showcase your pastry talent instead of running to the grocery store.
Get Ready with Prune Juices
Thanks to the pandemic, our health awareness has been increasing by leaps and bounds. Here and there, we all get sick and have stomach-related problems. That's where prune juice becomes the savior; it is known for curing stomach problems, in turn improving your overall health. Grind your prunes and add some water; there you go with the prune juice. You can add or remove sugar depending on your weight goals. The best part about this juice is you can store it for a week, making it an instant and cost-effective solution.
Not Just Prune Juice, But any Juice
Instead of spending your bucks in getting a separate juicer, a mixer grinder can easily help you with that. You can easily make seasonal juices and store them accordingly. This is the best way to ensure effective use of your juice and beneficial for your health, in turn saving time and money.
Chutneys and Pastes
Who doesn't love those tongue-tickling chutneys made explicitly in India? Get creative and prepare your chutney by grinding and mixing the items as per your wish. Besides that, you can also create different pastes such as garlic paste and store them for future use.
Inference
What you read barely scratches the surface of the effective uses of a mixer grinder. Like an onion, it has many-many layers of advantages. So do yourself a favor and get a mixer grinder if you haven't, you find more about best kitchen and home appliances like refrigerator, food processor, chimney and other on apolloedoc.co.in
All in all, a mixer grinder is the one versatile appliance that is used in almost every house on different continents. And now that you are acquainted with a mixer grinder's practical uses use it to enhance your food's taste.
That said, we will take our leave — thanks for patiently reading till here. Should you have any questions — leave a comment down, and we will get back to you.