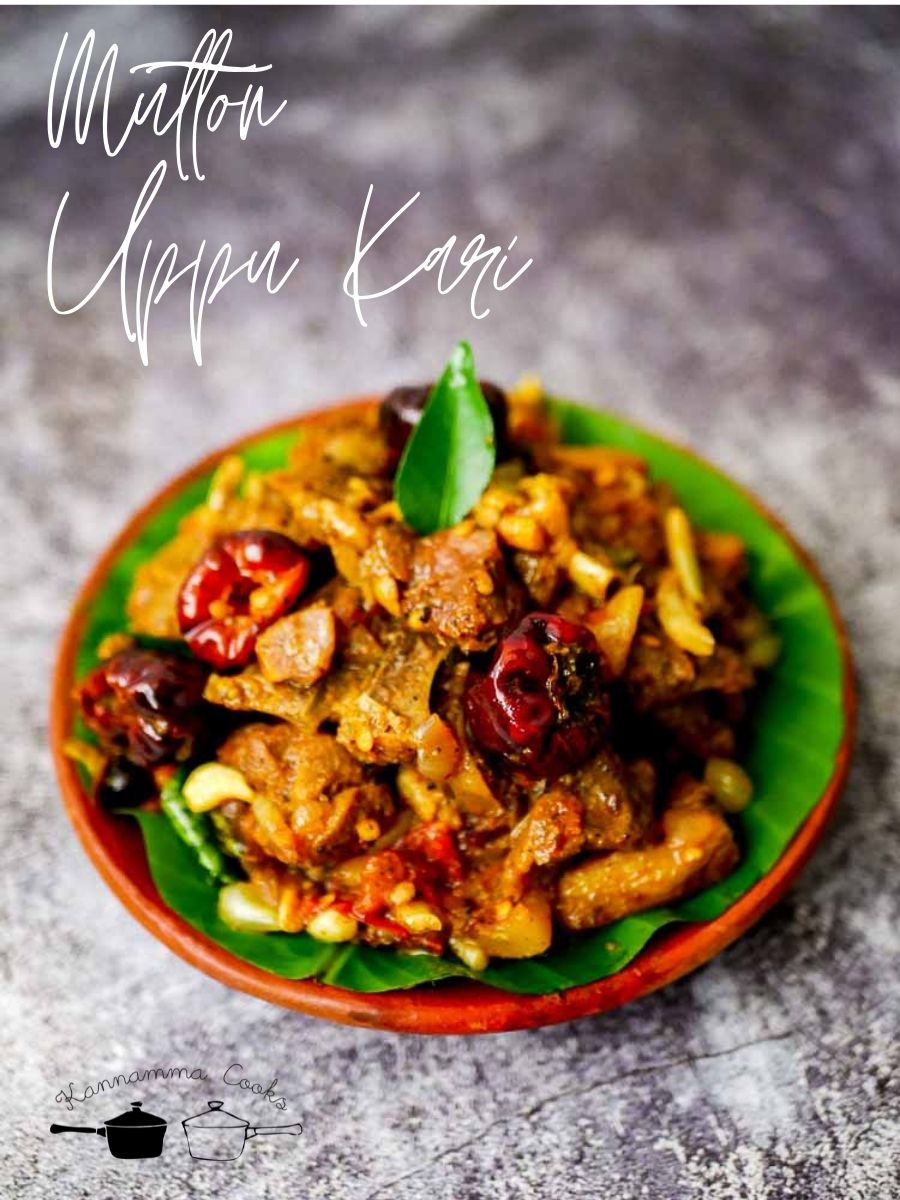 Mutton Uppu Kari – Salted Mutton Stir Fry Recipe. A very traditional recipe made with gundu chillies and country garlic.
Mutton uppu kari is a very traditional mutton stir fry made in Tamilnadu with gundu chillies and Indian shallots. Uppu kari means salted stir-fry The gundu chillies impart a smoky flavour to the stir fry. This is a very simple dish made with minimal ingredients. It goes very well as a side dish with rice and curry. There are three things that are not negotiable while making this recipe. Its the use of gundu chillies, Indian shallots (small sambar onions) and Indian sesame oil. They are the star flavors that make this stir fry very unique. I also like to use the robust small garlic (country garlic) for making this recipe. This dish has very few ingredients. So getting the ingredients correct is very important for the final flavour.
Tamilnadu's Gundu Chillies குண்டு மிளகாய்
Gundu Milagai or Gundu (fat) chillies is a quintessential ingredient in Tamilnadu cuisine. One of the very important ingredients in Chettinad cuisine. To the world its called as Ramnad Mundu Chillies as its one of the main crops grown in the Ramnad district. The chilli is smoky and has a unique taste. It's not very spicy and the seeds rattle inside. They have very thin skin. Gundu chilli crop is exclusive to the region due to its drought resistance and saline properties. Ramnad is an extremely dry region. Mostly "manavaari" crops are mainstay. 'Manaavaari' land / region is where the crops are not planned. The crops are decided based on the given rain and climatic conditions. The crop is left to the mercy of natural conditions and irrigation is very very minimal. The premium variety of these chillies are called S9 chillies and are in high demand all over Tamilnadu.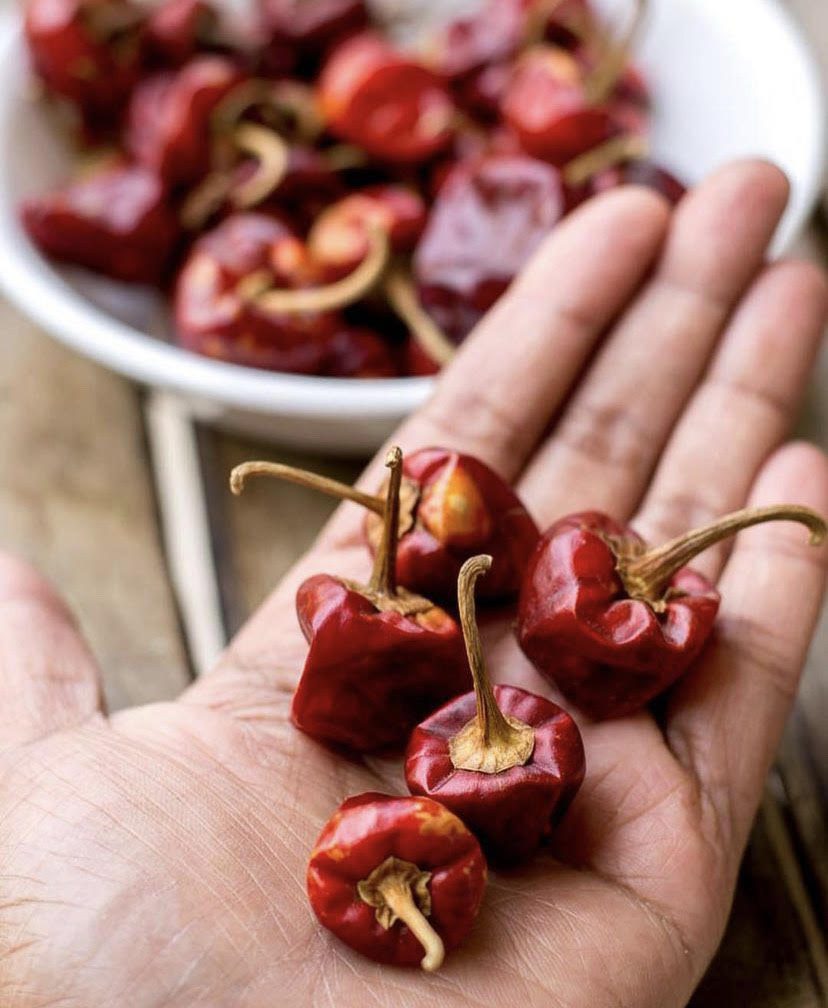 I like to use mutton with bone in as the bone has a lot of flavour and it also keeps the meat moist and juicy. One can also use boneless mutton for making this recipe.

Here are the things you can buy online for making this recipe
Granite Covered Kadai
3 liter Stainless Pressure Cooker
Indian Sesame Oil
Turmeric Powder
Rock Salt
Ramnad Gundu Chilli
Here is the video of how to make Mutton Uppu Kari Recipe

Print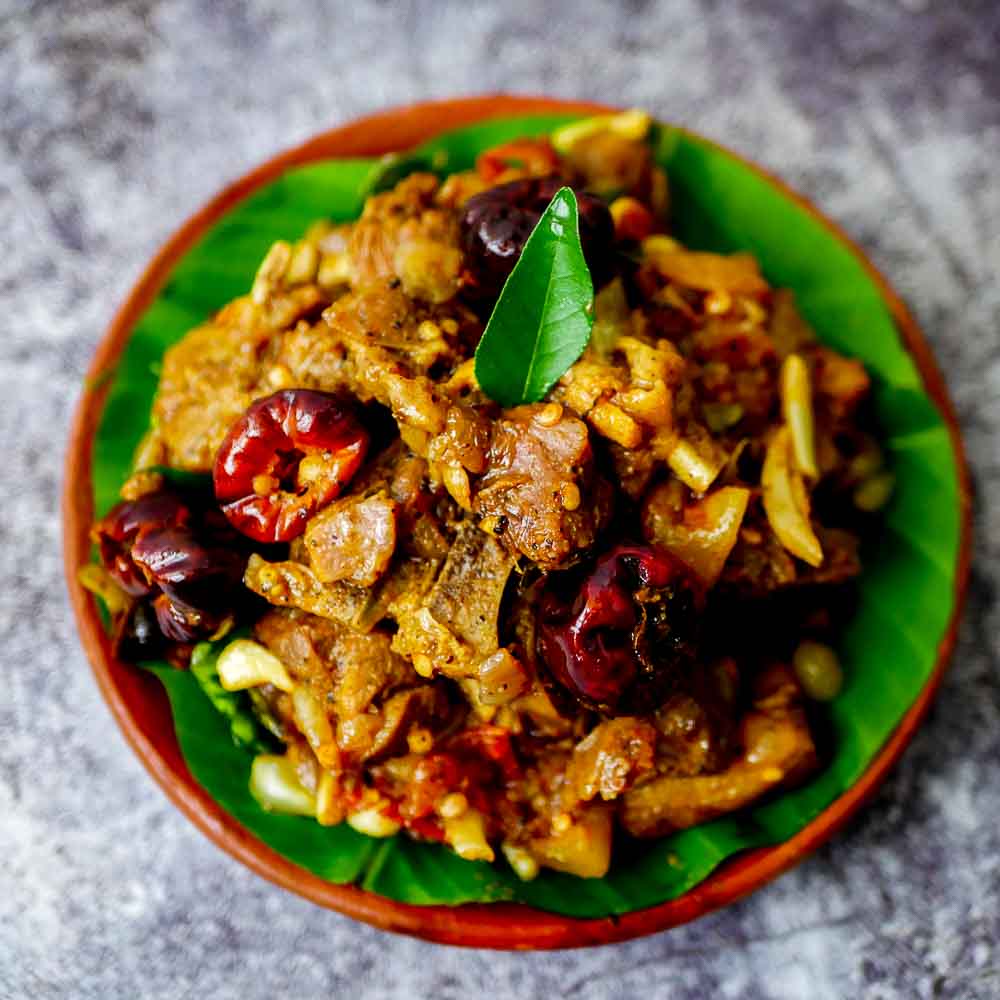 Mutton Uppu Kari Recipe
Mutton Uppu Kari – Salted Mutton Stir Fry Recipe. A very traditional recipe made with gundu chillies and country garlic.
Total Time:

45m

Yield:

4

servings

1

x
For Cooking Mutton
500 grams mutton, bone-in
1 cup water
1/2 teaspoon turmeric powder
1 teaspoon salt
Other Ingredients
1/4 cup Indian sesame oil
1/2 teaspoon cumin seeds
20 gundu chillies
5 sprigs curry leaves (divided)
2 pods country garlic (small garlic)
1 cup Indian Shallots, roughly chopped
2 tomatoes, chopped
1 teaspoon black pepper powder (use more for a robust flavour)
Instructions
We shall be cooking the mutton first. I have used bone-in mutton for making this recipe today. Bone imparts a lot of flavour. Boneless mutton can also be used. Take a pressure cooker and add in little water, turmeric, salt and the mutton pieces. Do not add a lot of water as this is going to be a semi dry dish. I have used a cup of water for cooking the mutton. Cook for 10-12 minutes on medium flame in a pressure cooker. Ignore the number of whistles. Let the pressure from the cooker settle before opening.
Take a pan and add in 1/4 cup of Indian sesame oil. Sesame oil is traditionally used for this recipe and the flavour of sesame goes well with mutton. So do not use any other oil for making this recipe. To the oil, add in the cumin seeds, curry leaves, gundu chillies, garlic and the shallots. I have used the small country garlic for making this recipe. Regular garlic will work well too.
Saute the shallots till they are soft. Smash some of the chillies so that the seeds come out. The spice / heat comes only from the seeds. If you want a spicy uppu kari, add in more chillies and break them so the seeds come out and amps up the heat. Adjust the chillies according to your taste.
Add in the tomatoes and cover the pan with a lid. Cook till the tomatoes are mushy.
Add in the mutton along with the stock used. I have not added extra salt as we cooked the mutton along with salt. Taste and add seasoning if necessary.
Cook for a few minutes. Add in the black pepper powder. The black pepper gives a nice earthy tone to the dish. Saute for a few minutes. Cover the pan and cook for a few minutes more so the moisture evaporates and the dish is semi dry. Add in fresh curry leaves at this stage and remove from heat.
Author:

Prep Time:

15m

Cook Time:

30m
Keywords: mutton uppu kari