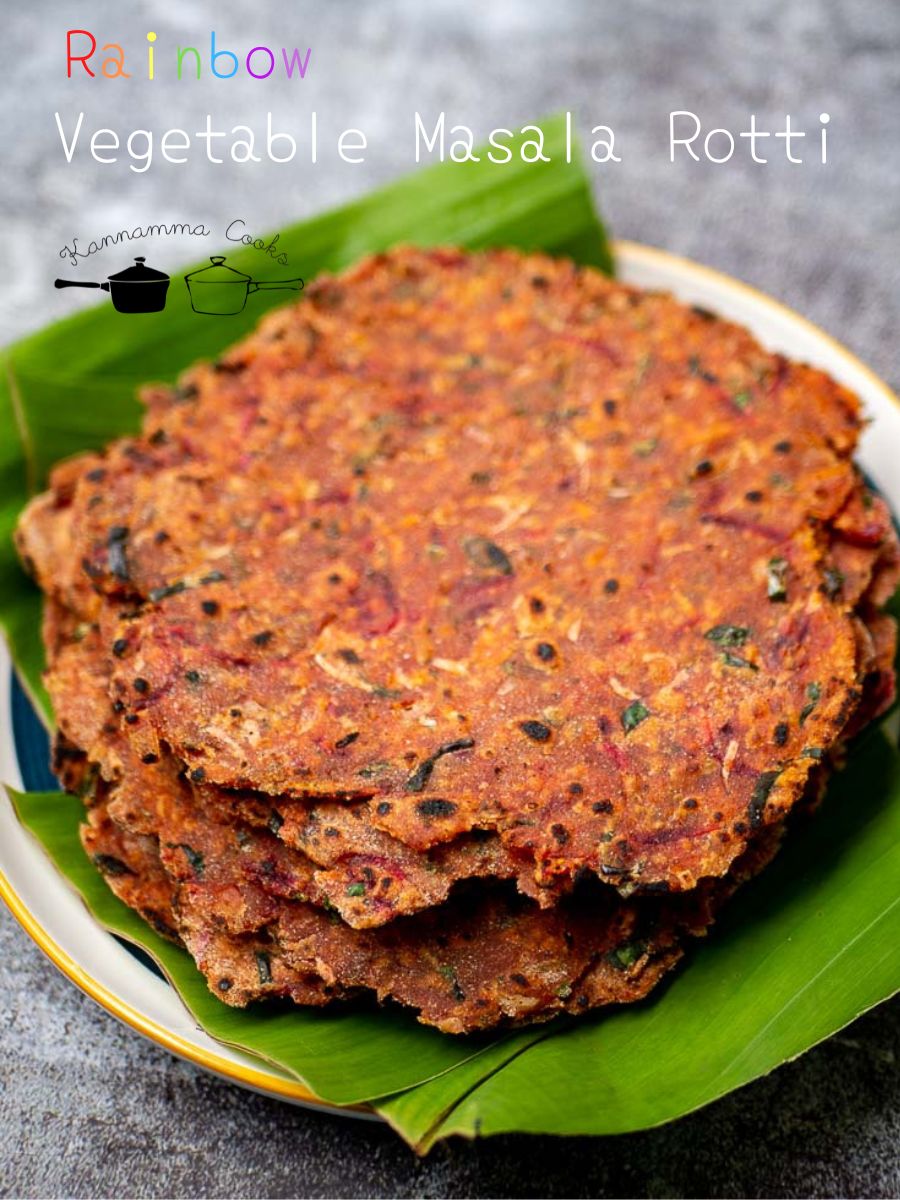 Veggie loaded masala rotti recipe. A lot of vegetables are added in this rotti making it very healthy and loaded with fiber.
This recipe is based on "eat the rainbow" series where a lot of different kinds and colours of vegetables are included in every meal. Eating different colours of vegetables is good for your health and they are loaded with fiber.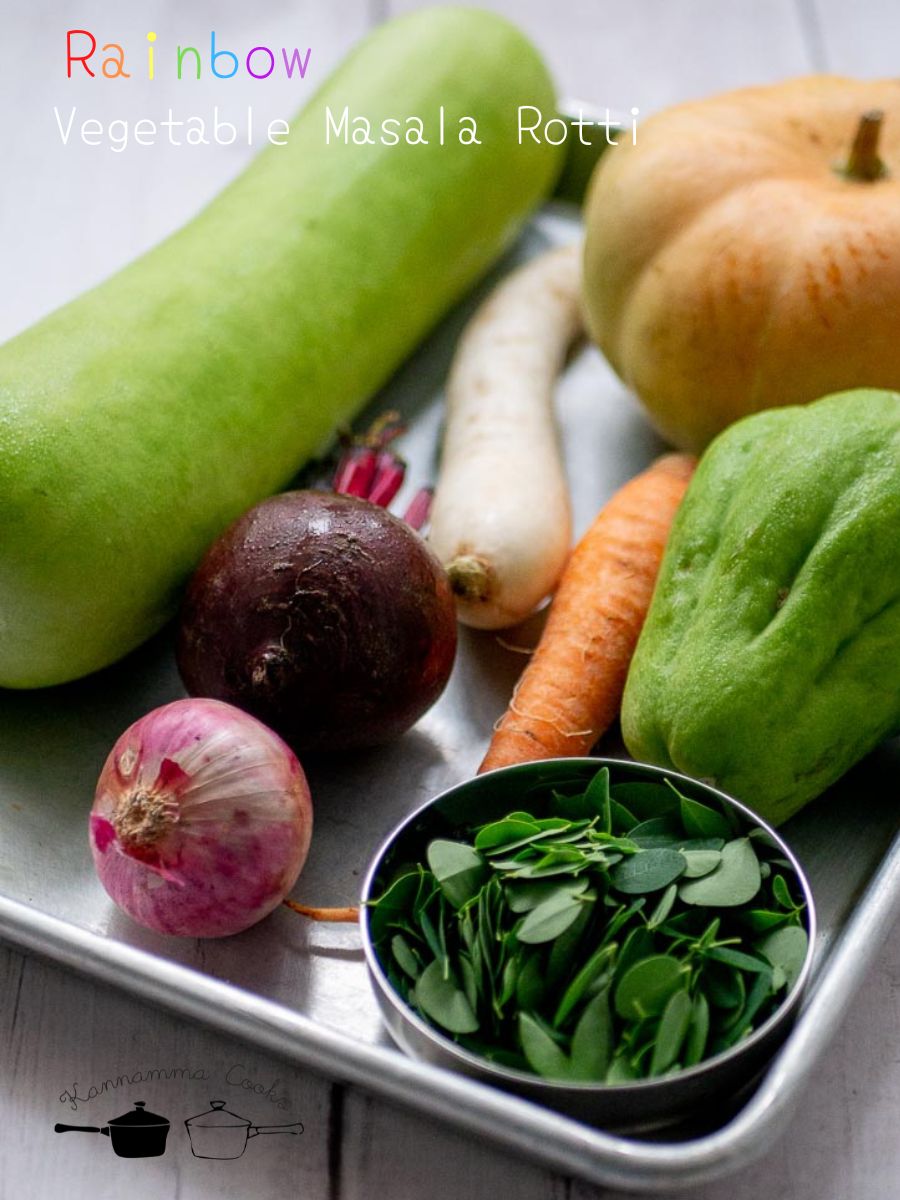 The kind of vegetables you use is totally up to you. Add whatever you can find in your refrigerator. The idea is to use atleast six to seven vegetables and greens. I used 1/4 cup of each vegetable for making this masala rotti today. Make sure to include greens and I have used drumstick leaves that are a powerhouse of nutrition. Grate and chop the veggies as required and get them ready. You can use a food processor or a vegetable grater to get them grated.
Here are the things you can buy online for making this recipe
Stainless Steel Mixing Bowl https://amzn.to/3NdLLmY
Chapati Griddle https://amzn.to/3OEMsa1
TWF Reliq Flour Atta – Low Gluten Heirloom Wheat https://amzn.to/39K7eGu

Here is the video of how to make Rainbow Veggie Masala Rotti Recipe

Print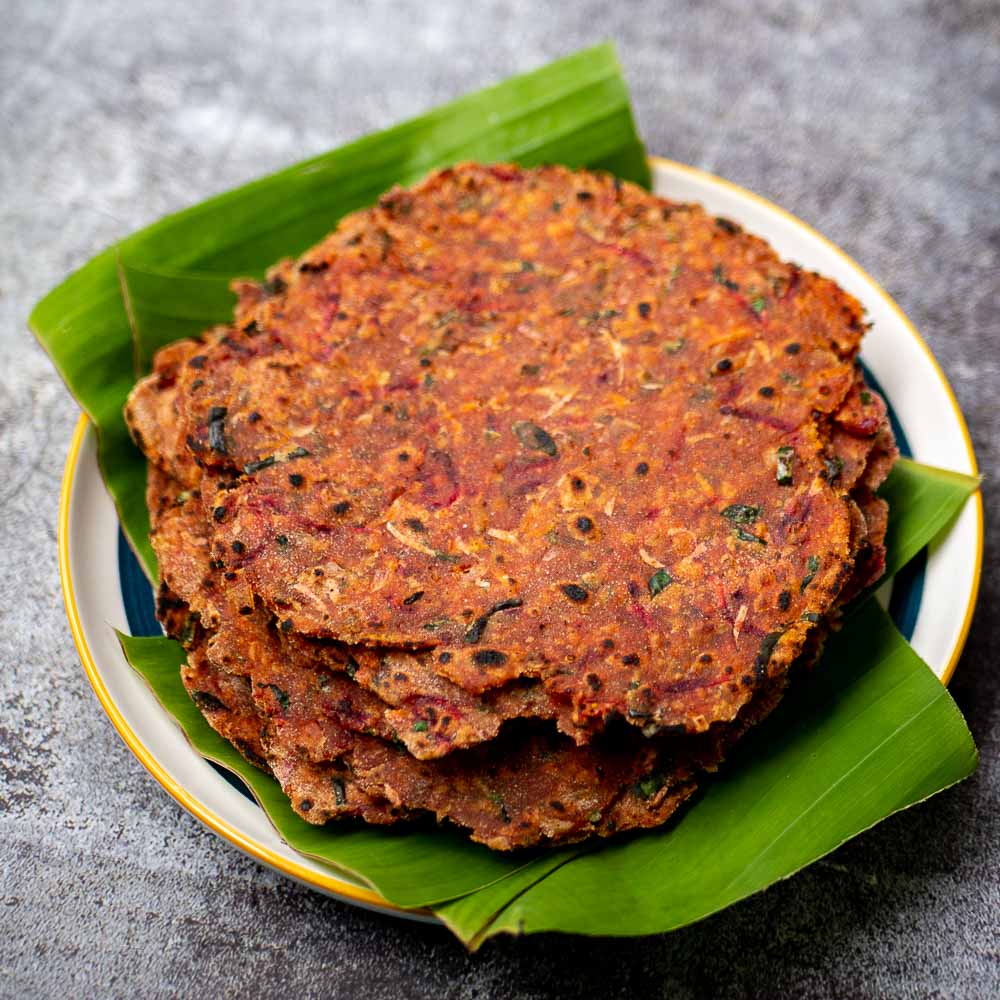 Rainbow Veggie Masala Rotti Recipe
Veggie loaded masala rotti recipe. A lot of vegetables are added in this rotti making it very healthy and loaded with fiber.
Total Time:

40m

Yield:

14

rottis

1

x
1/4 cup radish, grated
1/4 cup onions, finely chopped
1/4 cup chow chow, grated
1/4 cup yellow pumpkin, grated
1/4 cup drumstick leaves, chopped
1/4 cup carrot, grated
1/4 cup bottle gourd, grated
1/4 cup beetroot, grated
1/2 teaspoon ginger, grated
1 green chilli, finely chopped
2 sprigs curry leaves, finely chopped
1/4 teaspoon black pepper powder
1/2 teaspoon turmeric powder
1/2 teaspoon red chilli powder
1/2 teaspoon cumin seeds
1/4 teaspoon asafoetida
3/4 teaspoon salt
1.5 cups atta / whole wheat flour
1 teaspoon ghee
Oil for making rottis
Atta for dusting and rolling rottis
Instructions
Take a bowl and add in our veggies. Grated radish, finely chopped onions, grated chow chow, grated yellow pumpkin, chopped drumstick leaves, grated carrots, grated bottle gourd and grated beetroot.
To this add in the grated ginger, finely chopped green chillies – alternatively, you can also crush the chillies to a paste and add. Add in the finely chopped curry leaves, black pepper powder, turmeric powder,  red chilli powder, cumin seeds, asafoetida and the salt.
After adding everything, mix well to combine so all the spices and herbs are evenly distributed and there are no lumps. Once the veggies and the herbs are mixed well, add in the whole wheat flour. After adding the flour, mix well and knead briefly to form a dough. Do not add any water to knead. The moisture from the vegetables will be enough to form a dough.
Add a little ghee while kneading for flavour. After adding the ghee, keep kneading to form a soft dough. Add water only if the dough is very dry. Once the dough ball is formed and ready,cover the dough ball with a cloth and let it rest for five minutes. The dough will continue to soften as it rests.
After five minutes, form small balls of dough. A small lime size ball will be ideal. You should be able to get about 14-16 small dough balls for this recipe.
Now let's roll the rottis. Dust a dough ball generously in flour. Regular whole wheat flour works well for dusting the dough balls. Gently roll the dough to a 6 inch circle. Since a lot of veggies is involved, you might need to be generous with the dusting flour, so the dough does not stick to the rolling stone. Be gentle with the dough so it does not tear while rolling. Gently tap off the excess flour and our rotti is ready for the griddle.
Here is a small tip while rolling to avoid the dough from sticking. If you notice that the dough is sticking to the stone, take a paring knife and scrape off the dough bits sticking to the stone and to the rolling pin. This way, the dough will not stick while rolling.
Place the rolled rotti on the hot griddle. Sprinkle little oil on the top of the rotti and spread evenly with the back of a spoon. Flip the rotti and sprinkle oil on the other side too. Cook for a minute. These rottis need to be cooked on a high flame so the rotti cooks fast and they maintain their moistness for a long time. The rotti is ready if it's evenly brown on both sides.
Our delicious veggie loaded masala rottis are ready. You do not need any side dish for this rotti. These can be served plain or with a side of a simple raita made with cucumber.
Author:

Prep Time:

20m

Cook Time:

20m
Keywords: Rainbow Veggie Masala Rotti Recipe