I get a lot of mails everyday about idli batter fermentation. This post might be useful for all the people trying to make soft idlies at home. If you are specifically looking for recipes, here they are.
How to make idli batter in wet grinder. This is my preferred method.
How to make idli batter using an Indian heavy duty mixie
How to make idli batter using idli rava /rawa.
So lets talk about the ingredients first. The first important ingredient in making idli is the urad dal.
Urad Dal
There are basically four kinds of urad dal thats available in the market.
The black whole urad dal. Nothing but the urad dal with the husk still on. This is not good for making idlies. But they make the fantastic dal bukhara.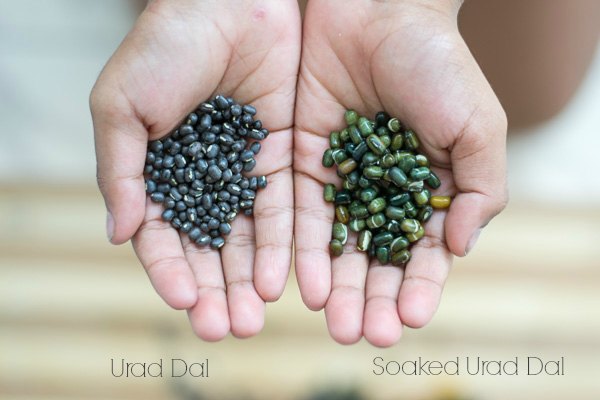 The second is the split black urad dal. Its same as the previous one but its just that each grain of dal is split into two. This is the dal my mother and my grand mother used for a long time to make idli. This dal makes hands down the bestest idli. The down side of this dal is that it involves a lot of labour. Its time consuming. So if you have decided to go the old fashioned way and want to make idlies with this dal, here is what you should do.
Soak the split urad dal for 3-4 hours in lots of water. Then try rubbing the dal in your palm. Some of the black husk attached to the dal will get seperated. Drain the water along with the husk. Again fill the vessel with water and rub the dal in your palms. Repeat until all the husk is removed and only the white part of the dal remains. It will take about 15 minutes of rubbing and washing. After all the washing, a little bit of black husk – one or two here and there would remain and that's fine. If you have the time, go ahead and try this atleast once. Its very rewarding.
Then comes the white whole urad dal. Its the urad dal without the husk or skin. The naked dal. This is the dal we use now for making idlies. But there is a catch. There are two varieties of this white whole urad dal available in the market. The polished dal popularly referred to as nylon urad and the unpolished white urad dal. We will use only unpolished urad dal.
The last one is the split white urad dal. Its the urad dal without its skin which has been split. This is popularly referred to as the tempering / tadka dal. We do not use this dal.
Why selecting the dal is important.
The factory process of removing the husk from the dal requires a certain amount of heat. The heat might have muted some of the good bacteria thats needed for fermentation.
The modern manufacturing methods have reduced this by a great extent, so using unpolished whole white urad dal is ok. But if you are a purist, go the grandmas route and buy split black urad dal and de husk the dal yourself.
Now the rice.
The only rice that will give you desired results while making idli is par boiled rice. Raw rice doesnt work. In particular, a par-boiled variety called idly rice is extensively used for making idli in the Tamilnadu region. The technical variety of parboiled rice thats referred to as simply "idly rice" is called as "salem kara" or "salem car". If you cannot procure idly rice, try getting a good quality par boiled rice. Idly rice is a unique short grained fat rice. Here is a picture of idli rice.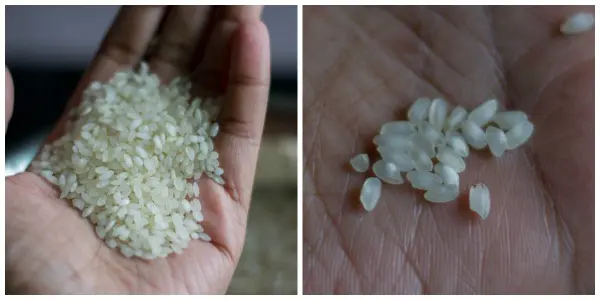 Now, the fenugreek seeds.
I need to be honest with you here. This is an optional ingredient. But I love the flavor that fenugreek imparts in the idli or dosa. Thats the flavor that reminds me of childhood. Its healthy and it also aids in fermentation. But if you use a lot, your idli is going to be bitter. The smell of idli, and particularly the dosa roasting on a pan is something that I look forward to every time. Fermented fenugreek seeds is an important reason for that unforgettable dosa aroma. Its like petrichor. Something mostly everyone loves.
But if you dont like fenugreek seeds, you can just omit them. If you want a really really white idli, skip the fenugreek seeds.
Salt
What type of salt is used?
Rock Salt. The simple reason for using rock salt is that its minimally processed and may not contain anything else other than salt. Table salt contains other ingredients such as anti-caking agents etc… which may interfere in fermentation. So try avoiding table salt while making idli.
Other Ingredients people add while making idli batter
The two most common ingredients that I see people adding now to get more fluffier idlies are
Sabudana and Avalakki
Sabudana (Sago) or Javvarisi is a by product of Tapioca root that's been cooked and dried. Any cooked and dried product when comes in contact with water rots (ferments) faster. In our case sabudana aids in fermentation by helping good bacteria do its work more efficiently.
Avalakki – Beaten rice – Poha
Avalakki is made from Paddy. Paddy is soaked and cooked in hot water and then dried. The dried paddy is roasted and pressed to make flakes. So it gives the same effect as Sabudana.
Idli Rava / Idli Rawa
Even though many people use idli rava to make idlies, I do not prefer this method the most. Have this as the last resort. Its ok to make idlies using idli rava when you are in a hurry. But the texture is going to be different. Also the shelf life of the batter is very limited. You will start getting hard idlies on the second day. If you are used to eating soft idlies from a wet grinder, you will not like the idlies from this method.
So that's about the ingredients. Here are some of the common questions I get asked frequently.
The one common comment I get from a lot of readers is that, their idlies did not rise and the idlies were flat. The main reason is watery or runny batter. Watery batter will not rise and the idlies will be hard and flat. So use caution while grinding and do not add too much water while grinding. The batter will thin out a little after fermentation. So a BIG CAUTION on using water. Please use correct measurements as mentioned in the recipe.
Can you tell me something about fermentation?
Fermentation of Idli batter is carried out largely by lactic acid bacteria. Not yeast. There are two kinds of lactic acid bacteria. Homofermentive and heterofermentive.
Homofermentive lactic acid bacteria produces only lactic acid.
Heterofermentive bacteria – the Idli bacteria (Leuconostoc mesenteroides) produces carbon dioxide in addition to lactic acid.
Why the wet grinder method is superior than the mixie method?
Number 1. The ingredients do not get heated up while grinding in a wet grinder. The same is not the case with the mixie. The wet grinder method is slow but its the best.
Number 2 and the most important factor. The urad dal when ground in the wet grinder fluffs up in volume. This wont happen in the mixie.
When to add salt?
There are two schools of thought. Whether to add salt while fermenting or to add it later. There is no right or wrong thing when it comes to adding salt. Its just a matter of choice. Salt inhibits fermentation and interferes with good bacteria to a certain extent. So one might want to add the salt after fermentation. At the same time, if you live in a hot and humid place then salt might be your friend because your batter will not be over fermented and will not turn sour soon. So when do I add salt? I add salt to the batter before fermenting in summers and add it after fermenting in winters.
My mixie is getting heated up. What can I do?
The one thing thats important while grinding batter in a mixie is to make sure that the mixie jar doesnt get heated up. Invariably thats going to happen. So what to do about it. Use ice water to grind the ingredients.
Do I need to wash the ingredients before soaking?
Yes. of course. Especially idli rice if you want whiter idlies. Wash it several times in running water. The water should run clear after some time.
How long do I soak the ingredients?
Minimum of 4 hours. Maximum – over nite.
I prefer the over nite method.
So what is the consistency of the batter?
Lets say, thick pouring consistency. The consistency that resembles a thick pan cake batter.
When the ladle from the batter is lifted and the idli batter falls from the ladle , it should form a slight ribbon which slowly becomes flat on the surface. If its too thick or the ribbon takes longer time to dissolve, add a little water to the batter.  Here is a video!
Can I use the water that I soaked the dal and rice while grinding?
You may. No harm in it. But if you want whiter idlies, drain the water completely and use fresh water for grinding.
My idli batter doesnt rise in the idli pan. Why?
The main reason for the idli pan to cook flat is that the batter was too runny.
How long do I cook the idlies?
Idli takes roughly about 7-10 minutes to cook. Insert the back of a spoon after 7 minutes and if it comes out clean without wet batter, the idlies are good to go.
My idli doesnt come off the pan? Please help.
First, Always grease the idli plates with a little oil before ladling the batter.
Do not try removing idlies from the idli plates as soon as it comes out from the steamer. Wait for 2-3 minutes.
If you are in a hurry. Pour little water on the back of the idli plate. It will help in easy release of idlies.
Also use a sharp spoon to spoon out the idlies from the idli mould.
What is thuni idli?
Thuni idli is nothing but idlies made on a cloth. Thuni means cloth in tamil. If you are a purist, then this is how you will make idlies. This is how idlies are made in hotels.
Just line a wet cloth (just wet NOT dripping with water) on top of the idli plates and ladle out the idli batter on the plates. Steam as usual. The resultant idlies will be called as gourmet idlies. They are by far the best idlies I have ever eaten. Long live thuni idlies.
Why my idli sticks to the upper idli pan?
There is a way to set the idli pans, one on top of the other. The dent from the upper mould should be inbetween the dents of the lower mould. There need to be room for the idlies to expand or it will hit the upper mold.
Do I need a special idli cooker for cooking idlies?
No. Any pan with lid that can accomodate the idli plates / moulds will work. Add a little water on the bottom and place the idli plates on top of it. Cover with the lid and steam. Here is an example of a make shift pressure pan steamer.
I live in cold weather. My batter never ferments. Please help?
If you have an oven in your home, then put the pilot light on and then leave the batter inside the oven. The heat from the light will warm up the oven compartment and will help in fermenting the batter.
I do not have an oven. What do I do?
1) You will need two things. A small table lamp and a blanket.
Keep the batter inside a cup board or a shelf or some place warm. Insulate the vessel with a warm heavy blanket. That will keep the vessel warm. Have a small table lamp running near the idli batter vessel. You just need to make sure that the batter is kept warm.
2) If the place where you live has extreme weather conditions, buy a portable room heater and have it running near the batter vessel.
Here is a picture of batter insulated with a blanket.

When I ferment batter in cold weather, the batter forms a yellow film on top. Is it ok to consume?
When the batter is fermented for more than 12 hours (usually in colder climate), its possible that the colour on the top of the batter might turn slightly yellow. Its perfectly edible. The batter needs to be discarded only when it becomes black on top as black spots means that the batter has spoilt.

Do I need a separate batter recipe for dosa?
My mom and grandmom used just one recipe for both idli and dosa. But here is the deal.
The first couple of days after the batter is fermented, it will be idli days. My mom made idli with "the" just fermented idli batter.
Dosa will be made from the second day of fermentation. The batter needs to sour up a little more for good dosas.
Also the batter needs to be diluted with water to make dosas.
My dosa is white. Please help.
There can be several reasons for white dosas.
# The pan is not hot.
# The dosa pan is not heavy. You need a sturdy pan that will retain the heat for making good dosas. Here is a dosa pan that I really like. Lodge Logic Pre-Seasoned Cast Iron Tawa Pan – 10.5-Inch

# If the idli/dosa batter is too thick, your dosas are going to be white. Try diluting a little with water. Don't add too much water. Just a few tablespoons at a time.
My dosas are sticking. Please help.
Please refer to this article. Your dosa pan may need seasoning.
What equipment do you recommend?
I am from Coimbatore. If you dint know, electrical wet grinder was invented in Coimbatore. So we know wet grinder better than anyone else. I heavily fall for grinders manufactured from Coimbatore. There are very reputable brands available in the market. This is the one that I personally like.
Elgi Ultra Bigg + 2.5-Litre Table Top Wet Grinder
When it comes to mixie, these are the brands that I like.
Panasonic MX-AC300S-H 550-Watt 3-Jar Super Mixer Grinder (Grey)

Preethi Mixie
So that's a wrap.
Hope you are able to make soft idlies with these tips.
If you are looking for recipes, here they are.
How to make idli batter in wet grinder. This is my preferred method.
How to make idli batter using an Indian heavy duty mixie
How to make idli batter using idli rava /rawa.